Karen Redfern is a 56-year old former professional squash player from Brazil. She is also a 2-time Pan American Individual Champion and wishes to see Squash in the Olympics.
Sportageous caught up with Karen Redfern on Brazil squash, the state of the game there and to discuss the future of it and how to maintain your fitness levels to compete at a high level.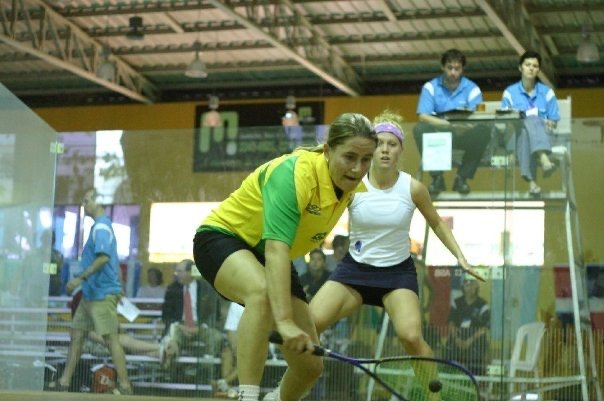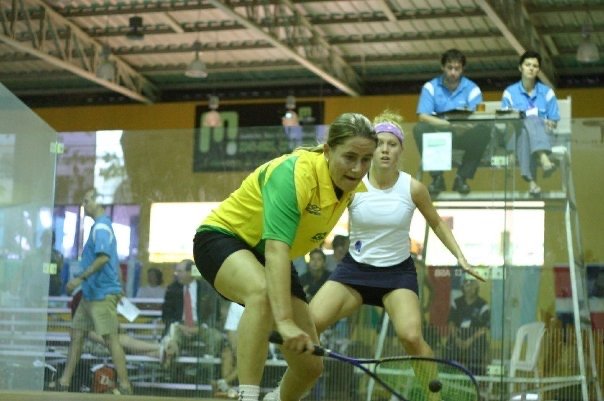 Kinza Tahir: Tell us about yourself outside of the game.
Karen Redfern: Well, I'm 56 years old and have two kids. I graduated in Business and finishing a postgraduate degree in Sports psychology. I also love all sports, and enjoy reading and traveling.
How did you get involved with Squash?
I was a junior team tennis player. When a squash court was built at my Club, all the team went to play Squash when it rained. I fell in love with squash.
We need more prepared professionals running squash organizations, to engage more juniors and develop more quality players.
How has your experience been playing at home compared to international courts? Is it difficult or challenges you? Please elaborate on this one.
Squash courts structures in Brazil are very good but our sports associations, regional and country wise are very amateur.
We need more prepared professionals running squash organizations, to engage more juniors and develop more quality players.
We need more high performance players, both male and female at professional levels. To get better we also have to go abroad as a means to elevate the level of squash in Brazil and further refine the game. I was ahead of all the female players here for a significant period of time, so much so that I had to play men's tournaments to improve and play at international level.
What makes squash one of the most challenging sports and why?
Squash is one of the most dynamic sports I know. It requires a lot both physically and mentally. I've never seen a sport with such demands in decision making.
All the players have to be sharp and have a multi-perception of what is going on in the court. A player also has to use a lot of intuition, anticipation, intelligence  and develop strategies. All of this is expected to be done in a very short space of time.
What kind of mental and physical barriers do you face when you're playing and what are the techniques, tips and tricks that you adapt to overcome them?
I've always been a very skillful player so my greatest problem is my instinct to attack all the time. It's fantastic to be able to hit perfect shots and hit the nick all the time.
But you have to train mentally to discern and determine the right time to do it. So, I forcecfully train a lot in defensive squash too, this way I can have a secret weapon when I'm having a bad day!
I play squash for having fun and that is very important to reach my flow state. That's my secret weapon.
How has playing with top players improved your skills?
To get better physically, mentally and technically you have to play top players and you have to lose a lot and not like it. This way if you don't like to lose you have the motivation to train more and more.
How much intensity do you bring to the game when needed for a pressure game?
In a pressure game I slow the pace down and let the other player burnout energy and wait for the right moment to attack.
What has been the highlight of your career and why?
I was a 2-time Pan American Individual Champion, essentially the best in the Americas. It was important because my country had no squash tradition prior to this and it was a very important title to be won for me and the country.
What national and international players do you enjoy watching and learning tricks from?
Without a doubt, Nour el Sherbini, Diego Elias and Miguel Rodrigues. Here in Brazil however, it has to be Thaisa Serafini and Guilherme Melo.
What is your routine amidst the COVID-19?
Well, there has been a lot of physical training and a lot of rest too. This way I've been able to spend more time with family, which is great! I do miss playing squash matches and tournaments though. Training and fitness routines are boring, but I am trying hard to keep the routines going.
What are your aspirations for the future?
Well, I tried to retire several times. But I've decided to keep the game going on my end until I can't anymore.
What advice would you give to emerging Squash players?
Athletes should always have determination, a hard work ethic, mental strength and resilience.
I would advise emerging players to train a lot and have confidence that they can achieve their goals.
It is also important to have down time and a lot of fun. Don't let yourself be undermined when you lose. Try to learn from it and keep going step by step.
"You won't reach the top if you don't overcome every step of the ladder "
Any other thoughts or comments?
My dream is to see squash in the Olympics!
---
Follow Karen Redfern on Instagram.
For more Squash related content, follow Sportageous.
You can follow Kinza Tahir here on Twitter.