Tiffany Melius, born and raised in Brisbane, Australia and now lives and climbs in North Vancouver, Canada is an Australian pro-climber. In 2016, Melius became the Australian Women's Bouldering Champion and in 2017 became the Oceania Continental Climbing Champion.
Sportageous caught up with Tiffany to discuss her adventurous childhood, giving back to the community, her journey towards an Olympic spot,  and her recent withdrawal from potentially competing at the Olympics.
Sportageous is proud to partner with Sport Climbing Australia, covering stories of Australian climbers and the Olympic journey.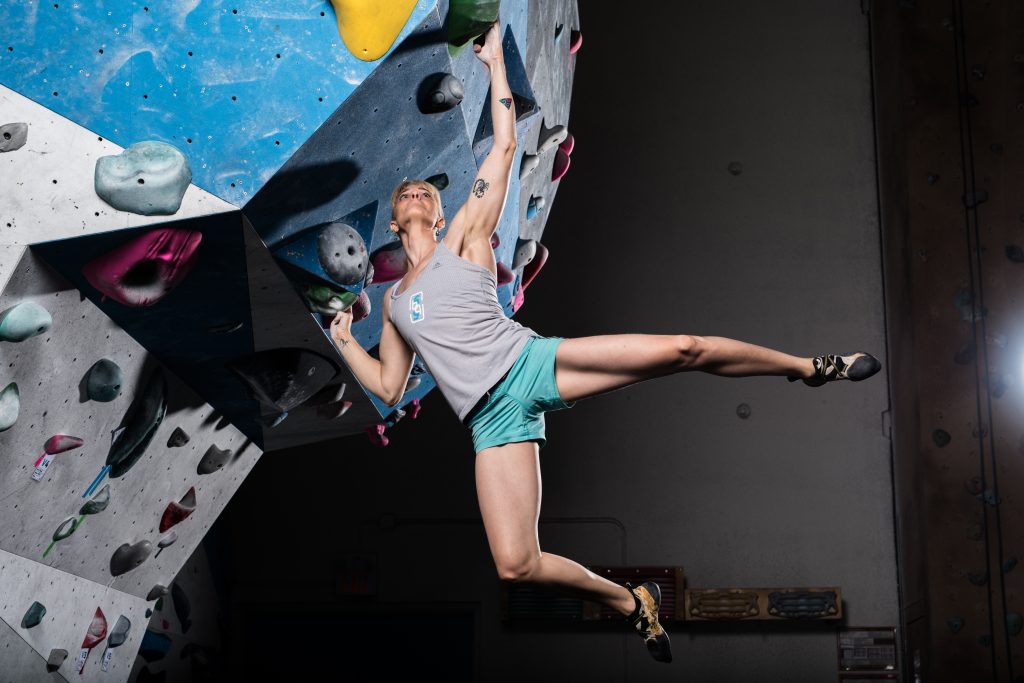 Kinza Tahir: Tell us about yourself outside of climbing, your interests and activities.
Tiffany Melius: I am the Executive Director (CEO) of a community mental health non-profit (New View Society), and a life, sport, and performance coach (Force of Nature Coaching).
I don't have a lot of time outside of work and training right now, but when I do I like to read.  I also have a strong desire to 'give back' and so try to contribute my skills and experience where I can in terms of community boards, mentorship, workshops, advocacy etc.
How did you get into climbing initially?
At 14, my engagement with my primary sport of gymnastics started to waver, and I was looking for a new sport to challenge me while maintaining my strength and flexibility.
On the recommendation of a neighbour, I tried indoor rock climbing at a local facility, and I was hooked. I started competing three months later and haven't looked back.
How was your experience growing up in Australia?
I was born and grew up in the sub-tropical climate of Brisbane on Australia's east coast. I spent my childhood, along with my brother and sister, climbing trees, swimming, cycling and playing various sports, taking full advantage of Brisbane's long summer days and mild winters.
My stable, adventurous, and loving childhood set strong foundations for my subsequent life journey. My passion to succeed coupled with my willingness to put in the hard work to achieve my goals were evident from an early age, and I excelled in many areas – I was a member of a youth drama performance troupe, a clarinettist in my high school band, learned French by distance education, and was a high achiever academically.
This innate drive has proven a consistent characteristic throughout any endeavour I have undertaken.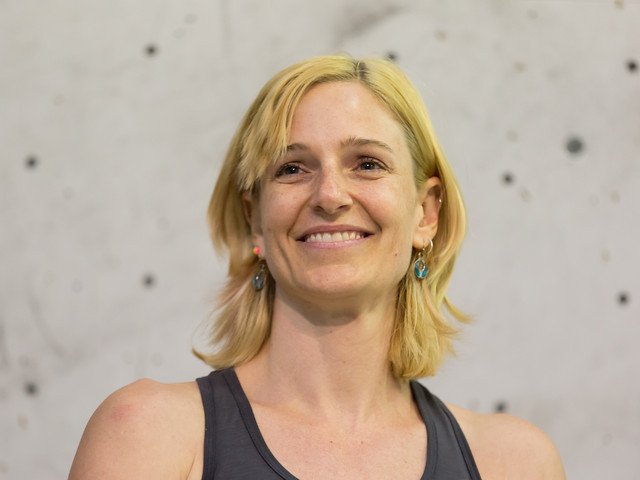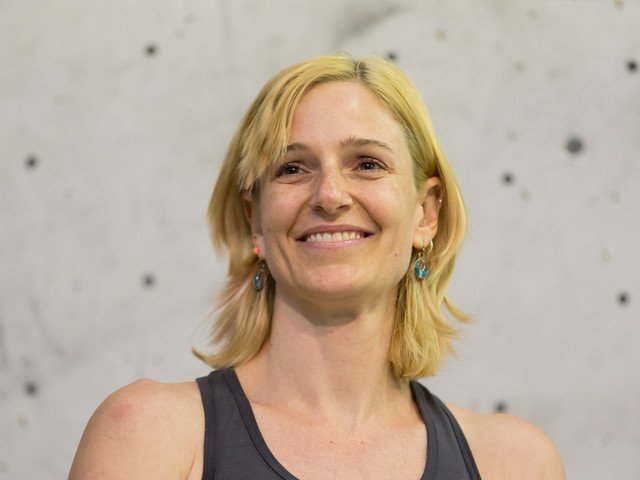 What is your favourite memory of your Climbing journey?
There are so many! Sending projects is right up there, along with climbing while travelling (Thailand, China, Japan, England, France, Spain, Norway, Sweden, Czech Republic, Canada and US), competition successes, the people I've met along the way, commentating on World Cups… the list goes on!
What does climbing as an Olympic sport mean to you?
Having climbing in the Olympics really legitimiaes climbing as a sport beyond the public perception of it being for adrenaline junkies.  It means that our athletes can be recognised at the highest pinnacle (pun intended) of sport in our society.
How had you been working towards the Olympic spot and what were you doing in preparation? Especially considering training and preparation during the pandemic?
The Olympic journey for me started three years ago when I realised that it was something I wanted (my process to get to that realisation is a whole other story). I went halftime at my job, started training seven sessions a week, had to source sponsors and donors to support me financially, and basically turned my life upside down to focus my whole life around this goal.
I learned how to speed climb, competed in my first ever lead and speed World Cups, and postponed starting a family. When the pandemic hit and everything went into lockdown I was two days away from flying to Australia for the Olympic qualifier – the Oceania Continental Climbing Championships.
I was performance peaking in my training cycles and was ready for the 'make or break' of the competition.  When that deciding event was denied me (and everyone else), everything was thrown into turmoil. I do enjoy training but I enjoy it as part of the process. The structure and purpose of my sessions makes me feel productive but that needs to be balanced with enjoyment too.
Having climbing in the Olympics really legitimizes climbing as a sport beyond the public perception of it being for adrenaline junkies.
What was emphasiwed for me while only training at home, is how much mental respite climbing gives me from my everyday life worries.  When I climb, everything else fades away. I am fully present. It's moving meditation.
My focus is entirely on the wall in front of me, the people around me, and my body as it translates my movement problem-solving into action.
Weights and hang-boarding at home only amplified the 'lack' of all that.  Although I focus on form during this kind of training, the focus is not creativity. It's not fun (for me), per se. It's a means to an end.
I enjoy how I feel afterwards. I enjoy making progress towards a goal. I enjoy seeing progress and feeling strong while busting out sets and reps. But I don't enjoy being alone. I don't enjoy that it requires no creativity or mental engagement (e.g. problem-solving).
Tell us about your withdrawal from the Olympic bid. How did that happen?
I woke on Sunday, October 4, 2020, with a heaviness in my chest.  I thought that I was coming down with a cold, and decided to stay home (you never can be too careful in these COVID times).
By the end of the day, I had made my decision. Not through logical rationalisations and a weighing up of pros and cons, but through letting my heart talk to me – and actually listening. I was heartsick.
I had had an amazing day the day before – spending long, quality hours with my sister and then my best friend and her daughter.
I think it reminded me of the sacrifices that I have made the last three years in order to pursue my Olympic dream, and where maybe I want to be spending more of my time and energy again (You can read more about Tiffany's withdrawal story here on her blog).
Tell us about your journey as a life coach and a leader for advocating mental health. How did that come into being?
Similarly to how I got into climbing, there came a point in my professional life where I was really questioning what I was doing, and what it was that I wanted to create for myself.
I inventoried what I loved about my previous jobs, and what direction my values (authenticity, integrity, personal growth) were taking me in, and that led me to life coaching.
I never really saw life coaching as a job in itself, but more an expansion of my skills and personal growth that would enhance whatever I chose to do professionally, and also open up a wider range of opportunities in what I could do.
Mental (and/or emotional) health has always been something that I have been interested in, ever since I was a deeply self-reflective angsty teenager.  I was an aspiring stage actor and getting inside the psychology of a character was always so interesting to me.
I completed a Bachelor of Creative Industries (Theatre Studies), but my other option had been a Psychology Degree.  Coupled with family incidences of mental illness, this has always been an area that resonated with me.
After finishing university and while travelling the world (I have travelled to over 50 countries) my career evolved into non-profit management, and so becoming the leader of a mental health organization was a great fit for my interests, experience, passion, and coaching.
You have 20+ years of Climbing experience and have given a lot to the Climbing community such as group workshops. How do you believe your efforts have changed the perception and resilience of the people you interacted with?
In answer to your question, the impact that I have had certainly would differ from person to person.  Coaching's primary goal is to help individuals develop deeper self-awareness in service of a greater good – whether in overcoming obstacles or achieving dreams on a personal level or in shifting attitudes and perceptions for wider systemic change.
My life purpose statement is "I am the force of nature that inspires transformation" – so I hope that I have been able to do that.
I do enjoy training but I enjoy it as part of the process. The structure and purpose of my sessions makes me feel productive but that needs to be balanced with enjoyment too.
Most often I would say that I try to bring the principles of coaching (at least those of my school, the Coaches Training Institute) into every day life: Dance in this Moment, Focus on the Whole Person, EvokeTransformation, Naturally Creative Resourceful and Whole.
While they may seem enigmatic without me going into detail about what they mean, they have been pivotal in my growth as a person and how I interact with the world, and I believe that they are important keys to unlocking a better life and Society.
You're currently living in Canada where Climbing is quite competitive relative to other countries. How does your strength and technique get influenced or has improved with your move to Canada?
I don't think that my climbing strength and technique have been improved by my move to Canada per se (also, I didn't really move to Canada – I left Australia on a round-the-world trip, arrived in Canada as working pit-stop #3 after Japan and England, and just never left), but I would say having access to a bigger pool of strong climbers, women especially, definitely expanded my horizons of what I saw as possible for me.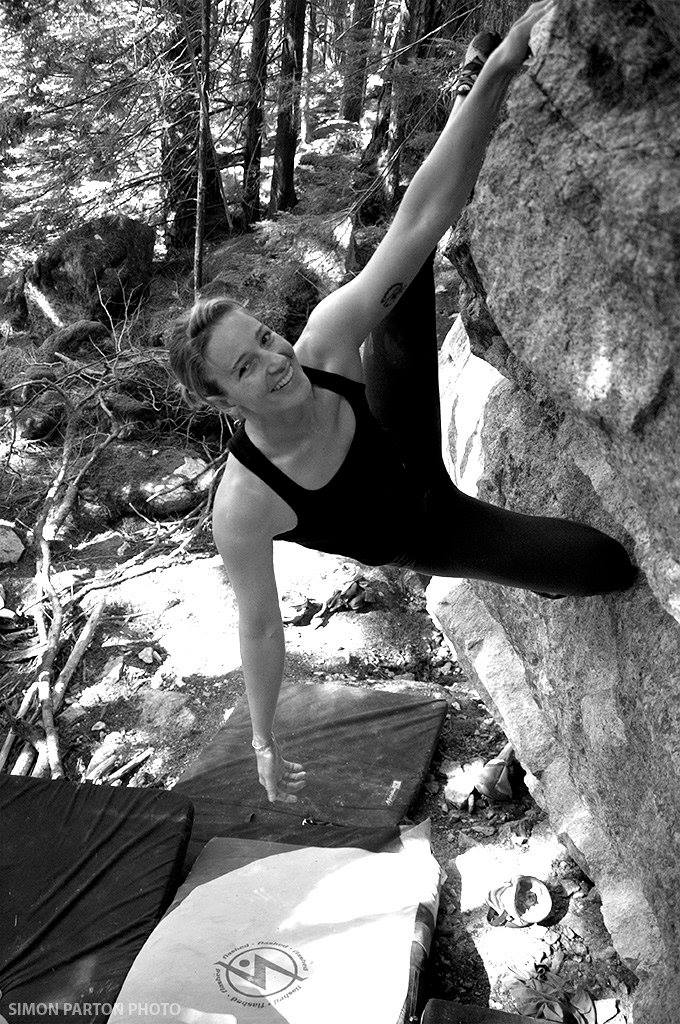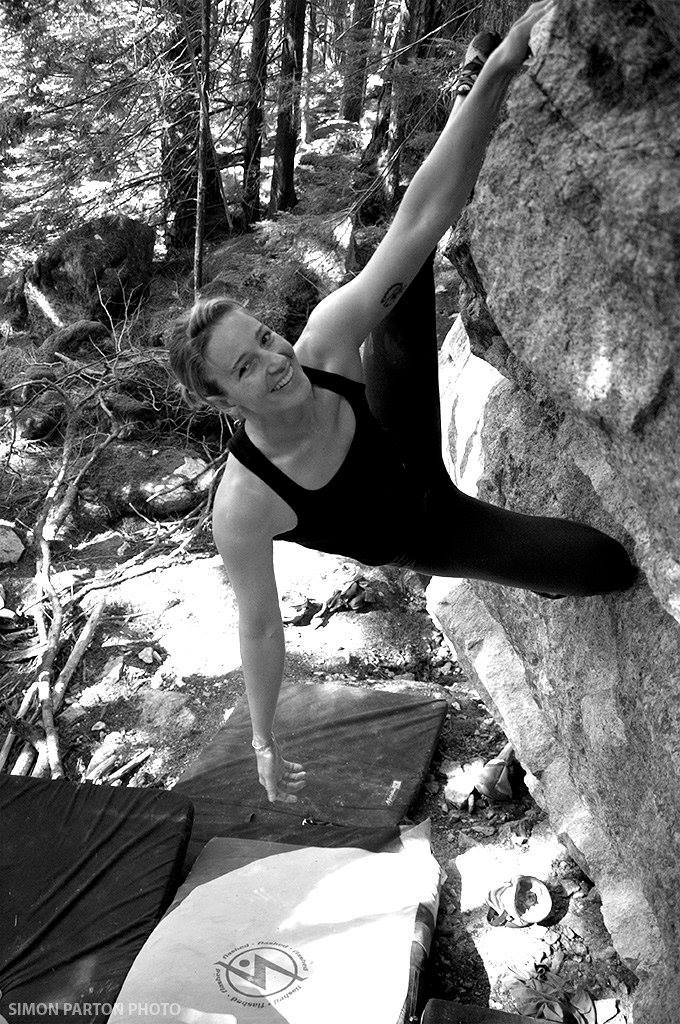 Sometimes it really is the mental beliefs we hold that hold us back.
Australia has a bad case of the tall poppy syndrome – the idea that we shouldn't be better than others (and certainly not think or say we are), otherwise, we will be cut down to the length of the rest of the poppies.
This syndrome, while existent in Canada, is certainly not as strong as in Australia as it is also shaped by the culture of the neighbouring USA – which is to tout your achievements for all to see and the more the better.
It has taken a lot of self-work to overcome this tall poppy mentality – that if you are not constantly self-deprecating, you are arrogant – and to give myself permission to dare to think that I am good enough for bigger and better things.  See my FEAT talk for more on this:
How does Australian climbing compare to climbing in Canada?
In some ways it's very similar – Australia and Canada are both young Commonwealth nations, and climbing is a young sport whose history is descended from its Eurocentric roots, but without a distinct national identity yet.
The growth of the sport of competition climbing has been somewhat parallel – I have been involved in both countries in the State/Provincial and National sporting bodies as they have moved towards formalized representation and management structures at local, regional, and international levels.
Outdoors the climbing is very different style-wise.  My (very uninformed and non-geologically factual) impression is that Canadian crags are primarily granite and limestone, while Australian crags are primarily volcanic and sandstone.
This makes for a large contrast in how climbs and problems are formed, and subsequently how they climb.  Climbing the smooth granite of Squamish is a big wake-up call for a climber used to actual holds!
What makes climbing one of the most challenging sport and why?
I'd say that's a very subjective statement.  For me, ball sports are the most challenging because I don't have good hand-eye or foot-eye coordination with flying objects.
What advice would you give to aspiring Climbers?
My advice would vary if they are aspiring recreational/competitive/indoor/outdoor climbers, and at what stage of life they are starting the sport.
However, if I had to give one piece of overarching advice it would be "Continue to have fun and remember why you are climbing."
Sometimes we can get really caught up in grades and sends and self-expectation and that detracts from the enjoyment of the sport – which is why we are all really doing it anyway. If you're not having fun, why are you doing it at all?
---
For more Climbing related content, visit Sportageous.
You can follow Kinza Tahir here on Twitter.