Emma Twyford is a 34-year old climber from the UK. Emma has been climbing since the age of 7 and is the first British woman to break the 9a barrier with her ascent of The Big Bang at Lower Pen Trywn. In 2014, Emma became a coach for the Women's Climbing Symposium (WCS).
Sportageous caught up with Twyford to discuss her achievements, perception of climbing in the UK, her fitness routine and training amidst the pandemic.
Kinza Tahir: Tell us about yourself, your likes and activities outside of climbing.
Emma Twyford: I'm 34 years old and have been climbing for over 20 years now. I have to play it safe with other activities generally, but I love to bake and have learnt to crochet this year.
Most of my time outside of climbing is spent relaxing with friends, going on walks, swimming or just having a good catch up over coffee.
Tell us about your achievements in climbing. Which one are you most proud of?
When I was younger I was part of the GB climbing team, competing internationally. But I really love being outdoors. On trad routes, I have headpointed a few E9's and flashed E7/8.
In sport climbing I have redpointed a 9a and on-sighted an 8a, I recently came close to flashing an 8b, but fell off going for the finishing hold by the chains.
I've bouldered V10 and recently climbed Camilotto Pelissier in the Dolomites (8a/+). I'm most proud of climbing Big Bang (9a), I encountered different challenges along the way.
It wasn't easy trying to work and have a project at my limit. I had a lot of doubts but I never gave up, I came so close to success on various occasions so this route really tested my mental limits.
I was proud to stick with it and achieve a life dream.
You have been climbing for the last 25 years. How did you get involved in climbing in the first place?
I first started climbing outside on trad at the age of 7 with my Dad and his friends in the Mountain Rescue Team. I was very lucky to start outside as this really kick-started my passion for climbing outside.
What is the perception of climbing in the UK? How has it grown?
I think it has changed fairly dramatically over the last few years. We are now starting to see climbing in the mainstream media a bit more thanks to Shauna's success and climbing becoming part of the Olympics.
Climbing walls are cropping up all over the UK and it seems to be a popular activity. However trad climbing hasn't changed in popularity, but I think COVID-19 encouraged more people to get outdoors.
In the UK I have my sights set on various E8's/9's and perhaps a bigger project but the conditions for that one are a little fickle.
You are the first British woman to break the 9a barrier. How did you incorporate your strength and technique to achieve this accolade?
I found it very tricky to train because I work as a route setter usually 3 or 4 days a week. I was usually too tired to train on top of this. Route setting gives me a very good base level of fitness and strength but it took me a while to figure out how I could train efficiently on top of this and not end up broken.
I did at least one core session a week, some weighted pull-ups at home but the main training I did was to mimic the handgrips of my project on the Beastmaker. I counted out the movements and the rests, then I would do 5 on 2 off until I hit each rest.
I would stay on the board with my feet on a chair to shake out and then do the next moves. I never added more than 10kg but this definitely made the biggest difference in training for me.
Apart from that we usually test about 40 boulders in day or 9 routes if I'm setting. If I was testing the routes I would just climb them one after the other to get pumped. This in itself felt like training to me.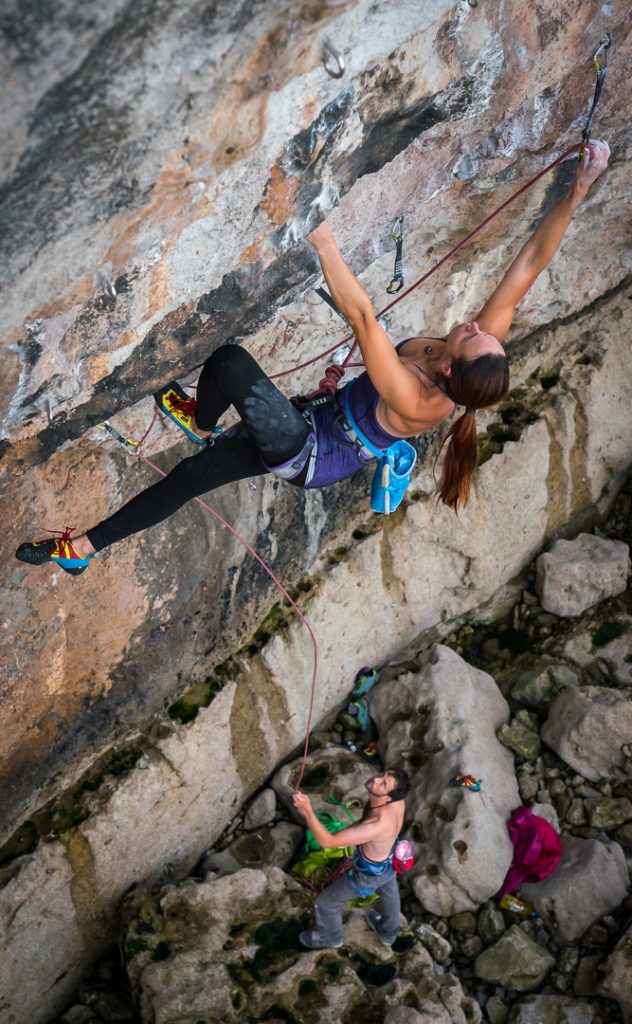 In 2014, you were involved in the Women's Climbing Symposium (WCS) as a coach. What was the experience like? Tell us about your coaching journey.
I've been involved in the WCS from the very start as a coach though last year I got to mix it up with some coaching and as a headline speaker.
These events are pretty hectic but a great experience, we get to try and teach people different skills to take away from the event and work on.
The first event was very exciting and new. Bringing lots of women together who share the same passion. It felt like it was a positive chance to inspire the community of climbers and to share our stories.
I come from a Sports Science background, my coaching is really sporadic, but I love to focus on teaching footwork and movement. My other main area is mental training, for me this is the most interesting key aspect and the one my clients seem to get the most out of.
The mind really is the most important part of climbing and how we can teach ourselves to deal with fear.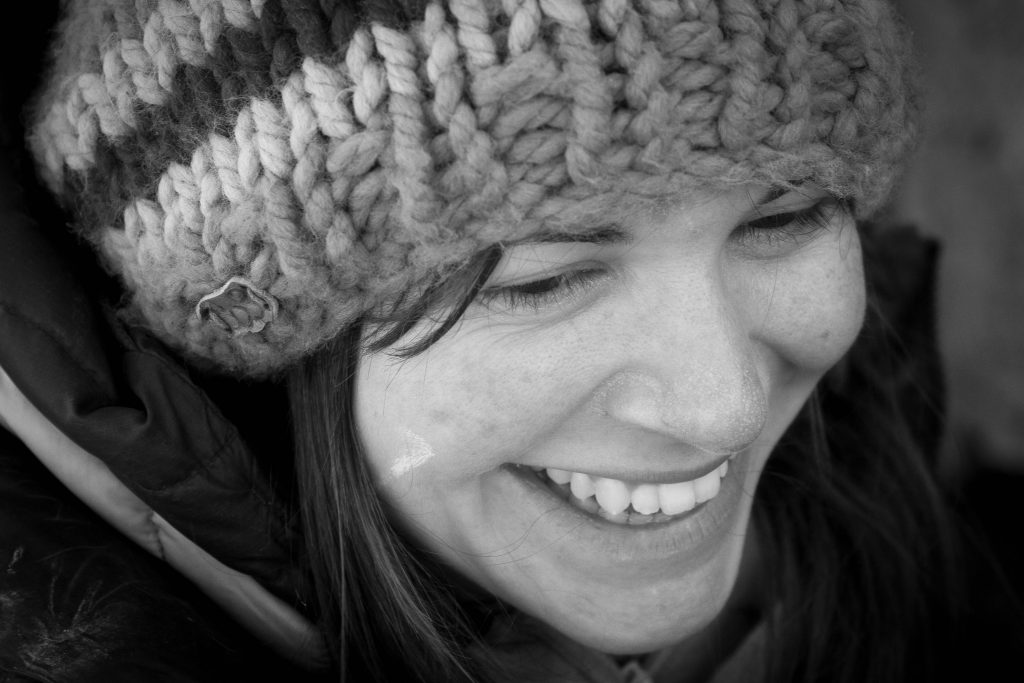 The Tokyo Olympics 2021 will be incorporating climbing this time. How do you feel about that? How will this bring the climbing community forward?
I think it's an exciting time for climbing and hopefully the Olympics will go ahead in 2021. I guess I have mixed feelings, on the one hand it will bring climbing into the limelight a little more which can only be good for developing a grassroots basis to climbing and getting more people interested in the sport.
On the other hand, I'm not sure what impact it will have on the outdoor environment. I guess we will see climbing split very heavily into competitions and the outdoors.
I'm hoping it has a positive impact on the community and we can continue to have good role models within the sport, I'm also hoping it will increase diversity within the sport and make climbing more accessible, but, only time will tell.
What was your routine like amidst the pandemic?
The pandemic gave me a chance to slow down a little and recover from work. I'm normally on the road so much that I was exhausted.
I did some fun training, short runs, playing on the gym rings, core training and on the aerial hoop. I didn't touch a fingerboard or train to heavily as I think it's really important to give your body a break when it needs it.
How do you focus on your fitness outside of climbing? What does your training regime entail?
I used to do a lot of fell running when I was younger so this seems to have given me a good endurance level for climbing. Now, I try to run if my knees don't cause too many issues or swim in the lakes round here.
When I'm close on a project I start dreaming about myself climbing it perfectly.
Mostly I focus on core conditioning and finger boarding outside of climbing. I also focus on doing some yoga when I'm at home.
What are your future plans in climbing?
Right now I'm not totally sure, I know I'd love to do some more Alpine climbing. I have some dream lines in both the UK and abroad but most of them will have to wait till next year now.
In the UK, I have my sights set on various E8's/9's and perhaps a bigger project but the conditions for that one are a little fickle.
Abroad I would love to climb Tom et Je Ris in Verdon and I'd also love to climb on the Eiger. My original plan had been to head to Red River Gorge this Autumn, maybe one day I'll get there.
How do you take care of your mental fitness? Any tips and tricks you would like to give to aspiring climbers?
I think in some ways this is the key, I make sure I'm in the right head space when I'm trying hard. It's important to be kind to yourself when you're having a bad head day or just have easier climbing days.
When I'm getting ready to climb outside I make sure to do lots of fall practice to get my head into gear that it's okay to fall off trying hard. I work to sync my breathing into trying hard which also controls my anxiety on a long run out.
It doesn't matter how hard you're training if your head game isn't there you'll always be limited, many people often forget it's important to train your mind too. I used to get scared so I've found many tricks to get in the zone but it is so personal to each person.
Here are a few key one's for me:
I always clean my shoes because in my mind this means my feet will stick well to the rock.
I practice route reading so that I can visualise projects better. Tying these two together really helps. When I'm close on a project I start dreaming about myself climbing it perfectly.
I try alternate beta on boulders even if I've done them so I can increase my knowledge of beta options. This way if I'm onsighting something, I have an idea of more than one method to hand and can think on my feet quickly.
I have pre-climb rituals for projects.
Any other thoughts or comments?
I guess for me the main thing I can say is just to go out, have fun, love what your doing and be respectful of each other and the places you are climbing.
---
For  more climbing content, follow Sportageous.
You can follow Kinza Tahir here on Twitter.