Zushan Hashmi: Tell me a little bit about your cricket story?

Muhammad Yaseen: I'm from Islamabad, Pakistan and am basically an all-round cricket player, who plays as a right-hand batsman and off-spin bowler.
I started playing cricket in 2005 and I come from a poor background but my parents always supported me. As a professional, I played domestic cricket properly in 2010 and was selected for the Pakistan under-16 team, then I was selected for the under-19 regional academy and national under-19 tournaments.
After a successful season, I went for Grade 2 domestic cricket and first-class tournaments for the Department team. But I was very much disappointed due to preferential treatment and low resources. I sat on the bench for the whole tournament.
From the first day, I was a very hard working and passionate cricketer.
I would say I was not a very naturally talented batsman but I made it happen with hard work. It was my dream to play for Pakistan.
Myself, Hassan Ali, Imam ul Haq, Zafar Gohar, and Hussain Talat were in the same under-19 batch. But now in Pakistan, politics start from the grassroots level and is carried on till the upper level. Eventually, I decided to kill my dreams because during my career I faced many problems like not enough pocket money or appropriate cricketing equipment.
But I never gave up and became stronger but now I think the time is over. My last appearances in the national tournament in 2018 it was a senior district.
Why did you decide to play cricket in the first place?
Because I loved it during my childhood, I loved watching Shahid Afridi play and that inspired me to take it up, when I was in year five.
What do you play as, batter, bowler, all-rounder? Can you share some details around that?
I started as a batsman with the occasional off-spin bowling in the nets. My coach actually asked me to start bowling off-spin properly.
He said you have the ability to become a good all-rounder.
Read our conversation with domestic cricketer in the UAE, Abdullah Ghazi
Has it easy to make a living playing first-class cricket in Pakistan? Why/Why not?
Yes, first class is easy for top club players but not easy for others. If you are from a lower-level club and you have the ability, there is no chance for you.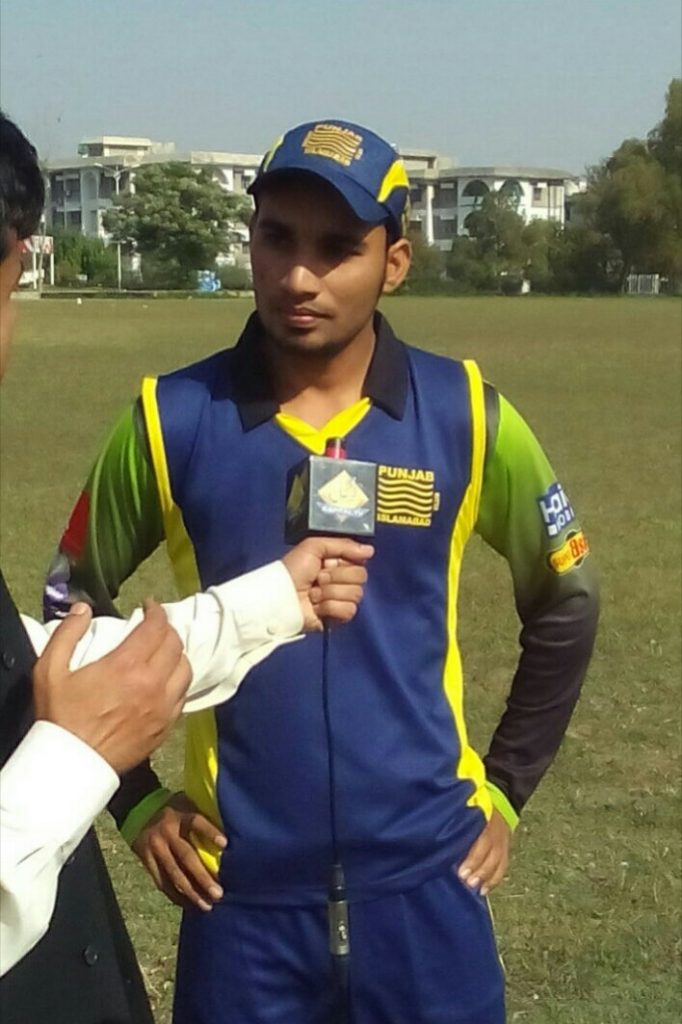 You now work as a sports coach at a school, how has this experience been for you?
It's a great experience for me to learn daily I love to teach children cricket and it also helps pay the bills.
What do you think could have helped you in your journey to grow as a cricketer and play at the highest level?
Not much, to be honest. There are no sponsors, no support and you do everything on your own behalf. Especially since the cricket departments were shut down.
At the age of 26, many would say you haven't hit your peak in cricketing terms, but the lack of support has made things difficult. What do you intend to do in the future?
I am still looking and searching for a chance to play domestic cricket somewhere. But now I am here in the coaching world and will hopefully carry this on in the future.
You attempted to play cricket in the UK and Australia, however, that didn't work out, what were the challenges around that?
Yes, I tried many times and am still trying, but it's really hard for amateur players and non-first class players. The other issue is the lack of connections and resources.
What was the highlight of your cricketing career?
I have played for Islamabad at the national domestic level, some of the games were under-16, under-19, senior district, first-class camp, grade 2 and many local tournaments. I have scored many runs with the bat and bowl too in these tournaments and was awarded several times as the best player of the tournament.
Who is your favourite player and why?
My favourite player is Muhammad Hafeez. We play the same cricket and people have often compared me to him.
---
For more Cricket content, visit Sportageous.
You can get in touch with Mohammad Yaseen on LinkedIn
Saqib Tanveer assisted in the curation of this article. You can follow him here on LinkedIn.