American College Cricket is the national collegiate organization that has developed and governs cricket in American universities. The mission of the organization is to develop cricket in Colleges in the United States and Canada. Since being founded in 2008 the organization has grown to include over 70 member colleges.
We sat down with Lloyd Jodah, founder, president & CEO – American College Cricket to talk about his vision and the future of American cricket.
Zushan Hashmi: Tell me a little bit about your personal cricket journey?
Lloyd Jodah: I come from a cricketing family, my father had 7 brothers, and all of them were cricketers, as were my 3 brothers.
The family helped who helped many cricketers, allowing them to live with us free in the city, including Alvin Kallicharran and Len Baichan who went on to make centuries on their Test debut and many others, like Shiv Chanderpaul in his teenage years until he made his Test debut.
The Jodahs had moved to the city in the early 60s, where the highest levels of cricket happened, where, otherwise, cricketers were generally poor and came from the countryside.
Tell me a little bit about the history of cricket in North America? And college cricket in particular?
My friend David Sentance wrote a book, 'Cricket in America 1710 -2000' as 1710 was the first documented mention of cricket but of course, it was played before. Similarly for Canada.
The first sporting event of any kind between 2 countries was the USA vs Canada in 1844.
In fact in the 2nd year, 1845 it was played at McGill University.
Sports in the USA developed from college cricket – the first sports teams in the USA were college cricket teams in 1834 and 1842 though it was played on campuses long before that.
However, cricket largely died in the USA in the early 1900s.
What was the reason behind launching American College Cricket?
I've loved the game forever. The ICC and cricket generally, until the IPL came along, has always been terrible at marketing the game. For example, look at the latest 'invention' in England, The Hundred, it makes no sense.
This is in addition to ODIs and T20, none of which use the word 'cricket'.
I won't even talk about that new sport 'Premiere'.
It's as if cricket admins have no confidence in their product, and are, in fact, ashamed of the game, so they change it and give it different names, etc. But in America, marketing is the key.
You can have the greatest product, but if you don't market it well in the USA it'll likely go nowhere.
I was working on Wall St when my frustration at this state of affairs made me decide to do something about it.
How has the organization grown since you founded it in 2008?
I don't judge it based on the number of colleges though we've spread the game too, which is well over 100 in USA and Canada, or the 90 tournaments we've done.
I prefer other measures, for example, we did the first web stream of cricket in the USA back in 2010, the first TV broadcasts in 2011, the first ESPN broadcast of cricket in the USA in March 2014, and in 2016 we secured a broadcasting agreement with SONY, which had the IPL for the first 10 years, and is one of the biggest powers in cricket media.
We've created clubs at all the colleges, and they have given space for cricket practice and in many cases, fields to play games on, even under the lights.
We've also pioneered the way on social media, like Facebook and Instagram, and our Facebook page is now the largest cricket page in America.
With so many member colleges, how has the grassroots development of cricket grown thanks to American College Cricket?
We created modern college cricket as a platform so it gives cricket people tangible proof that the game can have a future again in the USA.
That's why ESPN approached us as early as 2009.
Most importantly, it was for the first time in nearly 100 years that the game had an American presence, with American uniforms rather than being only played in remote fields by cricketers, out of the mainstream.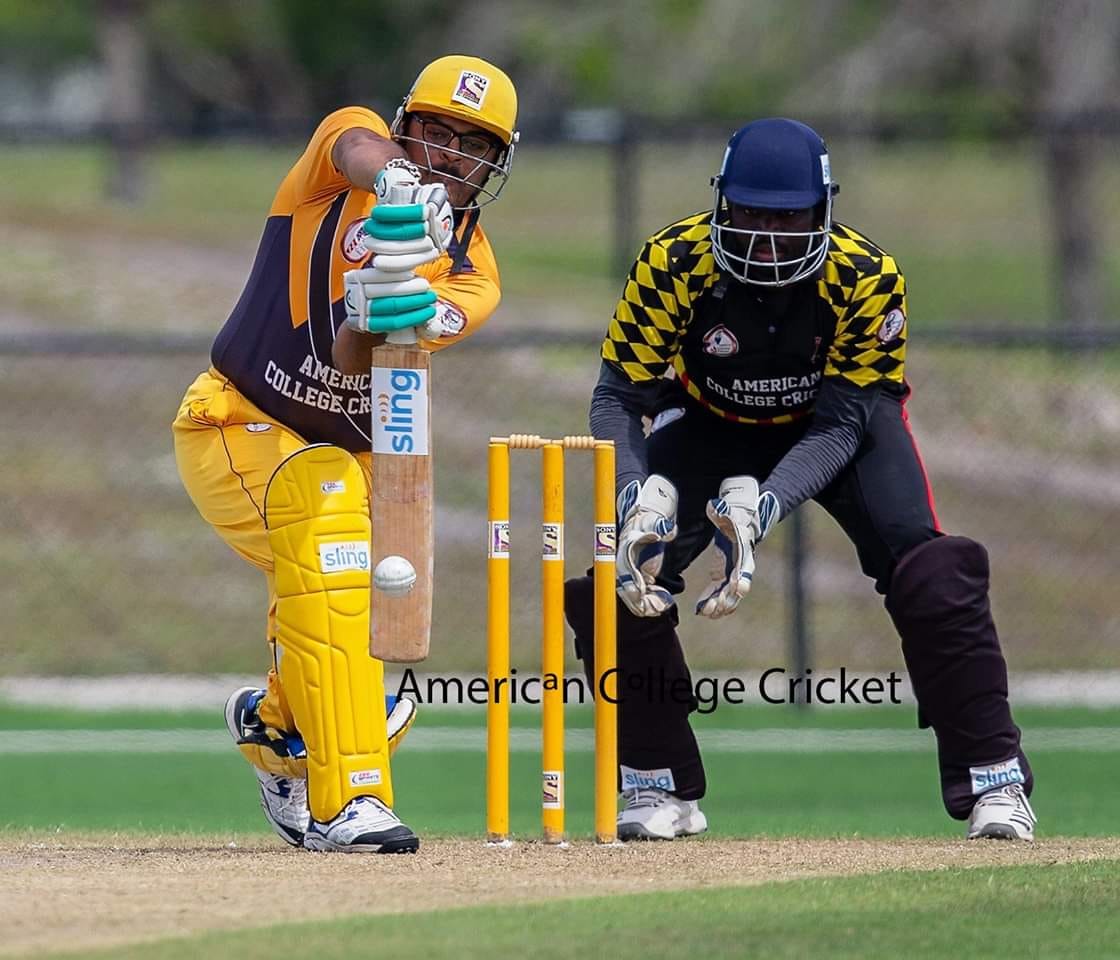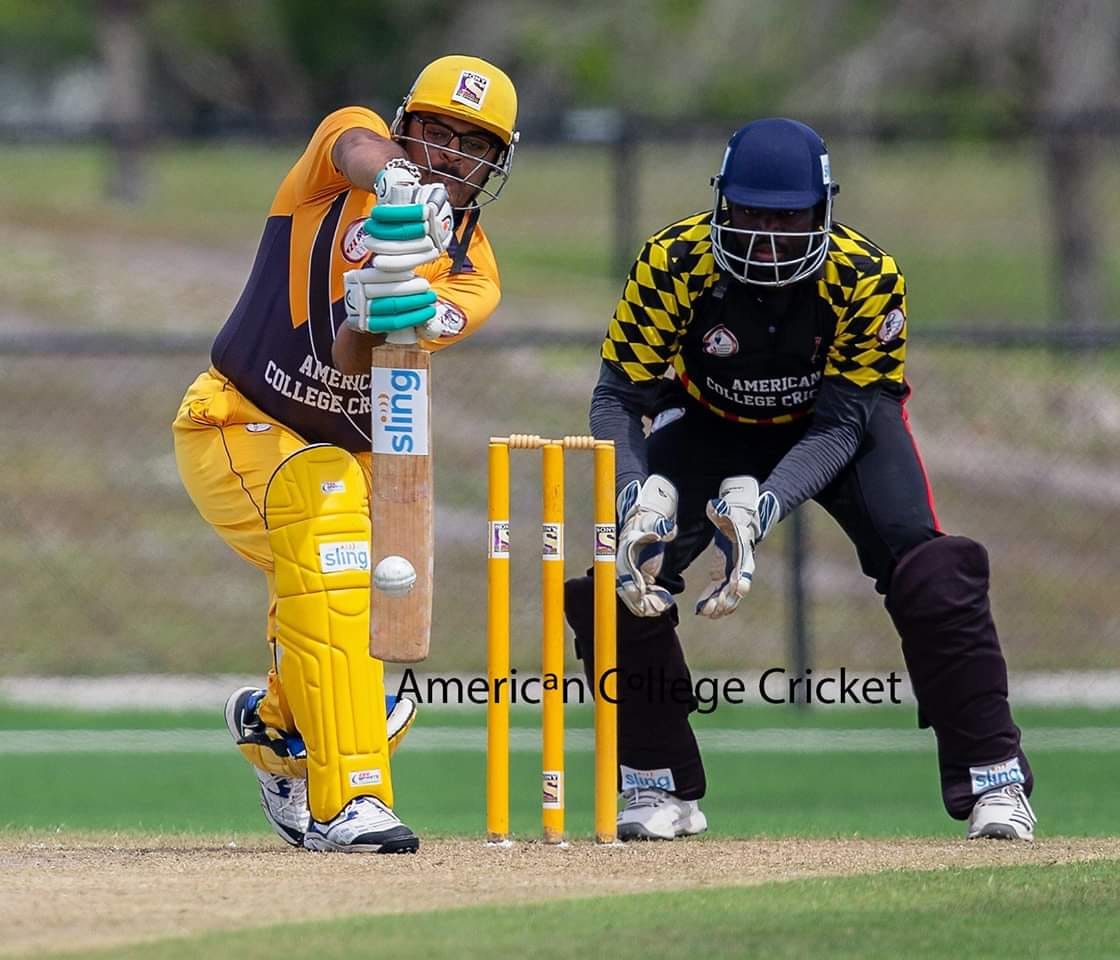 Are there varsity scholarships at colleges in America?
No. We have to put in the work to develop the game first. That's like putting the cart before the horse.
You are also involved with colleges in Canada? Tell me a little bit about that?
We opted to give young Canadian players the opportunity to be a part of American College Cricket since they were suffering from the same issues as young players in America, and tying it to education was something else world cricket needed.
A Canadian university won our Championship in 2010, it got huge media coverage in Canada and really gave young Canadian players hope.
2 of our Canadian players later started Canadian College Cricket with my mentorship, and we revived the USA vs Canada rivalry, which began in 1844.
The players get excited to be selected for the 2 All-Star teams that represent colleges in the USA vs those in Canada.
Tell me a little bit about the format and types of championships/tournaments that are held across states and colleges?
Lloyd Jodah: We only play T20 and have done Regional tournaments around the USA since autumn of 2010.
Our Crown Jewel is the American College Cricket National Championship, which, in 2011, for example, had 67 games played in 5 days.
We made innovations that help the game in the USA, like playing 3 matches in a day starting in 2009, each finishing in 3 hours.
This has allowed large tournaments in the USA, in a short period, despite the limited number of fields, or days.
What is the premier tournament, and could you tell me about that?
The American College Cricket National Championship which happens every March at Spring Break in Florida.
Since 2016 we've been broadcast by SONY and the 2020 Championship Semis and Finals were to be broadcast in India.
It was the first non-international cricket to be broadcast on ESPN, back in 2014, before the IPL even.
How did Shivnarine Chanderpaul get involved with the ACC?
I asked his Manager back in December 2008, who discussed it with Shiv, and he quickly said yes.
I didn't know it at the time but Shiv had partially lived with the Jodah family – one of my uncles – from the age of 13 until his Test debut.
So, when he confirmed that I was from the Jodah family, he said yes.
He is an amazing, humble superstar who never forgot the Jodahs' early assistance, and gave back.
The obvious perception would be that a vast majority of the players have a background in South Asia and the Caribbean, is this the case? Why/why not?
That's only natural and that's how it is in some other American College sports too like Track and Field, Squash.
We get a lot of international students too, as India is responsible for the 2nd most International students in USA universities.
How have sponsorships and broadcasting assisted in the growth of the sport at the college-level?
At the pro level, if you don't have a broadcasting agreement, you're not in the game, so we focused on that from the beginning of American College Cricket, but it's totally unexpected by most students, and possibly not appreciated.
We've done so much in the broadcast arena, I've said in the past, that 7 International Cricket Boards had TV agreements, and American College Cricket also does. That's pretty remarkable, and being broadcast on SONY, live in India, where 80 per cent of world cricket revenue is generated is the ultimate.
Sponsorship remains challenging though we had Coca Cola for 3 years, it was the first time a major American company got involved in cricket. We're grateful too that SLING has been a sponsor since we've been on SONY.
How about media exposure?
From March 2009 onwards we've had a lot of exposure in American and Canadian media.
In fact, when we started, practically none of the colleges had written about cricket in about 100 years, and because of American College Cricket, practically all of our member colleges have now done so.
Or take the New York Times, which is not as important now, but back in 2009 was the top newspaper in the world, they covered our 1st tournament in March 2009, a large 2-page article, which became the most shared Times' article that week, and convinced them to do an International cricket article at least monthly since.
Though we've been the most successful cricket organization in the US for over 100 years, cricket media has ignored us, which is typical of their myopic outlook that is terrible for the game.
A major exception was England's Jim White, from the time when he worked in cricket media.
What do you think needs to be done for cricket to develop across all universities?
We've already done it but the USA has over 5,000 colleges, it'll never be 'ALL' and does not have to be.
Not even football is that pervasive. I'm very happy with what we've created, and we've capped it off with our broadcast agreement with SONY.
Has this helped groom and develop players that play for the USA national cricket team and/or in cricket leagues around the world? Could you tell me about these players?
That's not our primary focus, development of the platform and consequently the game is our primary focus.
Many of our players have the talent to go further but with college cricket providing an outlet for their cricket competitiveness, for most of their education and later professional careers as engineers, Doctors, Tech pros, etc is our priority.
We do give the exposure and support to those players who want to give cricket another try professionally.
Many of our players have gone on to play for the USA and Canada. The current Captain of the USA, who led them to ODI status, is one of our former players and All-Star Captain, Saurabh Netravalkar.
When he came to Cornell University he did not even bring his cricket shoes, as he thought there would be no cricket – we quickly got him back into it and highlighted him, with our interviews, videos and photos, to ensure the appropriate people knew he was here, and playing in the highly competitive sphere of American College Cricket.
Making Saurabh our All-Star Captain was a no-brainer but the intent was to say, here is a very talented player who should also be Captain of the USA team.
Some have also made it into the CPL, and the Canadian Global T20 too.
What do you envision for cricket at colleges in the US in the future?
Maybe I'll save that for my book which I hope to have out by the end of the year, but thank you very much for this interview.
---
You can follow Lloyd Jodah on Linkedin.
You can follow American College Cricket on Facebook & Instagram.
For more on Cricket, visit Sportageous.
Noor Shafiq assisted in the curation of this article. You can follow him here on LinkedIn.