Abdullah Ghazi shares the story of playing domestic cricket in the UAE. A professional in the FMCG industry, and an amateur boxer, Abdullah has played for numerous T10 and T20 leagues, cricket clubs and more around the world.
In this feature, he shares what it's like to be a migrant cricketer with the ability and skill to succeed in the game, but also the challenges faced by domestic players at the Home of the ICC.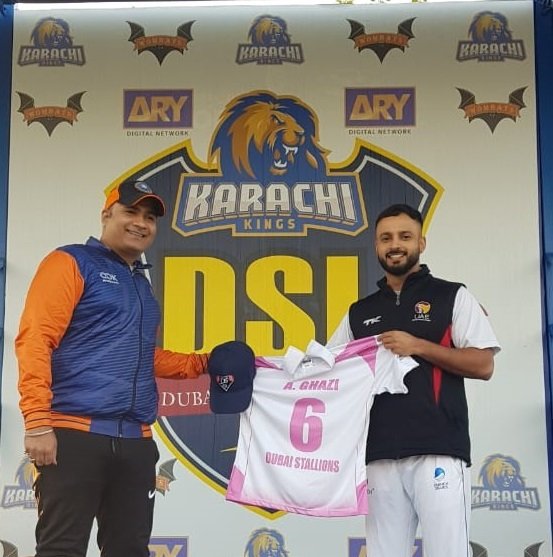 How did you get involved in cricket, what attracted you to the game?
I was born in Rawalpindi, Pakistan, and spent the first 13 years of my life there. Growing up as a kid in the 90s in Pakistan, cricket was a default choice of sports and of course, Pakistan winning the world cup in 1992 was the icing on the cake.
The whole country loved it and every kid wanted to be a cricketer. I remember watching the 1996 world cup more closely and getting emotionally involved in the games as I was 7 by that time and understood it a bit more.
The memory of the 1992 world cup win is of me dancing around the living room as a 3-year-old [laughs] when my parents announced that Pakistan had won the World Cup and rejoiced.
After that, the toys I loved were cricket related too, a plastic bat and ball [laughs]. That was the choice of sports played in schools and local parks in the community as well.
Video games were not very common and even computers were not present in every household. Every evening, after school, kids of all ages would gather in the local park, divide into teams and play tape ball cricket. The elder boys would split the teams and the younger kids would be evenly distributed in those teams.
My father and 5 uncles (1 from my mother's side) all played a sport. My father used to compete in athletics and field hockey, whereas 2 of my uncles played cricket, so I was always encouraged to be involved in sports.
Were you a bowler or batter and why?
Initially, I wanted to play the game and be fully involved, so I wanted to learn both batting and bowling. Even while playing tape-ball cricket in the streets and the park I wanted to be able to do both. Wasim Akram, Imran Nazir, and Shoaib Akhtar were some of my Idols growing up. Wasim is my favourite player and all-rounder.
Shoaib was from Rawalpindi as well, so he was a very famous name in the city of my birth and around the circuits.
Wasim's spell in the 1992 World Cup final was something that really inspired me and made fall in love with fast bowling.
In my school, I would get to bat and bowl because everyone was in the same age group, but in the local park, I was not given a chance and was made to field, which was still a big achievement because as a 10-11 year old to make the playing 11 was something, in itself, on the streets.
I remember hoping that some older guy would not be able to make it for the match and I would be present in the ground, so I could get a chance to be in the playing 11.
I was never given the ball unless it was a match between the kids or the game was either won or lost, then I would get the last over. I was obviously nowhere near quick enough to be a "fast bowler" at that age, so I would not be given the bowling. That made me practice in my backyard and I then developed the desire to be quicker and fast enough to get an opportunity.
As a batsman, I would be the last man and if somehow, I got a chance to bat, all I had to do was survive and block the ball. That, in itself, was a difficult task because the older boys, who were 18-19, were fiercely quick.
I remember hitting one of them for my first six at the age of 13 and everyone teased him for getting hit out of the park by a 13-year old out of the park.
Yet, with the very next ball he bowled, he made sure it was as quick as he could and bowled me out [laughs]. That one six was enough to give me confidence and make me believe that I can bat and it also showed the elder boys that I have the potential now.
By this time I had become a little stronger and taller and was able to bowl some medium pace too, and the chances were now calling.
You need to turn up regularly to training sessions and enjoy them, don't try to avoid them and only play matches as all the learning is during the training sessions. Be open to feedback as you can never stop improving and you never know where you can get a game-changing advice from.
Fielding is generally difficult without appropriate coaching and training, in the UAE, particularly during the early days, there were a lot of tarmac, dirt and concrete grounds. How did that impact your game, both negatively and positively?
Yes, as you said it is very difficult without the appropriate coaching and training and playing in grounds with no grass and just dirt didn't make it any easier.
The first priority was to run as fast as you can to stop the ball comfortably and not having to dive. Because if you did take a chance with diving, you were sure to graze your elbow and knee. It helped me become quicker on the ground and having competed in field and track at school helped me become a fast runner.
But due to the lack of practice in diving and sliding it put me at a disadvantage. Once the facilities started improving and more grass grounds became available, you were more eager to practice the dives and slides.
You were playing from a really young age, what was it like to play cricket at the school-level in the UAE? In terms of opportunities, development, and growth?
As I mentioned, the initial part of my cricket developed in Pakistan where I got a chance to be in the camp of Islamabad under-13, and soon after I moved to the UAE. That was my first experience of playing cricket with a proper cricket ball which, to be honest, felt a bit scary as facing a fast cricket ball was far different to facing a fast tape-ball.
The level of cricket in Pakistan, as you are aware, is extremely competitive even if you are playing in your local park. Every other kid is a very good cricketer and you don't get any easy players. I considered myself as an average player among all the good cricketers.
I still remember my first week in school in UAE, my classmate asked me what kind of cricketer I was and I said an all-rounder. I bowl fast and can bat too. He then asked how quick I bowled and me comparing myself to all the kids in Pakistan and as I always played with guys much older to me, I replied, "I'm ok, not that fast".
I had never really played with kids my age before this until the short camp I had for Islamabad under-13. So, in the break, we decided to try it out as the kids wanted to see how I played.
I bowled the first ball, which accidentally became a bouncer and my classmate ducked it. I walked up to him and innocently asked if it was okay, as I really wanted his approval so I could play with them.
To my surprise, he replied, "man, you are quick, you are probably the quickest bowler in the school right now". That was music to my ears, from being too slow to being given a chance to play and then the 'fastest bowler in the school'. It gave me a lot of confidence and belief and I can happily say until my high school graduation, I was only hit once for a six.
Unfortunately, there were only a handful of schools that played regular cricket and were involved in the tournaments.
The school I was in was not as involved in cricket, as football was the most liked sport in the country.
My circumstances, unfortunately, at the time made it difficult for me to join an academy and get into a formal structure of the sport. This is something I wish was different as I had to wait until I joined University and was 19 to start playing 'proper' cricket.
Today, the school system and the opportunities have improved tenfold, and have a good structure. Many academies have opened up and kids have a very good chance of playing towards a professional opportunity.
Back then, unless you were playing in the few academies (2 being the most famous ones, Shehzad Altaf's Young Talents Cricket Academy, and Tauseef Ahmed's Emirates Cricket Training, the opportunities within the school structure were limited.
Did you ever consider playing in or for Pakistan? 
I think every kid played in the streets of Pakistan and local parks dreamed of playing for their country. That was the ultimate dream.
Once I moved out of Pakistan and started playing good cricket, as an improved player I did wanted to go live in Pakistan for some time and try my luck.
But first, due to my studies and then later a good career opportunity and responsibilities creeping in, it was difficult to just leave everything and move back.
Unfortunately, it was a risk my circumstances did not allow me to take.
Read our conversation with former UAE women's cricket captain, Charvi Bhatt.
So you move to the UK for your education and an opportunity to grow in the sport, tell me about that story?
I started my degree at Middlesex University in the Dubai Campus where I got involved in hardball cricket, seriously, as the university leagues were quite intense and a good opportunity to play good cricket.
Previously as I mentioned, I wanted to but due to certain circumstantial difficulties I was unable to get involved and access cricket training academies or get proper coaching by a professional.
I found out after my first year that I have the option to transfer to the UK and complete my degree. The idea of being able to play cricket in the UK and the experience of it was what made me decide to transfer to the London Campus.
Rameez Shehzad (The current UAE International batsman) was my classmate and he had decided to move to the UK as well. He was already playing for the senior national side and I took advice from him throughout my stay in the UK on how to approach my cricket and even after moving back to the UAE he has been a good mentor and a friend with his professional advice.
I got in touch with the Cricket Captain and the sports society at the London Campus and once I moved there, I joined the team. They were a wonderful bunch of people and I have some great memories of playing in the BUCKS League against other British Universities.
Read about the challenges of a domestic cricket in Pakistan with Muhammad Yaseen
Prior to this, I had only played T20s and one 2-day game, so I was very eager to play the 50-over format.
I got to play in the Middlesex League, Buckinghamshire League, Kent league and the famous Elliot Davis London Cricket League (in which we were the Division 1 winners as well and got a chance to play the final against a team which had the likes of Pakistani professional players like Shahid Yousaf) which was one of the best opportunities in my cricket career.
Playing 50-over cricket helped me improve as a cricketer, work on my skills physically and mentally, as the game was longer than 20 overs.
I used to be very impatient and aggressive, so playing the longer format helped me become more patient and thoughtful as a cricketer, where I could control my aggression and pick the right opportunities for it.
The learning was immense, the experience of playing in a proper cricket structure within a Test Nation was something else. I learned to plan my innings as a batsman and plan my bowling spells as I was on an average bowling 7 to 8 overs in my opening spell.
Compared to the T20s, this was a big change. It made me work more on my fitness, strength, and conditioning so I could perform well throughout the longer game. I really enjoyed my time there and even now, whenever I visit, I make sure I go to the training sessions of the last club that I played for, Gravesend C.C in the Kent League, as I made some good friends, who themselves have grown up and become really good cricketers.
What were some of the lessons and skills you were able to develop playing in the UK?
The main skill I would say was developing mental strength, as it gave me the opportunity to work on my aggression and impulses through the game. I learned the value of my wicket as a batsman, as I did not want to get out after making a quickfire 20 or 30 and then sit out for the next 40 overs sulking that I could have stayed longer in the middle.
As a bowler, I learned to bowl with a plan to get the batsmen out as they were not just coming at me to make quick runs like a T20 format.
It helped me explore the varieties in my bowling as I had the chance to experiment in my spells as well. I honestly enjoy 50-over cricket much more than the shorter formats as I feel the shorter formats are just being played in a rush. Whereas the longer format really challenges you mentally and physically.
Unfortunately, I have not played many 2-day games or even 4-day ones, but that is something I would love to do, as that is the real test of a cricketer.
What was the coaching process like, and how do you think it enabled you to grow in the sport?
So every club had a coach for the first 11, the under 17s, and all other age groups. Regular training sessions, multiple times a week.
The player analysis takes place and is done on their weaknesses and strengths. Then, there would be the first 11, second 11, third 11 and sometimes clubs had up to a fifth 11. In a structure like that with such a vast pool of players, of all ages, the opportunities for learning were endless.
A lot of ex-club players who were now either playing for the counties or the nationals used to often come by as well to visit their clubs. That was a very good opportunity to pick their cricketing minds and learn from their experiences.
You could always find a player, other than the coach, that would have the answer to your problems and weaknesses and then someone who would be willing to work with you on it. So, that really helped me improve as I never missed any training sessions.
Personally, I love training sessions, as it's a great learning environment and you are not under match pressure so you can really experiment.
Boxing really helped me improve my fitness levels. It also helped me increase my bowling speed as both boxing and fast bowling require explosive energy and strong legs.

The movements are complementary as you need to have a strong pelvis and glutes, and be light on your feet.
Did you consider staying in the UK and pursuing cricket? 
I really wanted to stay and keep playing, as I was playing really well and was making a good name in the Kent league, as an upcoming young all-rounder.
I believe I would have excelled more at the pace I was learning and performing, playing in many T20 tournaments, as well as those being held by private T20 leagues.
Unfortunately, my work permit expired and it was not getting extended, due to which, I had to leave and make the move back to the UAE after a good few years in the UK.
After you returned to the UAE, what did you find to be the most challenging aspect of getting your foot in the door, in terms of playing professional cricket?
Well staying away for 3 to 4 odd years from the circuit is a long time. It is like you are back to square 1. You have to find an opportunity with a club again and spend time performing all over again to make a name for yourself.
Also, I had a gap in my residency and since I was not UAE-born, I didn't automatically qualify to represent the country. So, the qualification period of 4 years as per ICC rules, if you are not a citizen, started all over again for me.
The circuit had evolved in this time, a lot of new talent had emerged, and the game was being played at an extremely fast and aggressive pace.
My experience playing in the UK really helped me get back in and perform again. I had to reach out to the clubs I used to play for before moving away and my old cricket mates who helped me get re-inducted into the system.
Playing for my employer's corporate team also helped me get going and get a feel of the pace of the domestic circuit.
With the ICC in the country, you would imagine the facilities and opportunities for up and coming players were significant, was this the case?
I think the ICC moving its head office to the UAE was the best thing that happened to the cricket in the country. The speed with which the game developed and the facilities have improved is great.
The facilities at the ICC Global Cricket Academy at Dubai Sports City were the best in the world and they were available for local teams and players to access.
A lot of work started being done at the grass-roots level with many academies including the one for ICC opening up, giving an opportunity to the young kids to learn and play the game.
Many leagues and tournaments are being held, with corporate leagues happening as well. Indoor cricket also developed at a rapid speed as ICC held indoor tournaments for every level, from the corporate to amateur to professional levels.
Tell me a bit about your domestic career, the teams and leagues that you played in, and what that was like?
I have had the privilege to play for several clubs, including Gravesend Cricket Club (Kent County, England), Beaconsfield Cricket Club (Buckinghamshire County, England), Stanmore Cricket Club (Middlesex County, England), Middlesex University London (England), Middlesex University Dubai (UAE), Arqam Cricket Club (UAE), Conforce Cricket Club (UAE), Transmed Cricket Club (UAE), Iconic Cricket Club (UAE), Panthers Cricket Club (UAE), Eurocon Cricket Club (UAE), Zultec Cricket Club (UAE), Zurich Insurance (UAE), Dubai Stallions (UAE) and Dubai Mustangs (UAE).
In the midst of your cricket career, you took up boxing. Why the shift or addition of sport?
In January 2015, while training with the UAE national side, they were preparing to go to Australia for the World Cup, I broke one of my fingers in my left hand during catching practice. I did not realize the intent of damage until about 2 weeks later and by that point, I had to undergo surgery.
Because of that, I was completely out [of the game], for a good 3-4 months, for that matter, from any kind of sporting activity or exercise. This period made me extremely unfit and once I returned back to playing, I was not fit enough to play well.
I was concerned and wanted to get really fit without having to work out in the gym for months. I did some reading and research about the best ways to get fit and in top shape to play again.
I found out that boxers are some of the fittest athletes in the world and that some cricketers use the sport as a form of training to get fit.
The sport itself got me really interested as well and 6 years down the line I have been regularly boxing and enjoy the sport on its own.
What was that like?
It was probably one of the best decisions I took regarding my fitness, I wish I had taken up boxing at a much younger age. I suggest that everyone take the sport up, even if just for training purposes and not for competing or fighting reasons.
It's an excellent form of exercise if you just want to be a fitter human.
More importantly, how did a different skillset such as boxing, impact your cricket career? Was that a good thing or a bad thing for your cricket? Why?
Boxing really helped me improve my fitness levels. It also helped me increase my bowling speed as both boxing and fast bowling require explosive energy and strong legs.
The movements are complementary as you need to have a strong pelvis and glutes and be light on your feet.
The punching movement is similar to throwing a ball, similar muscles are used to perform both actions. Your shoulders and arms and the lower body get the extreme conditions.
As for batting if you look closely, a boxer's stance is very similar to a batsman's stance. It is as if a batsman is in a "half-cock" position, ready to quickly come on the front foot or move on the back foot.
Your hand-eye coordination improves immensely and your shots have more power in them, because of the stance you punch and move forward or punch and move backwards, is similar to a front foot drive/punch or a drive or punch on the back foot.
As my boxing coach was trying to make me a faster, sharper more agile boxer, all of those attributes were complementing me in my batting, bowling, and fielding.
I became a much faster bowler and a sharper fielder with my catching and ground fielding, and a better batsman with stronger hand-eye coordination while playing my shots.
You need to turn up regularly to training sessions and enjoy them, don't try to avoid them and only play matches as all the learning is during the training sessions. Be open to feedback as you can never stop improving and you never know where you can get game-changing advice from.

Join an academy, play in your school leagues, and try to get involved in competitive cricket as early as possible. Academies are a great place to get this opportunity.
Is there sufficient support for domestic players in the country?
Unfortunately, there isn't sufficient support for domestic players in the country. This could be due to a few factors, firstly, the UAE is a Non-Test playing (Associate) Nation with fewer funds to develop the game.
The majority of the players are from the sub-continent, so to be in the country they have to have a job from the age of 18. They cannot take cricket as a full-time profession and focus on it and because their priorities are the jobs they have, it is difficult to have the same kind of time and attention given to the practice of the game. It all depends on your work timings.
Unless you are playing in one of the cricket academies (which you have to pay to join and everyone cannot afford) the opportunities become slim to play good cricket and have a chance to improve.
Saying all that, things have improved a lot in the last few years and opportunities are increasing, particularly with the ICC headquarters being present and the UAE National side doing very well since the 2015 world cup.
When we caught up in the UAE for the ICC Academy tour, you talked to me about the injury that hurt your career over the past year. What happened there?
I had been bowling with a mixed bowling action all these years and constantly pushing myself to bowl faster and increase my pace. I was pushing my body a lot and was not giving it enough rest.
Unfortunately, it was never pointed out as I was playing well and my fitness was helping me sustain the load.
The first time it was pointed out was in 2018 by Mohsin Arif, who is a professional cricket coach and runs the British Cricket Academy, in the UAE. He is an ex-professional cricketer himself who had played professional cricket in England and was a fast bowler. His knowledge of biomechanics is very deep and he works closely with the famous fast bowling Coach, Steffan Jones.
He pointed out, almost immediately, that there was a flaw and I was bowling with a mixed action, where my torso was falling on the side at the point of delivery and the front foot was collapsing which was having a detrimental effect on my pace and my back. The only reason I hadn't been injured yet was due to my strong fitness.
Moving on to May 2019, I had travelled and the following 3 days after returning, I played 3 games, straight. I had my day job as well and barely slept due to the games being played at night.
Clearly, I had not given enough rest and recovery to my body and while bowling in the 3rd game during the delivery I felt something wrong with my back and it got to a point where I couldn't walk properly after the delivery.
As I had not given enough rest to my body, it was under a lot of stress and I had ruptured a muscle in my back, with the mixed action being the main reason for it. It was a very similar situation to Pat Cummins' back injury in 2012.
How have you been working on rehabilitation?
I have been working a lot on my lower body strength, with a lot of swimming, lower back and legs exercises.
I am trying to strengthen my lower body as it takes the most amount of stress during bowling. It is said that 10 times your body weight is put through the lower body during delivery, so it is the sensible thing to do.
I am working on improving and fixing my action as well. This way the flaw can be removed and when I have fully recovered, I do not want to get injured again and will need to go through this to have a stronger physique to sustain the load.
Also, I am being smart with workload management and making sure I give ample rest to my body and provide adequate nutrition to it.
I had to stop bowling for some time and do a lot of physiotherapy sessions to fix the injury.
Tell me a bit about Asif Ejaz, the physiotherapist of the UAE cricket team and how he has supported you through this difficult time?
He has been a lifesaver for me. I really respect him and owe my recovery to him. I can say if it wasn't for him I might have given up on cricket.
It had been months and the injury was not healing, I had visited 3 different doctors and physiotherapists, done X-Rays and MRI scans but there was no issue. There were no cracks or bone damage visible in the X-Ray or the MRI scan.
All of the doctors said I was fine, there was no serious visible damage and I should just stop bowling for everything to be okay. This was very difficult for me to process and I was very depressed by the thought of not bowling again.
I spoke to Asif [Ejaz] and he instantly asked me to bring my X-Rays, MRI scan and bowling videos, which he then analysed and asked me to demonstrate my bowling action.
He instantly pointed out the causes of the injury and the mixed action being at the root of it and fully understood the injury.
During the treatment, he ran me through the issues throughout the process, asked me to take a break for a few months and he made sure that I was recovering mentally as well.
Whenever I felt concerned I contacted him, met up with him and he helped me fight the injury mentally, as well, and not give up. He's extremely experienced, knowledgeable and a magician when it comes to fixing sports injuries.
What are the facilities/opportunities like for a domestic player going through rehab?
Unfortunately, the players have to manage the whole rehab process themselves and bear the costs for the treatment on their own. This is the biggest challenge as a player because the whole process costs a decent amount of money, from physiotherapy sessions and gym memberships.
There is not enough professional advice available either, so whatever a player can manage on their own is the only facility at their disposal.
I have had to do a lot of reading and research myself to understand the injury and the rehab process. Asif Ejaz, Mohsin Arif (BCA Cricket Academy Head Coach), Rameez Shehzad (UAE International Player) and Zubair Siddiqui (Ex Isle of Man International Player), have been good guiding influences over this process for me.
What do you think needs to change in regards to supporting domestic players with injuries but also beyond that?
At the moment I feel there are very few physiotherapists who understand cricket-related injuries. There are many physiotherapy clinics and chiropractors but none who understand the biomechanics of cricket and injuries of the sport.
Also, it is extremely expensive to go to these clinics and insurance doesn't really cover these sessions. For a regular sports individual, it is not affordable to utilize their services.
If there are more individuals like Asif Ejaz around the circuit and subsidized treatments for athletes, it would be a massive help.
I am sure there is a lot of talent that is being wasted here due to this.
The research and knowledge of biomechanics is also very limited as well with a few individuals who can rectify such errors. If players can be taught about these and their flaws are fixed at an early age, we can avoid these injuries to happen.
Now that you are getting better, how are you keeping yourself busy and fit during the pandemic?
Well, my work has been going on non-stop, even busier actually. Since I work for an FMCG distributor. we supply essentials to the supermarkets, it's been quite challenging and kept me quite busy.
Other than that I set up a little work out space in my backyard where I keep my training going regularly. A bit of running outside the house, some high-intensity workouts from the internet, shadow boxing, and a punching bag by putting 4 car tires on top of each other.
I've also been doing some batting practice with the ball hanging from the garage ceiling and just bowling to the wall. It's been difficult, I must say, training in isolation but I tried to make the most of this time as a fitness camp where many fighters go into isolation before a fight to come back stronger and fitter.
Obviously, I'm missing the skills training and playing cricket, but at least I'm able to make sure my fitness levels don't drop when everything opens up again.
What can we expect to see from you in the future? What would you like to do?
During my injury, I have focused a lot on my batting to make it my strength as well and I'm hoping to return as a better, stronger, and faster bowler.
I would love to earn a national cap for the UAE and get the opportunity to play some leagues so I can showcase my skill set.
It has been a long journey if I look back and want to excel more, as I really believe I am touching my peak now and would like to play some more top-level cricket.
Do you think there is space for you to achieve these goals?
Yes, definitely! I think I still have a good 7-8 years left in me if I keep my fitness levels up which I do plan to as I have done it for over a decade now.
We have many examples like the great Imran Khan, Misbah Ul Haq, and Khurram Khan (ex-UAE Captain) who played into their 40s and performed till the end.
So, I truly believe that fitness is the key to playing for a longer time and there are always opportunities as long as you are willing to put in the effort and hard work. You never know what could have been if you stop trying right?
What has been the highlight of your career and why?
There have been a few highlights that I will remember and cherish:
Being asked in 2015 by Aaqib Javed (then UAE Head Coach) to join the training camp with the UAE World Cup probable squad. After he saw me playing an inter-squad match for Scotland where I took figures of 5 overs 1 maiden & 2 wickets for 20 runs. This was a great learning experience.
In 2019, I was selected in a global talent hunt to be part of the auction draft in the emerging players' category for the Abu Dhabi T10 league.
Training with the Nangarhar Leopards squad in the Afghanistan Premier League and being appreciated by Venkatesh Prasad (Head Coach of Nangarhar Leopard).
Also training and playing with Islamabad United when they visited the UAE for the first edition of PSL and training with International teams like New Zealand, Scotland, Ireland, and Afghanistan when they came to the UAE and trained at the ICC Global Cricket Academy.
Receiving the award for "Rising star of Cricket for the year 2009-2010" from Middlesex University Dubai.
These have been extremely helpful in building experience and self-confidence as a player because if you did well in training with them, it makes you believe that you can play well with International players if the opportunity came.
On the performance front, my 7-wicket hall in a 50-over game against Woodburn Narks Cricket Club (Buckinghamshire County, England) with figures of 11.2 overs 7 wickets for 27 runs would be a bowling highlight.
And as for batting, my score of 151 runs on 66 balls with 8 fours and 15 sixes in a T20 match played under Ajman Cricket Council would be a top highlight to cherish.
Who is your favourite cricket player of all time?
Wasim Akram and Imran Khan would be my all-time favourites as both were top class all-rounders who batted and bowled well and were greats of the game. I loved their skill set and mental strength as top leaders as well.
To add to this, Imran Khan also excelled in other parts of life and completing his education from Oxford University and being a role model for the Pakistani people.
Would you rather watch cricket on live TV or attend a match? Why?
Well if I want to enjoy and have a good time, definitely go and watch it live in the stadium.
If I want to learn and pick on things then, of course, you have a better view on the TV but if I had to choose from playing cricket and watching it, I would pick playing.
It's better to be involved than just sitting and watching from the outside.
As an all-rounder, if you had to pick, batting or bowling?
Bowling, all day any day. I just love bowling, running in, and trying to bowl and out-smart the batter.
I can bowl all day, every day until I get tired and still, I would not be bored.
I also enjoy the adrenaline rush and the feeling of taking a wicket feels more rewarding and it's seeing all your effort and hard work paid off at that moment.
If you could ask one player for advice regarding cricket who would it be and why?
The Sultan of Swing, Wasim Akram, on how to make the ball talk. He was the greatest left-arm bowler to ever play the game, just because of what he could do with the ball.
I would love to learn some tricks from him and how to try to replicate the same magic.
What do you say to young up and coming cricketers in the UAE who want to go professional?
With a comfortable lifestyle in the country, it is very easy to lose fitness and fitness in any sport is the key.
You have to work a lot on your fitness as it can be the defining factor between you and another player. You need to focus on your nutrition and strength as that is the only thing that will help you avoid getting injured.
The sooner you start working on those, the lesser the chances of any career-threatening injuries, you have.
You need to turn up regularly to training sessions and enjoy them, don't try to avoid them and only play matches as all the learning is during the training sessions. Be open to feedback as you can never stop improving and you never know where you can get game-changing advice from.
Join an academy, play in your school leagues, and try to get involved in competitive cricket as early as possible. Academies are a great place to get this opportunity.
Any other thoughts and comments?
I would like to thank Sportageous for giving me the opportunity to share my story and love the work you guys are doing for sports all around. Extremely informative and interesting content. Thank you!
---
You can follow Abdullah Ghazi on Instagram and LinkedIn.
For more Cricket content visit Sportageous.
Saqib Tanveer assisted in the curation of this article. You can follow him here on LinkedIn.