Katya Kipriianova is one of the finest professional Russian climbers, ranking consistently in the top rankings for women's climbing.
We caught up with her to talk about climbing, motherhood and climbing in Russia.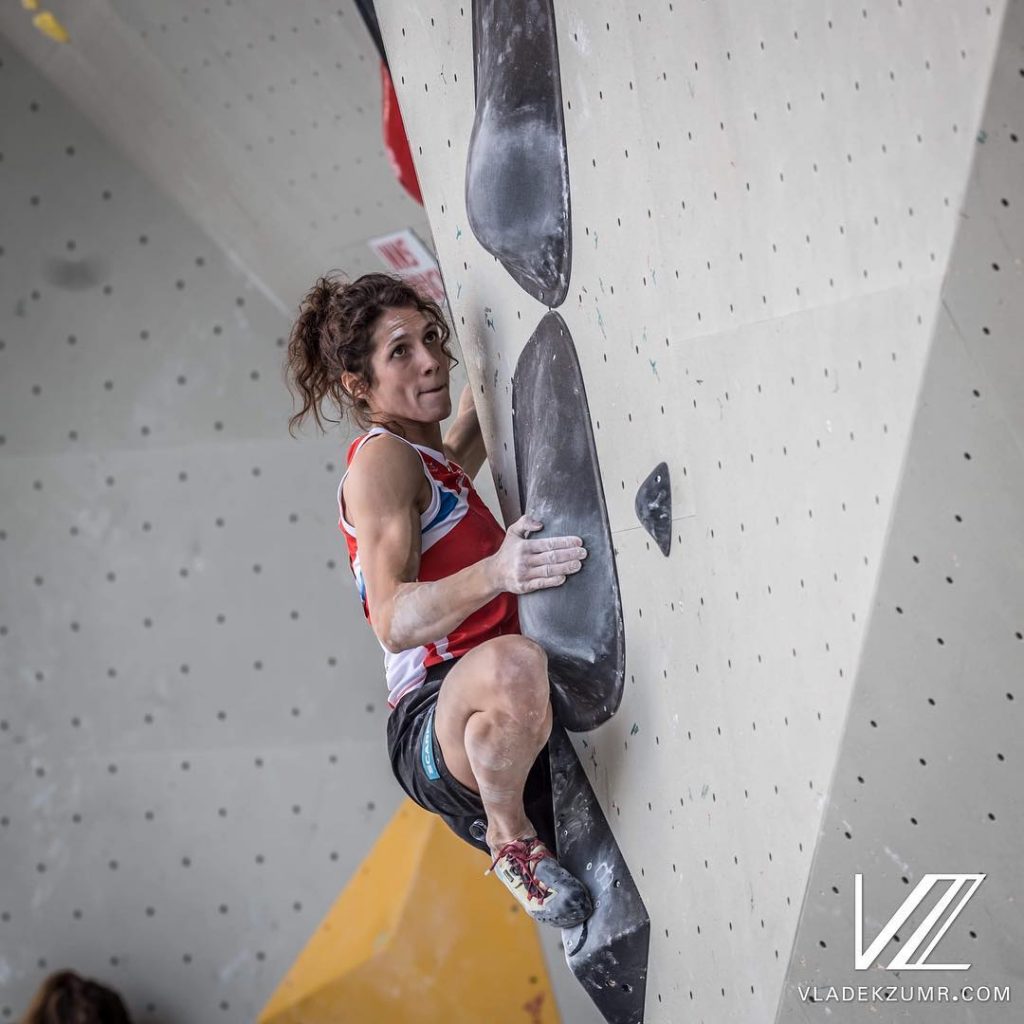 Katya Kipriianova on the bouldering wall (Photo by Vladek Zuma)
Zushan Hashmi: Tell me a little bit about your life outside of climbing and sports in general? What do you get up to?
Katya Kipriianova: That's a tricky question as all my life is pretty much connected to climbing [laughs].
My parents are climbers and I've been climbing almost all my life, and now my husband is a climber too ( he is actually the head coach of a local climbing team) and we are the owners of the bouldering gym.
So, there is not much to say about my life outside the sports. Some might say that my life is too fixated on only one thing and it is boring. But I think if you've found something that you love and you are able to dedicate to it – that is the coolest way to spend your life.
I guess my cat and my son are not involved in climbing. But this is just it for now.
You've recently become a mum, congratulations, tell us a little bit about that.
Thanks a lot! Well, I can say, that becoming a mom (pregnancy, birth, countless sleepless nights) is the hardest thing I've ever done. But it is the best thing as well.
With all the difficulties you get the cutest little toes and a toothless smile and you just melt. And as cliche, as it sounds, I feel pure unconditional love for my son and I wouldn't change it for anything.
I was definitely worried about how I am going to climb with the baby in my hands and will I be able to get back in shape. But very carefully I started climbing again 3 weeks after delivery and now when Lev is 11 months old,  I'm already back at the national team level and I keep training as much as I can, to get stronger.
Of course, now it is way harder than when I was spending all my time training. But I'm glad about where I am now and how things are going on.
We'll see if I can get back to the international level, but I definitely won't do it to the detriment of my kid.
Take me back to how you started climbing and why?
As I said before, my parents are climbers (more mountaineers actually), so it was almost impossible not to try climbing.
I actually don't remember, when I first got onto the rocks, I was just too small to remember. Something like when I was one-year-old or close to that age.
Later my mom met a nice woman – a junior climbing coach and got me into her group in school when I was 8. And since then I never stopped climbing.
What are some of the highlights of your climbing career?
Well, I've been a Russian National champion in bouldering, a couple of times, and the Russian youth champion and medalist in all disciplines, several times.
But the best year in my career was 2018, just before I got pregnant. That year I was third at the IFSC WC in Hachioji, second at the Arco Rockmaster and third at Adidas Rockstars.
Also, I climbed my highest grade outside- 8c in Siurana. It was an awesome year. And I hope I will get a chance to perform better than that someday.
Do you climb traditional routes much? If so, why/why not?
No, I don't do that at all. I tried it once, in our local crag just for fun. But it was a very easy route, I think I could climb it soloing in my sneakers. Mostly I don't climb trad routes because they are scary.
I think I would love to climb some beautiful sandstone cracks in the USA, where bolting the wall, to be honest, would be a crime.
But in Russia, there's no such spot around (there are probably some around, but they're difficult to access), where I wan to climb trad.
On the other hand, there are a lot of other fun things to do, it takes less time and it's cheaper:)
Which discipline do you prefer the most and why?
In the gym, it is definitely bouldering. It is really fun to climb with a group of friends, trying the same problem one after another, making jokes and listening to nice music. And all it requires is you taking your shoes and a chalk bag to go training, there's no need to bring a rope, harness or find a partner for belaying.
Outdoors I'd say I love both: bouldering and sport climbing. But outside it is easier to go climb with rope: there's no need for a big company with a lot of crash pads and you don't have to walk through the forest for hours searching for a crag.
So outside it is more often to go sport climbing for me. But, again, I enjoy both.
Climbing is well regarded as an equal sport that supports women and men equally, what has that experience been like for you, now that you're a mother, and did that change anything in any way?
I think nothing has changed for the people around me. But still climbing has changed a lot for me, especially with regards to self-discipline. As I am breastfeeding, I can't leave my son for a lot of time, and also with a baby, you just don't have free time.
So, you have to organize your life and life of your whole family to find an opportunity to go to the gym or go climbing outdoors. It's even harder to organize yourself to go to the competition or a training camp because you have to go there with all the family when the child is so small. But nothing is impossible if you really want to.
In this regard, of course, for guys, it is easier to keep climbing and have kids. They don't have to stop climbing for more than a year and then get back in shape again and also they can go away for a couple of days, even when the baby is newborn. But it is like that in everything, not just in climbing. It is stupid to complain about that.
Photo by Leo Zhukov
What is climbing like in Russia? Is it growing?
It is not as popular as in Europe or the States or Japan, for instance. You don't see it much on the TV. And if someone gets to know that I'm a climber, I usually hear questions like "have you ever fallen?" or "these cables don't get tear?"
And if you don't live in Moscow or Saint-Petersburg, it is pure luck if you have a climbing gym in your city. But it is a fast-growing "industry". And I hope that after the Olympic Games, gyms will open even in small towns, and more and more parents will get their kids to the climbing gyms.
Outdoors there are some good climbing areas in the south of Russia, and also in Karelia, Ural and Siberia, and they are being bolted actively. We are bolting a local crag every year ourselves with the guys from our gym. And trying to engage people with climbing in our region on the South Ural.
What would you say to young women who are interested in climbing regularly in Iran and around the world?
Just grab your friend, find the nearest climbing gym, and go have fun! But be careful, you can get stuck in this forever!
---
You can follow Katya Kipriianova on Instagram.
For more Climbing content visit Sportageous.
Saqib Tanveer assisted in the curation of this article. You can follow him here on LinkedIn.