Anna Tsyganova is a 23-year old Russian climber who started her career in 2005. In this feature, she talks about her motivations, the highs, and the lows of her journey.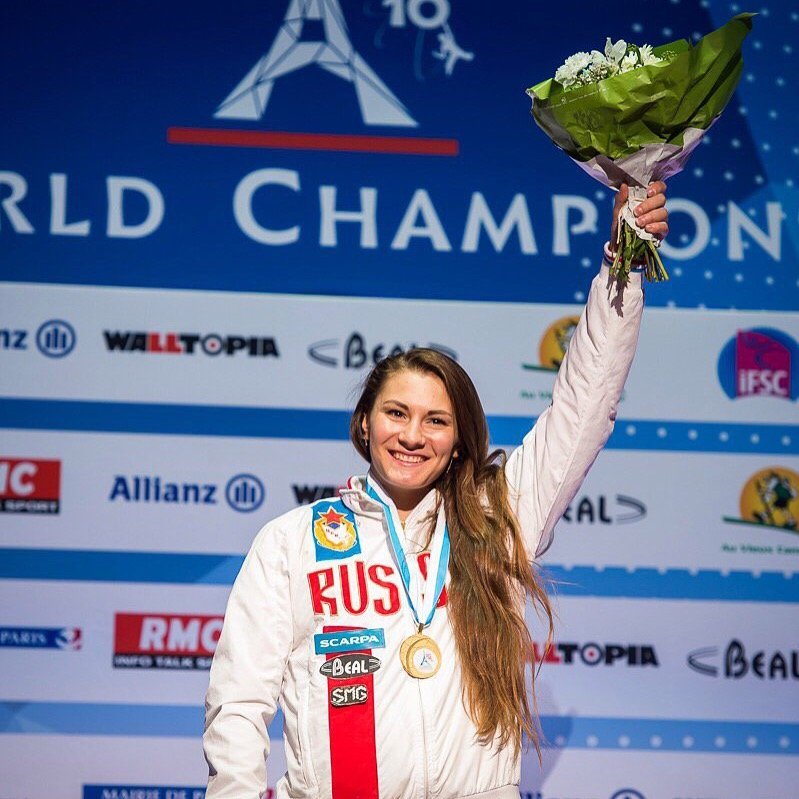 Zushan Hashmi: How did your father, a champion mountaineer, influence you to start climbing?
Anna Tsyganova: I think climbing was within me before I was born. It's a traditional type of activity in my hometown, Krasnoyarsk, because we have a local crag "Stolby" natural reserve. There is a special community there, where everybody climbs together; climbers, mountaineers, and all outdoor lovers.
I started going to climbing school when I was 11 and my father supported me through all of it.

What is it about climbing that you enjoy the most?
I enjoy climbing, I love all aspects of the process: training, competitions, but mostly the outdoors.
Through 10 years of international competitions, I've gotten to travel and see different countries and cultures, as well. Whereas outdoors, I get to be close to nature and see amazing places too.
What are your thoughts on the three-discipline format for the Olympics and competing in the 3 disciplines in the IFSC competitions?
I really love the new format, to be honest, because I enjoy all types of climbing. But it's so hard! Extremely hard!
This is especially true if you are the best at one the disciplines and terrible in another.
And of course, it is hard, physically. After the combined finals, I felt that I wanted to die.

Which discipline is your favourite and why?
I love all the disciplines! I'm good at speed, extremely in love with bouldering and all the contemporary movements, and I enjoy lead too!
Having started off with trad climbing do you still get a lot of time to train outdoors?
It was my dream to 'skip' the season and send some routes on the rocks. And now, after my injury (I broke my spine 9 months ago), and all this stuff with the virus and quarantine, I'm lucky to be in Crimea and climbing outside without any plans.
What has been the highlight of your career and why?
I had a lot of highlights. I will talk about two of them here.
First – my Gold during the World Championship in 2016. It was an amazing experience with the "flow" in my climbing. I had to work hard, but I gained a far better understanding of my body in competitions.

Second, I think was when I fall and broke my spine in 2019 – it was a crazy adventure, so close to death, with a whole month of laying down, long rehabilitation, however, thank God, and everyone who supported me to make a fine recovery.

How is climbing evolving in Russia?
Hard to say it in a few words. I think climbing is a "young" sport but on the other side, we have a long history and strong traditions in Russia.
From Soviet times we have had climbing competitions, these may have been on the rocks of Crimea, Krasnoyarsk, and other regions.
It combined climbing with mountaineering in those days. When the competitions started to take the form of plastic hold though, it began to change, but we still do have many strong athletes at the international level.
Many World and European champions in every discipline are from Russia. Bouldering: Salavat Rakhmetov, Dmitriy Sharafutdinov, Alexey Rubtsov, Rustam Gelmanov, Olga Bibik, Julia Abramchuk.
The speed group, I think, is one of the strongest in the world. From my city alone, Krasnoyarsk, we have 5 world champions – Olga Bibik, Tatyana Ruiga (twice), Vladimir Netsvetaev, Julia Levochkina, and me.
There are many strong athletes from other regions too. And to this date, winning the Russian nationals can be harder than winning the world championships.

Of course with the Olympic format, we've had a lot of changes. Our indoor gyms were not good, so just over the last two years, we started having contemporary plastics training with international level holds and volumes.
With outdoors it's not bad either. We have a lot of rocks, but problems can be long and it gets very cold in winter. However, that's not to say that in some regions, such as Crimea, we can climb all year.
A lot of the best climbing, particularly speed climbing comes out of Russia, why is this the case?
I believe this is due to tradition. Old school competitions were a classic speed format on the rocks. It was natural and it was fun to race. And next on the plastic maybe it was a bit easier to train without a good training base.
And as I said before we had a good school and team.
Then official speed walls appeared and we didn't have these walls. All we have is a handmade one in the whole country, for example, China, alone has 5 or 6, but we still are one of the best in the sport.

And another point I think is the sports system in Russia. You receive money if you receive a medal.
We travel so much with our own money. And in speed, there were some years where the competition was less as compared to other disciplines and that made it easier to grab a place on the podium.

Is it easy to make a living out of climbing in Russia, or do you need to have another job outside of being a pro-climber?
This is a good question. Nowadays you can live through solely climbing but only if you are professional, or have won a world championship or are in the top 5 of the world rankings.
A lot of people stop competing just because they have to feed their children. And as I said before all government support is based on the results at camps, so to summarise – No honey, No money.
But I think everyone understands that it's impossible to compete for all of your life, so some athletes open their own gyms or became coaches, or yes, doing some other job out of climbing.
If there was one thing you could improve on, be it your technique, your strength, or your balance, when it comes to your climbing skills, what would it be and why?
To be a good climber you should climb. My point of view is it needs to be 'universal'. But technique comes first, of course. If you can do 20 one-arm pull-ups but cannot move on the wall, what's the reason? But we are all different and it's nice that we can improve our strong and weak points.
What do you enjoy doing outside of climbing?
I love life. I love to be outside. I enjoy practising yoga and love all types of art. I finished architectural university so I love to draw, to design something. And I can make art from every kind of thing – cooking, drawing, painting, cleaning new projects on the rocks, etc.
Do you have a favourite climbing book or/and documentary? What are they called and why?
I love "Climbing Performance" by Udo Neumann. I think this is one of the fundamentals.
As for videos, I love the YouTube channel, Mellow climbing. And the old school, Dosage documentaries, they are the stuff of my climbing childhood.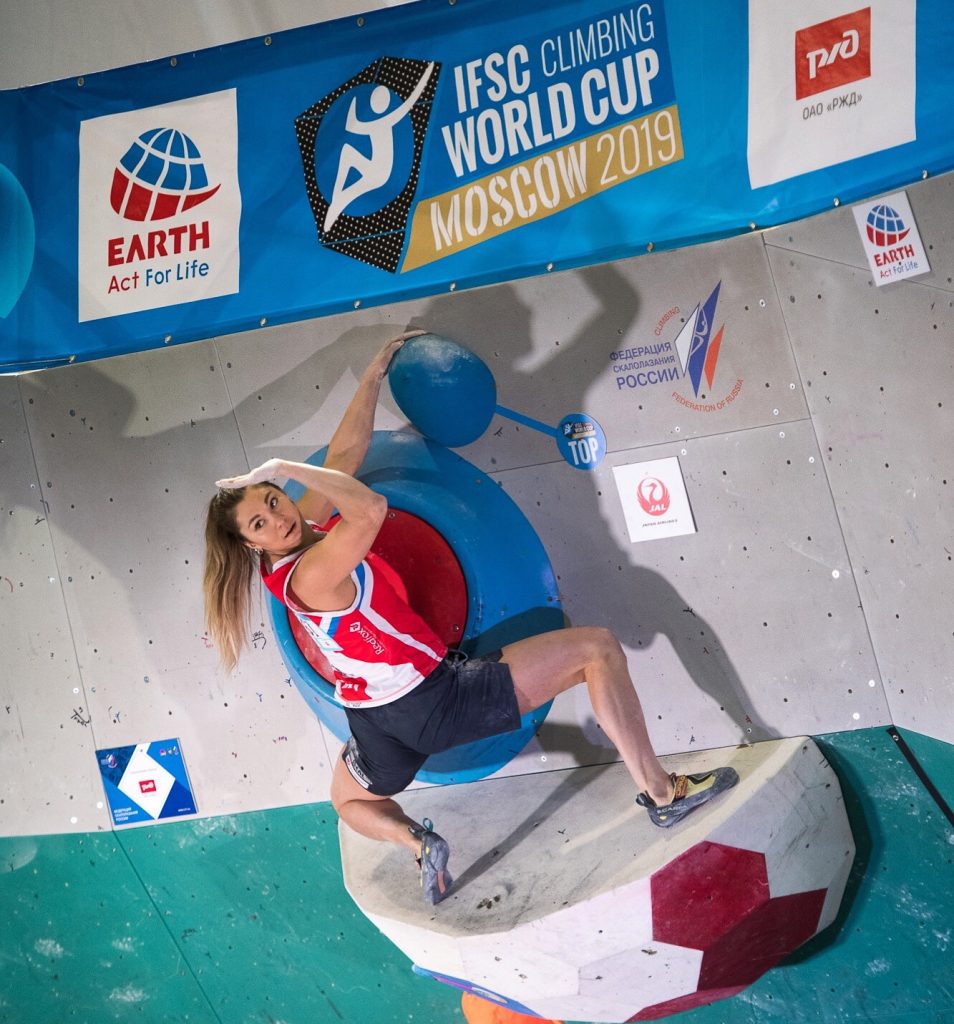 How are you maintaining your health and fitness, while focusing on your climbing amid the lockdown?
I'm luckily locked on the rocks in Crimea. So, it's perfect here.
What do you say to young aspiring climbers who want to become professionals?
Enjoy the process without fear. But listen to your body to stay healthy and not get injured and don't forget to stretch everyday!

---
You can follow Anna Tsyganova on Instagram and Facebook.
For more climbing content visit Sportageous.
Saqib Tanveer assisted in the curation of this article. You can follow him here on LinkedIn.