Janet Vidhi is a professional squash player representing India on the PSA World Tour since 2014 with a highest world ranking of 88.
We caught up with Janet, to talk about her career, the sport in India and yoga as a way of life.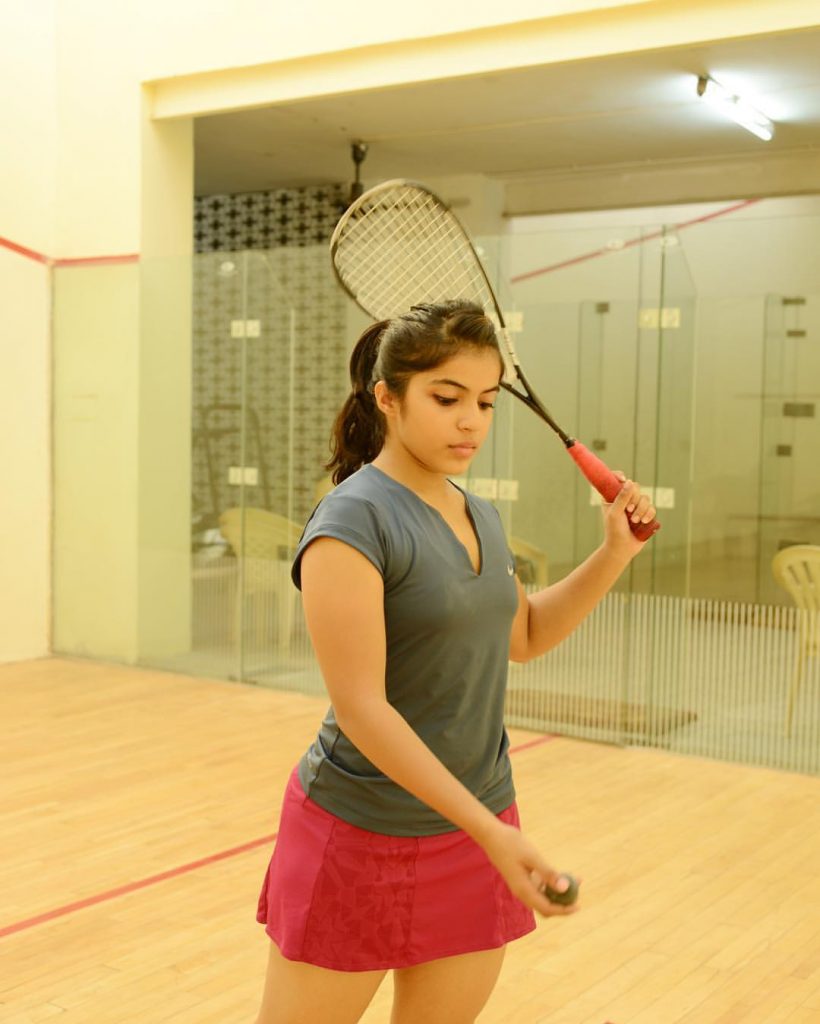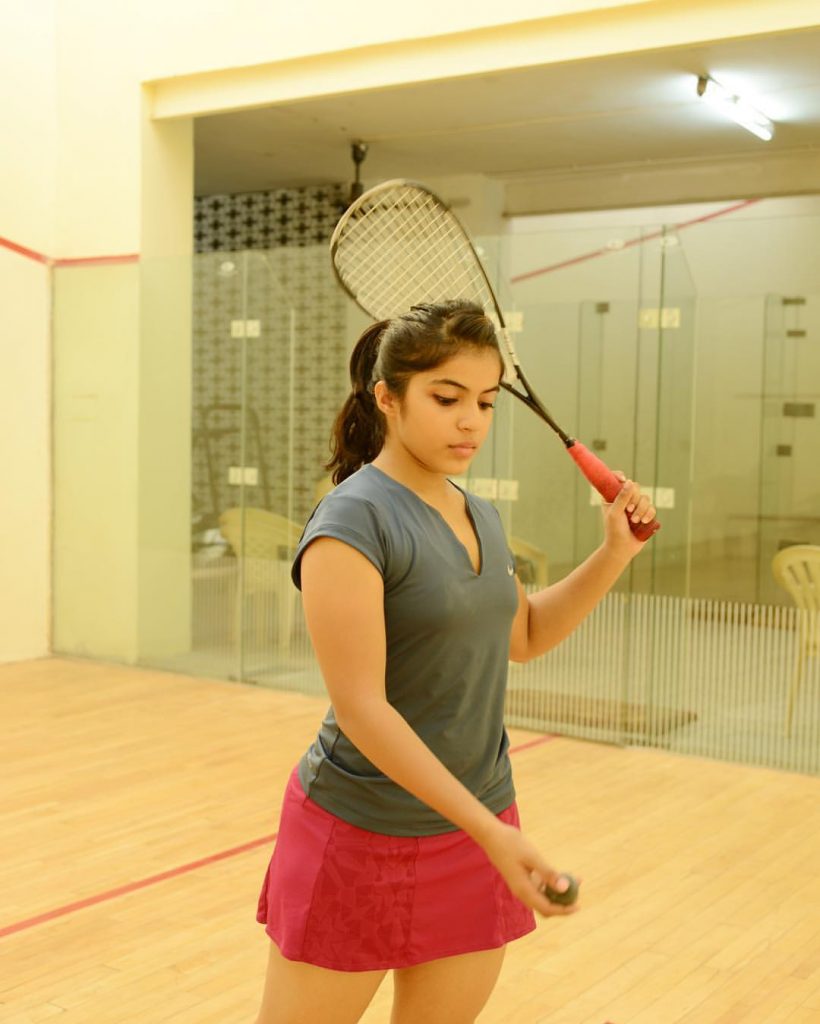 How and why did you get involved in squash?
I would accompany my dad to the local defence sports complex every evening and just hang around there playing every sport possible and squash looked unlike any other sport and I was hooked instantly. My dad had just retired from his military service and was a big anchor since then in coaching me, doing drills, feeding the ball and working on my physical fitness, which helped me improve. He inspired me to start playing this wonderful game and achieving excellence.
You are one of nearly 10 women's players from India to break into the Top 100. Tell me a little bit about that?
Thank you for your question. It took a lot of hard work, sacrifices, unlearning, planning and a lot of travelling. Travelling for playing tournaments is so great because you get to have new experiences but with a greater purpose in mind playing the sport I love.
We should have a lot more quality tournaments in the country for the necessary exposure and experience.
I would also like to thank my parents for allowing and supporting me, their pampered only-child, to travel all alone across the big bad world to cities big and small, whilst handling and managing everything. Their role in my journey is very huge and I am grateful for it.
I broke into the top 100 in 2016 and since then it has been 4+ years and we have had only two girls do the same after me. I was consistently in the top 100 for almost a year.
There is no dearth of talent in our country but it needs an outlet and favourable environment.
How do you think squash has grown in India since you first started playing?
It feels great that we have a lot more people playing squash now. I decided to turn professional in 2014. It was still a tough decision at that time because literally only three other girls were playing professionally, all funded by big wigs with big money involved in sponsoring their every move.
But, I decided to follow my dreams. Now I can proudly say I must have given courage to more people to do the same because now we have more than 20 girls playing professionally.
Although I still feel this number is nowhere near enough to the number of girls and boys that should be playing with regards to a country of our size.
We have a population of 1.3 billion people. Out of that more than 600 million are women and girls, which is greater than the entire population of the USA, but it is still a major improvement.
What do you think squash in India needs to take the game to the next level (i.e. more players breaking into the Top 10 on both the women and men's sides of the game)
There is a need for some serious "unlearning." (You can ask my dad if unclear because he wrote a book about it. Unlearning, that is. Not Indian squash).
Anyway coming back to the topic, instead of corporations spending such large amounts of money on one player who makes it big in any sport, they should distribute that among a few players who are serious, struggling and working hard.
Corporations and the government should come forward and change that.
After the player has made it, such support is not essential for their survival, but it is a do-or-die situation for many of the players out there.
We should have a lot more quality tournaments in the country for the necessary exposure and experience.
At the basic level, we need a lot more of accessible infrastructure to ensure that sports like squash which require a few amenities, like non-marking shoes, a court, rackets, and ball are accessible to all sections of the society.
Initiatives like "Khelo India" are great because they institutionalise playing sports among children from the grassroots and the benefits will carry on for the coming years.
You have spoken about the fitness requirements of squash in the past, tell me a little bit about them, and what you do to stay fit and manage the demands of squash?
Squash is the simplest game in the world. You hit the ball so as to make it harder for your opponent to pick it. Easy right? Wrong.
As the famous saying goes– you don't play squash to get fit, you get fit to play squash!
Till about last year I was focusing a lot on strength training, hitting heavyweights with hip raises, squats, deadlifts and the likes (my personal best squats being at 90 kgs).
But this year, aided by the COVID situation and gyms shutting down, I have moved away from that style of training.
I have been doing more interval-based, high-intensity workouts, bodyweight exercises and outdoor running. It's a good change to keep things fresh and my body is loving it.
It gives you a sense of how important sports and sportsman spirit is in creating an enjoyable world with suitable outlets for the competitive spirit of humans. Athletes have that power of causing change through leading by example.
Let's focus particularly on yoga. How has it enabled you to elevate your game and how does it, in your opinion, contribute to your game? (i.e. flexibility, strength and mental training etc.)
Yoga is a way of life. It is a misconception to think of it as simply stretching or holding cool poses. Yoga is a tool, a technology that can be utilised to live a better life.
Finding a more solid foundation of yoga has allowed me to be more rooted and secure. I am more self-assured with the knowledge that  no one can know what will happen, but no matter what happens I will be alright.
I feel fortunate that I was born into a culture where I was introduced to it from a young age. Although I took it for granted initially and would only follow a few set routines to get it over with, over the last few years I have unlearned that mindset and tried to play around with it and find what works for me.
I am grateful to my gurus Swami Ramdev and Sadhguru.
And what is your favourite type of training off-court? Why?
Ever since the lockdown began I have been improvising and doing a lot of new types of training, much of it in my living room. Over the last few months, I have developed a love for burpees.
It's interesting because the more you do them the more refined and smooth your movements become. I think I've done more burpees since the lockdown than in my entire life prior to it.
I have also taken to running quite a bit. The start is always a struggle but the runner's high at the end feels amazing. Plus working out outdoors is always a welcome and oftentimes strange change for indoor sports people like me.
How about on the court? Why?
On the court I love solo, hitting parallels (drives) there is something about that I find very meditative. And I love playing practice matches with players weaker than me (more out of necessity than by choice) and making them run around.
Who are some of the players you look up to and why?
I look up to Nicol David a lot. She is an absolute legend of the game. She has won the world championships a total of eight times which is insane to think about.
I had the good fortune of meeting her when the Commonwealth Games were held in Delhi and I was invited to play in the Commonwealth test event alongside. It was a dream come true to interact with her and click some pictures.
I have also recently learned about a legendary track athlete from the 70s, Steve Prefontaine.
He has an incredible story of exceptional performances on the track with very basic means and rebelling for a cause greater than himself.
In his own words, "to give anything less than your best is to sacrifice the gift"
What has been the highlight of your career and why?
I am finding this question very difficult to answer. Hopefully, it is yet to come. Ask me that again in a few years' time!
But to name a few good ones, playing the tournament in Sarnia, Canada was amazing. The people were so welcoming and I had the best billet ever (Kirsty).
She was so supportive and drove me to all of my matches and cheered for me even when I was up against the local favourite in the quarterfinals and beat her in a close 3-1 much to the dismay of the local crowd.
Another great memory is playing a tournament in Dalian, China at the peak of border tensions between our two countries. I was playing with a Chinese player and it was a closely fought battle with a very loud local crowd and me coming out on top 3-2, but it was an entertaining match played in good spirits with fair play.
And would you believe it, the very next day border tensions de-escalated too. It gives you a sense of how important sports and sportsman spirit is in creating an enjoyable world with suitable outlets for the competitive spirit of humans. Athletes have that power of causing change through leading by example.
Many Indian squash athletes are learning and developing their trade overseas. What are your thoughts on playing for colleges in for example the US versus at home?
Players like Ali Farag and Amanda Sobhy have shown that it is possible to study at Harvard, whilst playing at the highest level. However, it is important to note that every individual faces a different set of challenges and the starting point in life is not always uniform for everyone. I believe in preparing for the future and not having a plan B.
Our Prime Minister Modi Ji is calling for Aatmanirbhar Bharat (vocal for local), essentially becoming self-sustainable and I feel that should apply to sports as well.
We should have adequate systems in place to channelise our talent without travelling abroad for training becoming a necessity. None of our top players can claim to be "made in India", which is unfortunate.
College squash is very entertaining but comes with its own set of challenges and pressures. Often the academics takes priority over tough training. That's why so many talented kids end up leaving the sport and give up.
It contributes to the brain drain that we experience across so many sectors in our country, and sports is no different.
What are you working towards in the near future?
I am working towards becoming a better squash player by improving my speed and discipline and trying to pass my first semester MBA exams (statistics, for example, moves at lightning speed, you miss one sentence and boom before you know it you're reading gibberish).
---
For more Squash related content, follow Sportageous.