We've all heard of the US number 1, Amanda Sobhy, and her incredible squash career, as one of the pioneers of squash in America.
In this exclusive, we caught up with Amanda to discuss her journey as a squash player, her routine amidst the pandemic, her resolution to stay motivated no matter what and more.
Kinza Tahir: Tell me a bit about yourself and your hobbies outside of Squash.
Amanda Sobhy: I am 27 years old, born in Sea Cliff, NY, but now residing in Philadelphia, PA. I'm half Egyptian with my Dad from Cairo, Egypt, and my Mom from the US. I have an older brother, Omar, and a younger sister, Sabrina.
I grew up playing multiple different sports as a kid with Tennis and Soccer as my first two sports & then playing Softball and Volleyball in school.
Music was also a part of my life as my Mom's a music teacher. I played the piano and French Horn and sang in multiple choirs until I was 18.
I very casually continued my singing career in car rides, showers, and sometimes singing the National anthem in various sporting events like the Boston Bruins, Brooklyn Nets, Red Sox and Tournament of Champions.
I'll add that I'm a proud left-hander even though I despise can openers, scissors, and pencils with a burning passion.
I studied Social Anthropology and Global Health at Harvard University and then based myself for 5 years after graduation in Boston as a professional, before moving to Philly this August.
If social media was a major at Harvard, I probably would've gotten an A for once. I'm a very conflicted sports fan, having been a Pats, Celtics, & Bruins fan in Boston, but given how much Philly hates Boston sports teams & fans, I feel like I need to become an Eagles, Sixers, and Flyers fan for my own safety.
I was the MIT Assistant Squash coach for 3 years from 2017-2020 and loved being the Assistant Coach/Team Mom for my MIT guys.
I geek out over data and stats especially when it comes to whoop & my recovery score. I love food and have a massive sweet tooth.
My favourite meal is a bacon cheeseburger with sweet potato fries. And if I were to describe myself as a colour, I would be hot pink because I am very loud and out there.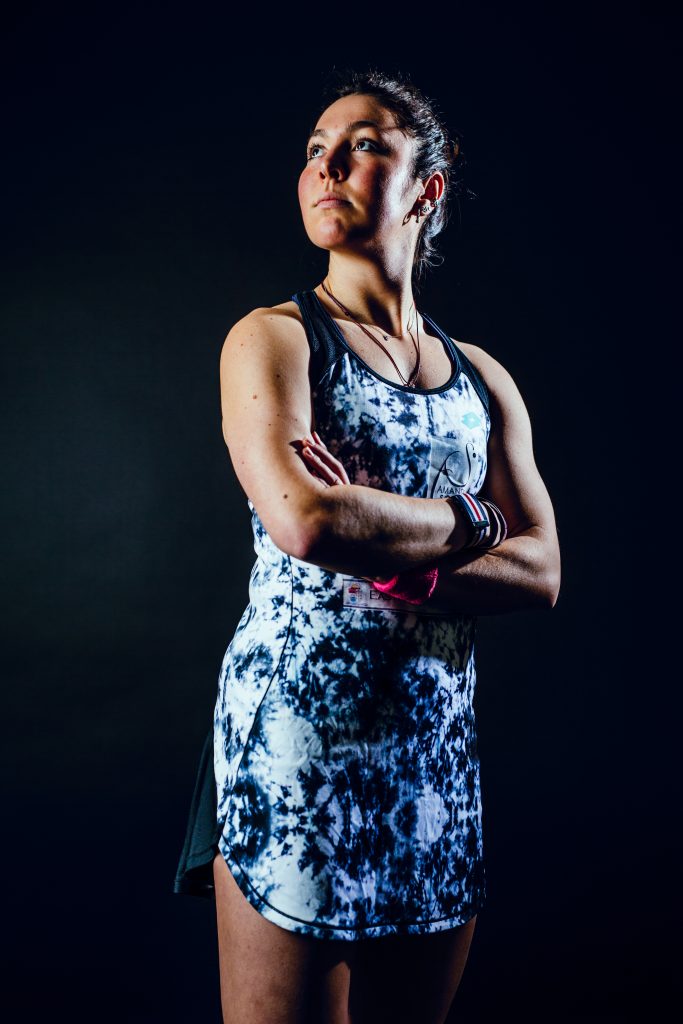 How did you get involved with the game?
Both my parents played and my Dad was a high-level player in Egypt, growing up. My parents met through squash–my Dad was playing a tournament in NYC in the 80s that my Mom was organising, so I come from a squash family.
Rupturing my Achilles in 2017 when I was at my highest world ranking definitely was a massive setback but it taught me so much about myself.
My older brother played, so I was dragged to tournaments and naturally got into it at the age of 11. I was playing tennis since the age of 6 but switched over completely at 12 to play squash as well as other non-racquet sports.
What has your routine been amidst the pandemic?
Currently, I am back training full time in a little pandemic friendly bubble that I have put together, so I am only going to one club and hitting with 2 people on a regular basis.
It's been great to have structure back in my life again. Before moving to Philly, I was living at my mom's house in Sea Cliff and doing a lot of off-court fitness work, teaching virtual training sessions, and just listening to my body and giving it what it needed.
It was nice to be able to do what I wanted. Some days it was going for an hour-long run, and other days it was laying out in the backyard drinking white claws (a hard seltzer drink I've become obsessed with) & reading a book.
What is your training and fitness regime with the looming COVID-19?
Now that I'm in Philly and back training, I'll pretty much go to the squash courts and spend the day there and train twice a day with my hitting partners & coaches.
For fitness, I've been going to a facility in the city called Zarett Rehab & Fitness where I rehabbed my Achilles at and will train there with a mask on the whole time. Doing fitness training with a mask on is brutal.
How is your relationship with your coaches? How much credit would you give them for your success?
I've just transitioned my base from Boston to Philly, so I'm working with new coaches down here which I'm very excited about.
I was working with Thierry for 7 years while I was in Boston & I credit the majority of my rise up the rankings to working with him, but I'm looking forward to this change in the training base and being down in Philly.
Tell us about a title you won which changed your life and why?
Winning the 2010 World Junior Championship title on my 17th birthday because it made me realise that I wanted to do this as a career and become the Women's World Champion one day.
Tell us a little about your injury in 2017. How did it affect your game and how did you overcome it?
Rupturing my Achilles in 2017 when I was at my highest world ranking definitely was a massive setback but it taught me so much about myself. Whether it was my resilience, training more intelligently, taking care of my body more, appreciating being able to compete, or knowing that I can't take anything for granted, because anything can happen.
It toughened me up a lot mentally. Also, the time off allowed me to start fresh in terms of training and developing my body and my game. I think everything happens for a reason and only positives came out of that injury for me.
What makes squash one of the most challenging sports?
The amount of stress it puts on your body combined with the mental aspect of the game. Not only is it extremely difficult physically, but it's tough mentally as well. Not many sports can say that it has every element in it.
How do you calm your nerves under pressure during the game?
I breathe and focus on the present moment. This is what I train for, so I try to rise up to the occasion instead of crumbling by it.
What is the perception of Squash in America?
That it is a rich, white person's sport. It's sad because that's not entirely true anymore. It's become a lot more diverse with the Squash Education Alliance giving access and opportunity to urban communities with all the urban squash programs around the country.
Also, more clubs are being created to appeal to the masses and become more inclusive instead of just having squash in private country clubs, so it's heading in the right direction.
The US women are improving with 4 of us in the Top 35, so hopefully, we are providing some inspiration for the next generation of US Juniors!
I grew up never belonging to a country club and I was fortunate to play at one growing up on Long Island due to my Dad being the squash teaching pro there.
Otherwise, I'd have no idea where I would have been able to play. There needs to be more public squash facilities in the US like how there are in Europe.
Do you believe Squash is growing?
100% yes, and I believe that a lot of the growth in squash is in Egypt & the US. Egypt is the dominant country right now so there are many kids who want to play squash especially when they have a ton of role models from their country to look up to.
The US is growing because of college squash and it is becoming such a great tool for kids to have in order to get into a top university. Plus, the US women are improving with 4 of us in the Top 35, so hopefully, we are providing some inspiration for the next generation of US Juniors!
What has been the most challenging moment of your Squash career?
Rupturing my Achilles in 2017 when I was at my highest ranking. However, I believe that everything happens for a reason, so I used that setback to make myself stronger and more resilient as a person and player.
What qualities should an athlete have and what advice would you give to aspiring Squash players?
Top qualities, in my opinion, would be to be hard-working, driven, and open-minded. At the end of the day, hard work beats innate talent.
My advice to young kids would be to chase your dreams & don't let anyone tell you that you can't do something.
Any other thoughts or comments?
Stay safe! Wear your mask! And for the love of God, partying with your friend can wait!
---
You can follow Amanda Sobhy on Instagram, Twitter and Facebook or visit her website here.
For more Squash related content, visit Sportageous.