It's National Reconciliation Week here in Australia. Over the course of this week, we celebrate Indigenous history and culture in Australia.
At Sportageous, we wanted to share some stories of five Aboriginal cricketers on both the men's and women's side of the game. Not only were these players influential in the sport, but they have challenged the norm of the cricketing world in their respective eras of the game and played the game with zeal and passion.
Sportageous acknowledges and pays respect to the past, present and future Traditional Custodians and Elders of this nation.
Aboriginal and Torres Strait Islander peoples should be aware that this website contains images or names of people who have passed away.
Unaarrimin (Uncle Johnny Mullagh)
CC by Chris Fithall (Contact)
The first and most obvious individual on this list is Unaarimin, more famously known by his given name Johnny (or Black Johnny to differentiate between him and a 'White Johnny') Mullagh (the name of the station where he worked and was born). 
Mullagh was a member of the Jardwadjali people who inhabited what we know today as the lands in the upper Wimmera River watershed and west to Lake Bringalbert in the state of Victoria.
He also starred with the ball and bat in the first Australian, All-Indigenous cricket team to tour England, where he picked up over 240 wickets and scored more than 1800 runs.
However, his life was much larger than cricket alone. He was a proud individual, who did not handle or accept racism and discrimination lightly refusing to play when he was asked to eat alone in the kitchen away from the white players.
He led most of his life working as a stockman and maintaining a pastoral lifestyle while playing the game he loved.
One, which was quite popular amongst several Aboriginal communities in Australia, until discriminatory laws came into place.
Today, you can head to the town of Harrow in Victoria, where Mullagh was born, and you will find him everywhere.
There's a museum dedicated to him, a tournament that is held in his name between Indigenous cricketers and other cricketers on annual basis and lots more.
To learn more about his story and that of the famous Aboriginal all-star cricket team that toured England long before the Ashes Rivalry began, you can also read Bernard Whimpress' book, A Passport to Nowhere.
Uncle Eddie Gilbert
State Library of Queensland, Australia
The fastest bowler that Donald Bradman ever faced, at least that is what he once said himself about Eddie Gilbert deliveries being "faster than anything seen from (English speedster) Harold Larwood or anyone else"
If you thought the late 19th century was unjust towards Johnny Mullagh, Gilbert's story was far more disheartening. 
Gilbert was taken away from his family as a part of the Stolen Generations, where the Australian Government and Church Missions forcibly took Aboriginal children from their homes and placed them with white families. 
Nonetheless, Gilbert grew up playing cricket and quickly developed a very solid fast-bowling foundation. 
In his 23 first-class matches for Queensland, he took 87 wickets with six 5-wicket hauls.
However, it was the story of the wicket-taking over that he bowled to the Don in the summer of 1931 that he is remembered for today. 
Much like his predecessor, Johnny Mullagh, Gilbert also faced discrimination and injustice at the hands of Australia's oppressive policies towards Aboriginal people at the time. 
If it wasn't for the ill-founded allegations against his bowling action and being called a 'chucker' on several occasions, his time away from cricket due to a leprosy outbreak where he lived and the simple fact that he was Aboriginal in Australia in the early 20th Century, Gilbert would have long been the first Aboriginal Test cricketer to wear the Baggy Green.
Alas, it was not to be, and Gilbert retired due to a drop in form and spent most of his remaining life struggling with mental illness and alcoholism until he passed away at Wolston Park Hospital near Brisbane.
Aunty Faith Thomas
Faith Thomas is the first Indigenous person, one of only two Aboriginal women, and one of three in total, to play test cricket for Australia.
She is an Adnyamathanha woman whose original name is from the area that is now known as the Flinders Range in South Australia.
Like Eddie Gilbert, Thomas was also a victim of the Stolen Generations policy and her original name Tinnipha became a distant memory.
Faith Thomas can now be found at a retirement home in South Australia that she helped build, but her story is one that many would consider miles ahead of its time, and arguably an anomaly in Australia's sporting history.
To add to this, she was the first aboriginal woman to play professional sport at the elite level for Australia, while also becoming one of the first Aboriginal nurses in the country as a part of the first batch of Aboriginal college graduates in Australia.
Alongside cricket, she also played squash and field hockey, admitting that the latter was more important to her than cricket.
And although her only test match was unremarkable, her story is anything but.
And albeit, this story is now buried away in a shared room at the Wami Kata aged care home, it is one worth learning about and treasuring by Australians, for the groundbreaking tale that it is.
Jason Gillespie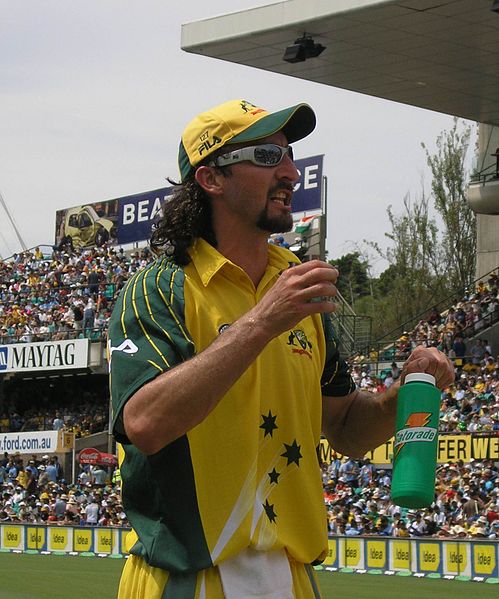 CC by Allansteel
For cricket fans, Jason Gillespie is perhaps the only person on this list who needs no introduction.
Over 250 wickets in Test cricket, including that famous 201 not out with the bat against Bangladesh, and 140+ wickets in 92 ODIs, Gillespie was in and out of the Australian men's cricket team for nearly a decade.
In fact, if it wasn't for injuries that forced him to stay off-field for longer than he would have liked, the above figures would read far better.
He is a descendent of the Gamilaroi people, from the areas stretching from New South Wales to Southern Queensland and the first Aboriginal man to play test cricket for Australia. 
Having toured England, played the Ashes, and 4 games at the 2003 World Cup before returning home with an injury, Gillespie is one of the finest to play the game. You can read his story in Dizzy: The Jason Gillespie Story
Ashleigh Gardner
Ashleigh Gardner recently became a World Champion, winning the ICC T20 World Cup in Melbourne with her Australian teammates.
She also played a key role in the games against New Zealand and Bangladesh with some quickfire 20s in the top order to give Australia the edge en route to the final.
Gardner is an Aboriginal woman of Muruwari descent, from the lands that stretch Barringun at the border of New South Wales and Queensland to Weela located in the latter state. 
Her childhood cricket story is an Australian cliche, with regular backyard bouts with her family, the bat and the ball.
At the age of 18, she captained the National Indigenous women's squad on a tour to India and soon after became only the third and current Aboriginal player to play test cricket for Australia.
Remarkably, Ashleigh Gardner is also the only Aboriginal cricketer to represent Australia in two Cricket World Cups, albeit in both the T20 and ODI formats of the game. 
In recent years she has become a mainstay in the Australian cricket team, and at the age of 23, as the women's game continues to grow, her cricket career only has bright things ahead, and maybe even a potential captaincy down the line.
Ashleigh Barty
CC by robbiesaurus (Contact)
This article could not have ended without a special shout out to Tennis world number 1, Ashleigh (Ash) Barty.
Barty is a Ngarigo woman from the area that covers southeast New South Wales and whose lands also extend around the present border with Victoria. 
Today, she is well-known for her antiques in the tennis court, having won the French Open in 2019, but in 2015 after deciding to take a break from tennis, Barty played cricket in the Women's National Cricket League and also played for the Brisbane Heat in the inaugural Women's Big Bash League. 
Barty is also the National Indigenous Tennis Ambassador for Tennis Australia, with her role focusing around increasing tennis participation rates amongst Indigenous peoples.
And in 2020, she was recognized as the Young Australian of the year.
With the trajectory shifting, ever so slightly, we may not have many Aboriginal cricketers playing at the highest level at the moment, only 1 to be frank, but recognition for those who have accomplished great things in the sport is paramount if we wish to inspire more of the Aboriginal youth to take up the great game of cricket.
---
For more Articles on Sports, visit Sportageous.
Noor Shafiq assisted in the curation of this article. You can follow him here on LinkedIn.