Harvard Squash athlete Haley Mendez talks about her love for the sport, her coaching and her recovery from two repeat ACL injuries which did not deter her from going pro.
Zushan Hashmi: Tell me a little bit about yourself (background, life outside of the sport etc)?
Haley Mendez: I grew up in Brooklyn, New York, playing at the Heights Casino, then went to Harvard University where I studied human evolutionary biology, and graduated in 2015. I love to travel and explore new places and cultures all over the world. I enjoy cooking and baking, spending time with family and just getting outside! I'm engaged to PSA player Nathan Lake from England. We have spent the last year primarily based in the UK but are moving to Chicago this fall where I am starting business school.
How did you get into the game in your early years?
As a kid I played a different sport every day of the week and loved them all. My parents moved to Brooklyn Heights, a few blocks away from the Heights Casino. They joined the club so that my sister and I could play tennis. It turned out the tennis classes were full so they took me upstairs to try squash! I started just before I turned 10 and loved it. Gradually, I would drop one sport and pick up another afternoon of squash as the years went on. I was lucky enough that I was able to travel from quite a young age for my squash which only drew me to it even more. I was also incredibly lucky that the Casino happens to host the Carol Weymuller women's event every year. So from a young age I was able to watch the top women in the game compete. Some of them even stayed with my family as the tournament houses players through billets. That was definitely a massive inspiration for me and really opened my eyes to the possibility of playing professional squash.
When you talk to people in the US do they instantly know what squash is or is an explanation required (any examples to share?)   
Squash is definitely becoming more and more well known in the US, however, I have to explain the sport half the time. Usually I find that people know what squash is. They either play the sport, know a fair amount about the squash scene, or they have never heard of it. Most of the time, when I say, it's very similar to racquetball, they can picture it. The most ridiculous comments I have gotten are when people ask about farming or the vegetable. The worst was my first year at Harvard.
When I sat with some students in the dining hall, someone thought that I was a competitive squash eater and they were surprised Harvard had a team for that…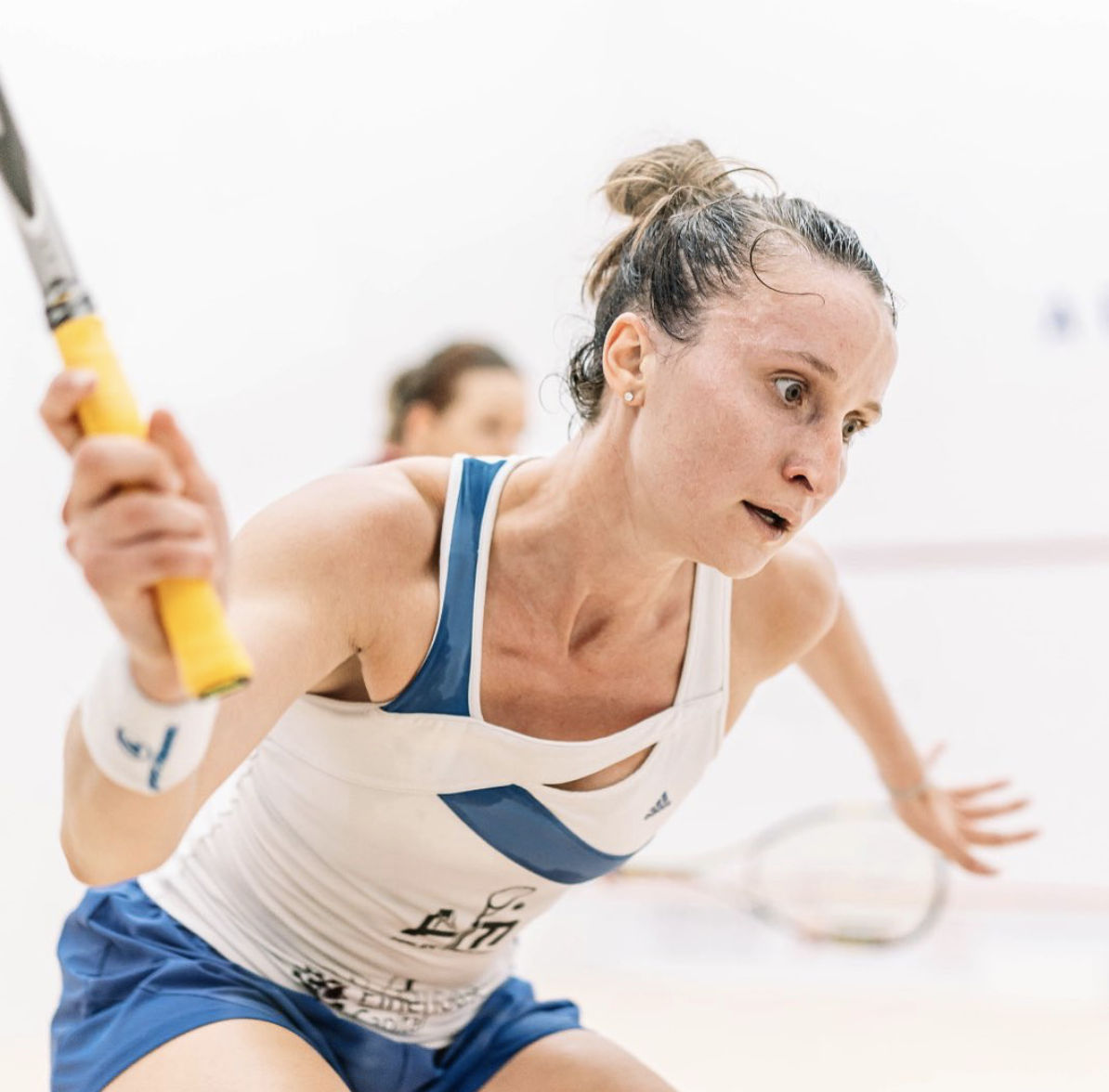 You've suffered from serious injuries during your career. What is it like on the mental health side of things? How did you overcome that additional barrier alongside the physical injuries?
Anyone who has suffered from an injury will know that it is extremely hard mentally to cope. Sometimes even harder than the physical challenges. I would say that there were two mental struggles that I needed to tackle. The first was the timing of the injury. I already felt somewhat "behind" in terms of turning pro. I went to university for four years first, whereas some of the girls I had played junior squash with were already doing big things on tour. Similarly, in the Harvard world I felt "behind" the normal professional track of getting a "real job" on Wall Street by pushing that back several years with the intention of playing professional squash first. So an ACL tear a couple months before I was meant to graduate and turn pro felt like the worst timing possible because it was going to push everything back further to really give myself the time needed for rehab and recover. It did not help that 4 months after the first operation I slipped and fell and re-tore my ACL. I had to have a second operation and start over again. I was nervous that I wouldn't be able to recover or get back to the level needed to turn professional. The second major hurdle was that after the  initial rehab/recovery, when I started to play a little bit, I feared getting injured all over again. I could not trust my knee, it was incredibly hard to get over.
While I had dabbled in the mental side of the game as a junior/college player, it wasn't until I tore my ACL that I started working with a sports psychologist weekly. This gave me the tools to believe in myself and my squash and to trust my body as I continued to get stronger. All in all it took close to 18 months before I felt I was back, playing better than I had before the injuries. I took it slowly and was diligent. I think I set myself up really well for the start of my pro career. 
Is there some sort of mental coaching that you partake in? If so why/why not and how important is it to do so? 
Ever since my injury I continued to work with a sports psychologist. There is a huge mental component to squash and it is equally as important, if not more so, to train that part of your body/game. A huge part of it for me is building up confidence in myself and my body. The rest is about being able to stay calm and in the moment in match situations. I am a big believer in visualization. Visualizing every part of a match/tournament/journey and all the scenarios that could happen, so that when they do, your body knows what to do, how to react, and you can stay calm and in the moment. One of the other big things I've worked on is my breathing. How to use my breath to calm down, perk up, and trigger a mental phrase to myself. Little things like this are hugely important at the pro level . Everyone is so talented that it is the really fine margins that make a difference.
Tell me a little bit about your time playing at Harvard? Alongside your education and university life?
I absolutely loved my college squash experience (and would recommend it to every junior). Going into college as an athlete meant that I already had an instant family at school. The squash team and coaches were there to help with anything and everything I needed. They made me feel at home. Because squash is an individual sport, getting to be a part of a team again was special and rewarding. It was an honor to be voted by my teammates to serve as captain, both my junior and senior years. This is rare, but  it allowed me to grow both on and off the court in ways that I wouldn't have if I had gone pro straight away or not played a college sport. Of course, my primary focus was school and leaving with a Harvard degree that I could fall back on when after my squash career. Balancing school work with a varsity sport was very challenging at times, particularly as a pre-med student, but was doable with time management. 
What has been the highlight of your pro career and why?
The highlight of my career has to be when I played the
Carol Weymuller Open
at the Heights Casino in Brooklyn. The first year I got in on my own ranking. I was not awarded a wildcard as I had when I was still and junior. I turned up to play my match in front of a huge home crowd of friends, family and members who I had not seen in years.
When I came off the court, there was a line of little girls who asked for an autograph. It was an incredibly special moment. I used to be those little girls in the front row asking for an autograph, dreaming of one day turning pro and playing in a top event. Finally turning pro and reaching my goal was surreal. 
With a game as fast paced and challenging as squash. What are some of the biggest things you've had to tweak in your game from when you started and why? 
Squash is hugely dynamic and explosive. I am a big girl and have to work on my power and quickness a lot! My sister jokes that my spirit animal is a cow – because I am large and docile. Not the most flattering, but I see her point. Being quick, aggressive and efficient in my movement does not come naturally to me, so that is something that I have had to work on a lot.
Tell me a little bit about your coaching career?  
I love working with young kids, especially little girls, that love the game and want to improve. I started coaching a little in high school and continued every summer throughout college. Being around the kids' energy is exciting and infectious. Really breaking down the technical side of the game became really beneficial for my own swing. I started thinking about different things. How if you do this you can place the ball here or there – so in small doses, it can actually be quite helpful to a player. Once I turned pro full time, I struggled to be on my feet for hours coaching and then get my own training in. Therefore, I have done less of the regular weekly lesson grind. 
Any other thoughts/comments?
Squash has given me so much throughout my life. Aside from the competitions and physical fitness, I have traveled the world, made incredible friends, met my husband and learned so many valuable life lessons from sport. Whether the goal is to turn pro or just play socially at a local club, squash can open so many doors for people. I hope the sport continues to grow and that people continue to keep playing and having fun doing it.
---