Anja Santini Mikulic is a Croatian climber. At 15, she is one of the rising stars in sports climbing. We caught up with her to talk about Croatian climbing, her future ambitions and climbing.

Zushan Hashmi: Tell us about how you picked up climbing as your sport of choice?
Anja Santini Mikulic: I started climbing pretty late actually when I was 9. I wanted to do some kind of sport and after trying everything, I tried climbing and fell in love with it, the moment I touched the rock. I climbed for 3 years before actually starting training seriously.
Is it easy to make a living off of squash in Croatia? Why/Why not?
Unfortunately no, climbing in Croatia is not that well-known of a sport, but it's getting more and more famous and gyms are being built around the country. For now you can't make a living out of climbing in Croatia but I'm sure that is going to change soon.
What has been the highlight of your career so far, and why?
I think it has to be winning nationals. It was so special for me because I have been struggling with my confidence and I was only training seriously for a year before that.

What is it like being one of the younger members of the national team?
Now that I am in a higher age category I am no longer the youngest, but just being part of the team is so great and amazing. I am so happy that I am able to be part of it. My team is also like a second family.
Who are some of your favourite all-time climbers? why?
2 of my all-time favourite climbers are Shauna Coxsey and Gregor Vezonik. I just love that no matter what the situation, they always have a smile on their face. Even if they fall off a route they always have a smile on their face.
What are the facilities like in Croatia?
Unfortunately, the facilities are not that good. There are a couple of good gyms, where most of the team members train. But I do think that will change soon as well.
Do you think climbing is growing as a sport? Why/Why not?
Absolutely, I think that this sport is growing more and more every day and especially now that climbing is an Olympic sport, I am sure that there is so much in store for this sport.
What are your thoughts on climbing at the Olympics?
I think this is a huge step for climbing and the climbing community. I am sure that it has been on every climber's mind for a long time. Finally, climbing will be seen by other people as a real and serious sport, and I am also sure the climbing community will grow immensely.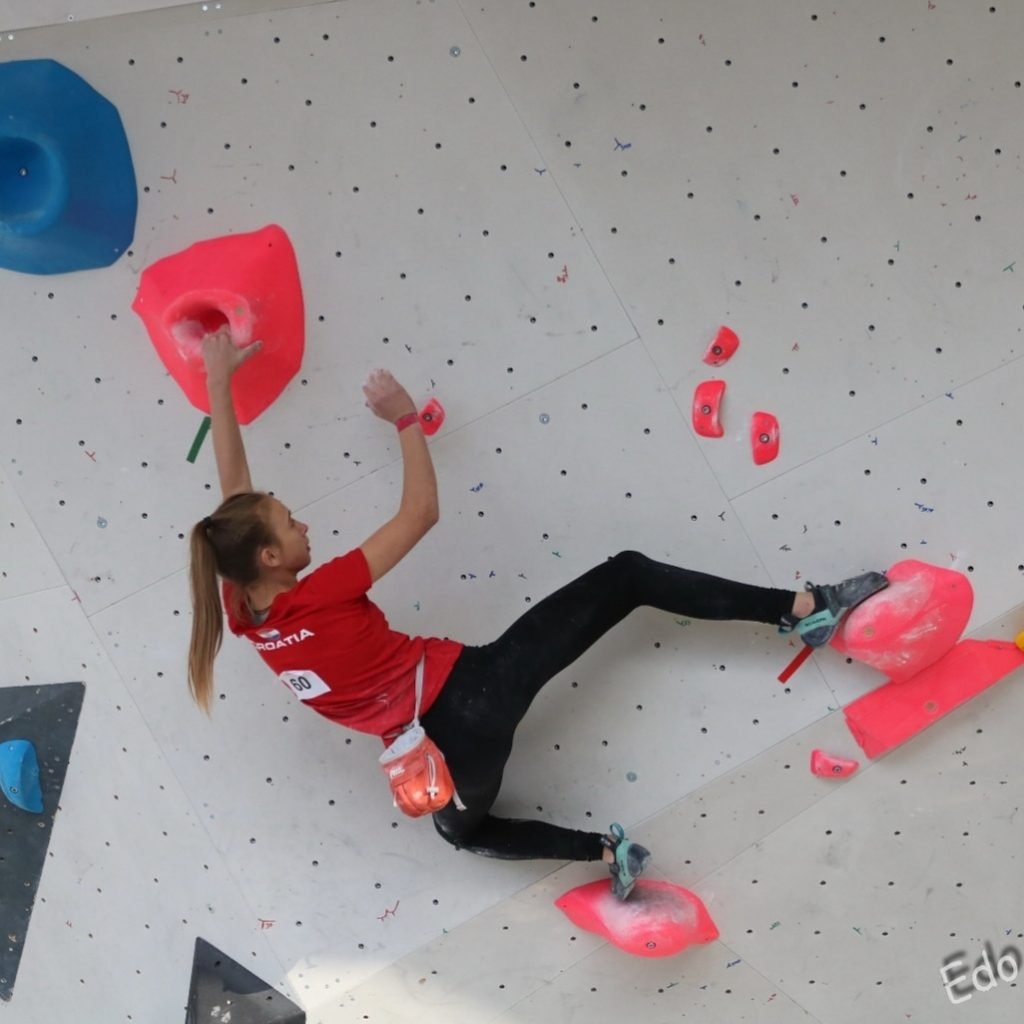 What have been some of the challenges that you have faced in climbing?
My biggest struggle was always my confidence. I always had bad thoughts when I was competing and that would often affect my results.
Every time that would happen, I would lose confidence. Before this whole lockdown though, there was a competition in Slovenia in which I won first place, and that competition was different to me because I had finally overcome my insecurities and climbed well.
What are some of the most interesting aspects of climbing?
The thing that I like most about climbing is the community, the movement, the fun, the excitement, just everything. I can't say anything specific because there are so many good things about it.
What is your favourite discipline, why?
I would definitely have to say bouldering. I love the variety of movements and the many possibilities it offers. I just feel so free when I do it.

What do you have in store for the future?
I think that especially with this whole lockdown situation I will take it step-by-step and see where time takes me.
---
You can follow Anja Santini Mikulic on Instagram.
For more climbing visit Sportageous. You can also check out our climbing guide for the lockdown.

Saqib Tanveer assisted in the curation of this article. You can follow him here on LinkedIn.