Wassim Rafihi is a passionate AFL (Australian Football League) lover and coach, who embraces all the opportunities of what the AFL offers.
He was born in Lebanon in the mid-1970s and came to Australia when he was almost two years old with his mum and dad, fleeing the war in Lebanon for a better life here in Australia.
He has gone on to take part in elite coaching sessions with some of the biggest teams in the AFL, aiming to become the first Muslim coach at the highest level in the AFL Sportageous caught up with him to talk about his life and career.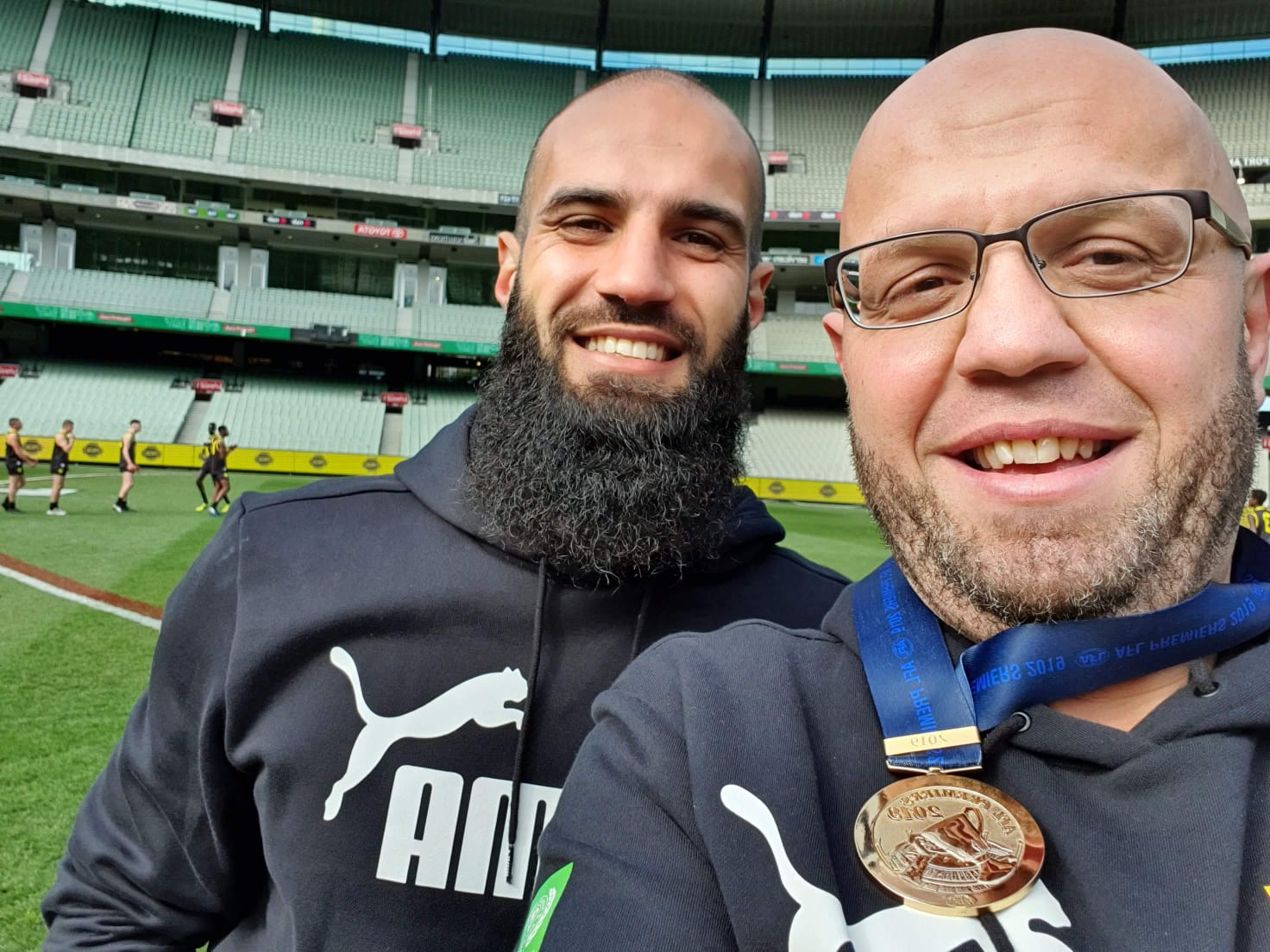 Zushan Hashmi: Where did your passion for the AFL come from?
Wassim Rafihi: Upon arriving in Melbourne in 1977, a tram ride that my father took would see me and my family fall in love with the game of Australian Rules Football.
While on the tram my father saw a large group of people getting off at a tram stop near the then Princess Park oval in Carlton.
He decided to also get off and followed these people to what he would later fall in love with. These people were all going to watch a game of football between two rival clubs in Carlton and Collingwood.
Obviously not knowing what to expect, he bought a ticket and watched the game. During the game he found the Collingwood supporters to be very fiery and not so friendly, especially towards the Carlton side.
For this reason, he found himself supporting the Carlton team. From there football was introduced to me and my family and a passion for the game of Australian Rules Football started. From when I was about 5 or 6, I would go to every game possible, especially at Princess Park. My favourite player was number 13 for Carlton by the name of Mil Hanna who was also of Lebanese descent.
ZH: You've called it the best sport in the world, what is it about the AFL that makes it the best sport in the world for you?
WR: Australian Rules Football is the best game in the world because although the game itself is tough, you can sit next to an opposition supporter during the game and have a bit of banter between each other during the game and at the end of it all, shake hands and walk away having a laugh.
The other thing is, it takes a lot of skills and good technique to kick a football, so watching these skilled athletes do that while playing at high intensity for 120 minutes is not easy to do while dealing with the physicality of the game.
There is also a lot of scoring in a game of AFL football making it a more intense game to watch and not being bored because of the lack of scoring.
ZH: How did you get involved in coaching football?
WR: I first coached when I was still playing back in the early 90s. I started playing football at a local club called Coburg Amateurs FC in the suburb of Coburg.
I started playing in the U15s team in my first year and then when I went on to the U17's team the following year, I was given the opportunity to co-coach the U9s team and we won the grand final that year against all odds.
In fact, I also played in a winning grand final in that same year. It's not too often you can say you coach and played in two separate grand finals in the one season.
Besides that, early coaching stint, I have always wanted to coach/mentor in some way shape or form, but I didn't initially know how to get involved and there weren't any of the coaching programs that the AFL has today.
I started coaching again in 2013 where I was helping to coach a brand-new team. It was to be the start of my love for Pakistan and its people.
The challenge I had along with my good friend Ricky Kerbatia, was to coach a young Pakistani team in the game of AFL. We were to then play in the IC14 AFL International cup the following year.
Although I have always wanted to coach, this was the opportunity I needed to kick start my coaching pathway. The passion and love for coaching/mentoring were always there, but not knowing how to go about it was the missing ingredient.
This opportunity then led to a coaching stint in my local area where I coached a young team for two years in a row, before being introduced to the multicultural talent pathway programs within the AFL.
ZH: You have been on two coaching programs, with two major teams (Essendon and Carlton?), can you tell us a bit about that?
WR: Yes, in 2016 I was fortunate enough to do a 10-week coaching program with Essendon FC where I would attend the main training session once a week which also involved sitting in match committee meetings and helping out on the training track.
I would also attend the games played in Melbourne where I would be in the pre-game meeting, halftime and post-game meetings as well.
I was made to feel at home by the people at Essendon FC and Rob Kerr who was the boss of the football department at the time was a key player in that. For about 9 out of the 10 games, I sat in the coaches' box with all the Essendon coaches and just watched how they went about doing their thing.
I would run out with them at the breaks, and that was an amazing feeling in of itself. There was one game where I sat on the bench to see the inner workings of what it was like. Sitting on the bench and watching how it works at the elite level was a real eye-opener.
It was an experience I will never ever forget to say the least. I was also able to make a lot of new friends from the players, coaching staff and Essendon staff in general. It was amazing. And for the opportunity, I can't thank Essendon FC enough.
Then the following year I was fortunate enough to do the same program, but with my beloved Carlton FC. When I was told I will be doing the same program again albeit for 5 weeks, but this time with Carlton, I was over the moon.
It was another great experience and as I was with Essendon the year before, I was able to compare within my own mind how the two clubs did things. In general, I found some things to be the same, but what was different and this was very evident, was the coaching styles of John Worsfold (Essendon coach) and Brendon Bolton (Carlton). Both exemplary people and coaches in their own right.
I still remember my first discussion with Neil Craig who was Brendon's right-hand man at the time. He sat me down and said, "Wassim, remember you are here to have fun, but you are a coach and you must behave like one".
When I mention that comment even 2 years later, its as if I am hearing it today and something I will never forget. It had a massive impact on me personally in a very positive way. I have a good relationship with Neil and hit him up for advice every now and then.
He is a true gentleman and scholar. Before he went overseas to work with the England rugby team, he gave me 1.5 hours of his time, with some of the most valuable advice I have ever heard in regards to both football and life in general. And for that, I will be forever grateful.
ZH: What is your ambition with AFL coaching, and why?
WR: As I mentioned, I have had a passion for coaching/mentoring since I could remember. I remember as a 6 or 7-year-old going to watch a Carlton game, and wanting to run onto the ground during the breaks and tell the players what to do and give them some inspiration.
So, for me, coaching has been a lifelong passion. Fast forward a few decades and I am working towards my goal wanting to reach the highest level of coaching I can. I hope to one day be coaching in some capacity, whether as a head coach or assistant coach in the AFL.
Since I got the opportunity to be involved in two AFL coaching programs in 2016/2017 it has opened some doors for me to coach some of the elite junior programs. For two years I was involved with the North Melbourne NGA program while also coaching the U15s All Nation-state boys' squad, girls U14s All Nation-state squad and U18s girls Jim Stynes state squad.
I have also been helping out with the Bachar Houli junior and senior squads, as well as coaching the Adam Saad squad with Adam himself. At present I am involved with the Carlton FC again, helping to coach the Matthew Kreuzer U15 squad.
From here, I hope to get to the VFL level or be involved in one of the NAB League U18s teams. As any coach would know, there is an apprenticeship you need to go through, so it does take some time, but you do learn a lot during that development process.
ZH: What is your favourite AFL team?
WR: As mentioned earlier, I grew up following Carlton and I don't think that will ever change. As weird as this may sound, prior to being involved with Essendon FC, I used to dislike them very much, but one thing I learnt while spending about 10 weeks at Essendon, was that there are some really great people behind the scenes that help run the club and for this reason, I have a soft spot for Essendon too. Another factor is because I am very close to Adam Saad.
ZH: Who is your favourite AFL player, current and all-time? And why?
WR: At present, I have two favourite players. Both Adam Saad who I am very close with and Bachar Houli, who I am also good friends with.
For me being a fellow Muslim, I see these two men as great role models and ambassadors of our game and for my community. They help break down the negative stereotype that the media seems to put on Muslims in general.
But having these two young men as spokesmen for the Muslim community helps to show the wider Australian community that most Muslims are not what the media makes out to be. From a historical perspective, Mil Hanna was a gun footballer.
He was quite but did all of the talking on the football field. I was also a big fan of Rod Ashman. I used to call him Ashes. Rod used to wear the number 14 jumper with the helmet as well.
ZH: As a Muslim, what has your experience within the sporting community, and in particular, the AFL community been like?
WR: Life, in general, has its ups and downs. It doesn't matter where you come from or what race, gender or religion you follow, there will be challenges along the way.
But for me, being a Muslim, and one who is trying to break into the AFL scene at the highest level by doing these elite pathway programs to potentially get to the highest level has had its challenges.
But I am finding that through some of the AFL Multicultural programs, this barrier is slowly but gradually changing for the better. There are some great people helping to drive these changes.
The AFL has been pushing very hard for people of different backgrounds from both a playing, umpiring and coaching perspective.
ZH: What would you say to other Muslims and people of colour, who want to compete or coach in the AFL?
WR: As I have always said to people that I have come across in these programs, you are very fortunate to be given the opportunity to be part of these amazing programs.
These programs have opened the doors to some of our current AFL draftees that would not have happened if it wasn't for these programs.
Go out there and showcase your talent and be part of some of these awesome programs that have the potential to help you reach your dreams and aspirations. It's the old saying "You have to be in it to win it".
If playing isn't your thing, then there are programs in the AFL for coaches and even umpiring. So there is more than one avenue to being a part of this great game of ours, Aussie Rules football.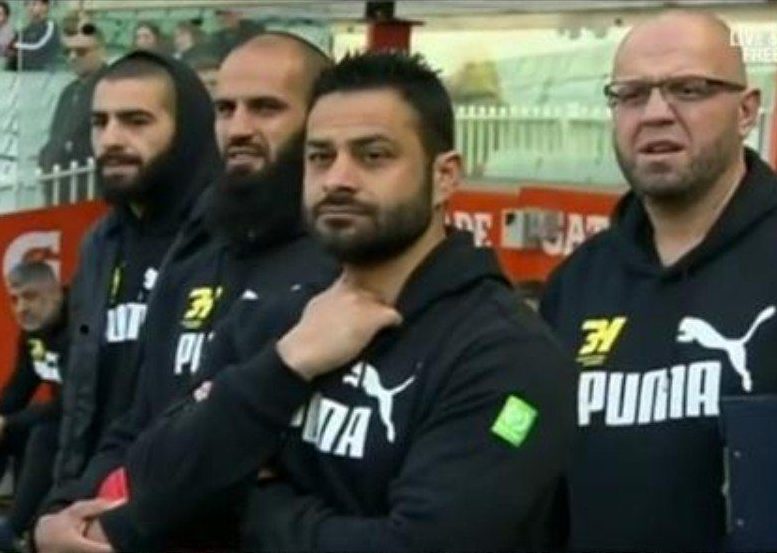 ZH: Most migrant children in Australia are focused on sports such as soccer and cricket, what is the AFL doing in developing their interest on the AFL?
WR: Through its multicultural programs, the AFL is engaging people from migrant backgrounds through playing, umpiring and now coaching.
There has never been a better time to be a part of this journey, especially if you have a passion in one of these areas. I have been directly involved in the coaching of some of these programs, and they are amazing, to say the least from all aspects.
The AFL is doing well to help engage these communities.
ZH: In your opinion what should they be doing to engage with this population demographic?
WR: The AFL is doing a lot of work behind the scenes to make sure that everyone has an opportunity to know and learn about the game of AFL and if interested, then these people will have the opportunity to be a part of these programs.
ZH: Is there ample opportunity for young migrant athletes to play in the AFL?
WR: Yes, there certainly is.
ZH: How about getting involved in coaching?
WR: There are now doors opening that once were not there.
ZH: What would you say to others who would like to coach in the AFL?
WR: If you have a passion for coaching and mentoring people to help get the best out of themselves, then certainly coaching is for you.
I love coaching especially when you see people improve both as athletes, but more importantly as people. It is such a rewarding thing to do, and you build friendships for life and help young people become leaders of the future.
---
You can get in touch with Wassim Rafihi on LinkedIn.
Zushan Hashmi is a sports enthusiast who works in the policy space in Australia. He is an avid fan of climbing, football, cricket and all things sport. You can follow him here on Twitter.
For more articles like this, visit Sportageous.