Ushna Suhail is a professional tennis player who has represented Pakistan in different international events like the ITF Pro Circuit, South Asian Games, and the Fed Cup for over the past 12 years. We caught up with her to talk about her career, the Fed Cup journey, and women's tennis in Pakistan.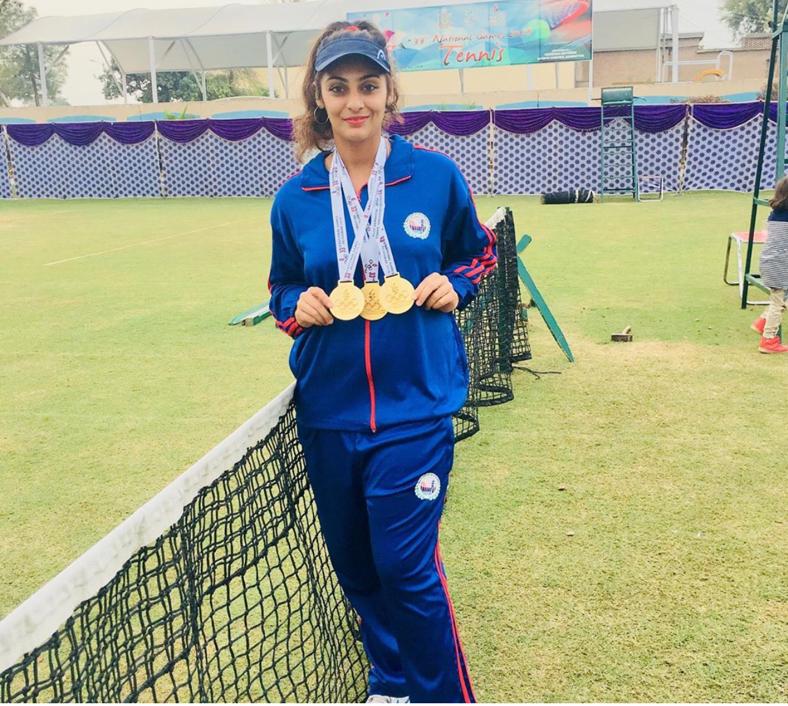 Saqib Tanveer: How have you been going through this period and how has life in lockdown been?
Ushna Suhail: Well, I think life in the lockdown has not been easy, to say the least, because naturally, I think everyone has had a huge shock around the world and here in Pakistan with COVID-19, including all the athletes, because we're so used to having outdoor activities and travelling.
I think the COVID-19 has definitely affected all sports and other activities around the world and some major events this year have been cancelled in Tennis, including the Olympics, which I think has never really happened in the past.
I think the last time major events like the Grand Slam and the Olympics were cancelled was during the World War, so we can only imagine the impact COVID-19 will leave on the entire world.
I think I've tried to adjust myself, personally. I've tried to quarantine myself in between and at the same time try to maintain my fitness and my activity.
Unfortunately, we haven't been able to play tennis because our courts have been shut down, but, I'm trying to keep up my fitness and trying to stay fit.
I'm trying to keep myself active every day and exploring varied activities, I've also been doing more things at home, such as cooking, reading, painting, sketching. It's definitely enabled me to explore avenues I wouldn't have looked at in the past.
How did you start playing tennis? And what was it like becoming a professional?
I started playing tennis when I was about 12 years old and one of the biggest reasons why I think I'm in this game is because it's my family sport from my father's side.
They're all into sports and tennis, my cousins play tennis too. So I think that's how I mostly got into the game because I remember my father watching tennis matches on TV and that's how my interest in the game developed.
I used to go and watch tennis matches with him on TV, and the first time I held his tennis racket and started playing against the wall at my own house. My mother, initially, noticed that I had a passion for this game and she encouraged my father to take me to the club where he used to play club tennis himself, being a professional representing my country, and being a Pakistani, it's not been very easy.
However, when I look back at the memories and what I've been able to do for my country and make my parents proud, I think all of it was worth it.
Were your parents supportive from the very beginning or was it your talent and performance in the initial tournaments that shaped their opinion?
I think it's kind of a mixture of both as my mum is an academic, she's been a professor, teaching at a university and is a doctor as well.
So she was always academic-oriented. However, she was a sports lover too who was an athlete in college and university. I remember that initially, she used to be a bit hesitant sending me off to tournaments and taking off from my school, but once I think she started noticing and with my father being in the sport, it became inevitable.
Once my mom also started noticing that  I had a passion for this game and I was performing well from the very start in my age category, that was a key factor for both my parents to support me in pursuing sports in general.
I think my parents have definitely been my backbone throughout my career, and I think it was inevitable because my performances on the court led them to support me further and made them believe in me too.
Who was your tennis idol growing up?
Well, I would say my all-time tennis favourites and idols growing up were Roger Federer and Kim Clijsters. And they're the first two players who I actually watched on TV, for the very first time, and I loved the way they played.
What are some of the highlights of your career?
Well, nationally, I won a lot of titles both in the senior and junior categories but I think the matches that I've been able to win for my country, of course,  pretty much sum up the highlights memories and of course. A lot of good times also came out of the Fed Cup.
I remember when I played the very first match for Pakistan at the Fed Cup in Thailand, I was about 15. And there was a lot of pressure on me, but we went after 11 years in order to represent Pakistan and I played the opening match.
I won that and it was a surreal moment for me to win my first ever match and have the Pakistan colours on for the very first time and be able to win for my country was something special.
And then, of course, in India back in 2016, when I won two bronze medals for Pakistan was a great experience.
When your national anthem is played around the stadium because of your name, I think it's a very special feeling. And then of course, in Nepal as wel in December 2019, I won two bronze medals again for Pakistan.
I think the highlights of my career are all the matches that I've been able to win for Pakistan. And then, of course, being the player who's had the maximum number of wins in singles and doubles for Pakistan in the past 12 years is definitely something that I think I can give myself credit for.
How do you feel when you go to other countries and represent Pakistan and what is the reaction of people there?
The feeling of representing your country and wearing that colour is great, I think sports is possibly the best way you can represent your country because it is a platform through which you can inspire others. Initially, I remember when I used to play tournaments in Egypt, South Africa, the European players were shocked and they were so curious about my country and how women in Pakistan, particularly, are.
You know, where girls are supposed to just cover their heads and sit at home, but they were very shocked when they would find out I'm from Pakistan and then they used to have all questions regarding our society, women rights and regarding how people treat women here. I feel blessed that I've been able to get the chance to create a soft image of Pakistan.
I think it's great to represent my country and it's great to have this chance to interact with many athletes around the world and talk to them.
If we compare Pakistan with other countries then what is Pakistan lagging behind in tennis?
Well comparing Pakistan to other countries I think the infrastructure, coaching and facilities are quite limited.
And of course, looking back at the past 10-11 years, we haven't had any international tennis tournaments here, which is a huge gap for an athlete.
It's been more than a decade now. So, I think these are the reasons that we've been lagging behind and that doesn't mean we don't have potential or we don't have players who are capable of winning matches for Pakistan internationally, but it's just that we haven't been able to get those amounts of opportunities and I'm sure even if we get half of those opportunities we would have the potential to excel.
What has been the greatest match moment during your tennis career?
I think one of the greatest moments in my career was when I won two bronze medals in India for Pakistan.
I think that was special because India has, of course, been a very old rival of Pakistan not just in tennis but overall, so winning two medals in India for my country was a very big deal for me.
Many people see tennis as an "easy sport", what do you have to say about that?
I think people who say that tennis is an easy sport either need glasses or they need to actually be on the tennis court to watch players play this game.
Tennis is not an easy sport, no way. I think after boxing, it's considered to be the second toughest sport in the world and I can give you a number of reasons for that. First of all looking at the competition and the number of countries around the world that play this sport, I think they're about over 200 countries that play this game around the world and then, of course, the nature of the sport, the type of movements that we have to do on the court, the type of strokes that we use to hit on the court.
All of it requires a lot of practice, a lot of fitness, a lot of skill and a lot of mental toughness. So yeah, I think people who say tennis is an easy sport should think again.
How important is sponsorship for you?
Yes, sponsorship is definitely the most important part because like I come from a family where my parents are complete professionals and they have to work hard to earn money.
And of course, I've been a professional too, so I know what it is like to earn every cent.
Fauji Fertilizer Company made me their sports ambassador for about three years because of which I was able to travel internationally and represent Pakistan.
What words of advice would you give to someone who is passionate about tennis?
It's very important to have a long-term goal. It's important to know where you want to be at the peak of your career and then it's important to set short-term goals to reach that long-term goal when you reach the peak of your career, so I think to achieve those short-term goals.
So, by this, I mean that tennis is a game which gives you an opportunity to go to different universities around the world, right?
So, if you are putting your kid into the sport or if you yourself are passionate about the sport you have to see your circumstances and you have to see your environment and you have to realistically, be honest to yourself and know what you want to get through this game.
For example, if you want to be a student-athlete to go overseas and study, this is a platform to do that. Many players in Pakistan utilize sports to go abroad and get scholarships there and they get into coaching.
And then the other side of this game is either playing at the national level or representing our country and at international tournaments. And then there's that part of the game where you struggle through these professional tournaments and you make it to the Grand Slam level, which is an enormous jump  and you require a lot of detail a lot of investment and requires a lot of sacrifices.
So, my advice to anyone who's passionate about tennis is to always remember the long-term goal, especially people who want to put their kids into a sport like tennis, it's important to sit them down and have a talk with them regarding their long-term goals whether its college tennis, playing Grand Slams, travelling around the world or playing international tournaments.
---
You can follow Ushna Suhail on Instagram and Facebook.
For more Tennis content visit Sportageous.