Sana Mahmud is one of the finest athletes of Pakistan. Having captained Pakistan in two sports, she is a dedicated social professional with a love for academia and women's empowerment.
Sana Mahmud is the former captain of the Pakistan National Women's Football (2010-12) and basketball (2016-2017) teams. She is recovering after injuring her ACL recently. The road to recovery may be long, but she is also working as a Project Officer for Right To Play in Islamabad.
She has a Master's degree in International Development from Ohio University, with a specialization in Gender, Sport and Development. Having received a Fulbright scholarship for graduate school, she completed the rest of her schooling and undergraduate in Islamabad, her hometown.
How did you get involved in both football and basketball?
I was always a sporty child and used to study at a school (a convent run by nuns) where they really promoted sports and physical activities; back then there wasn't much of a culture focusing on sports in Pakistani schools, and I believe still there isn't.
Our school had just constructed a new basketball court and so watching it being made, got me excited about the sport and I bought my first ever basketball and viola! There it was.
My first love. And prior to that, we were already playing our version of football!
So, from a very young age, I was playing sport in whatever shape or form I could. Since then I have been hooked!
At school, basketball kept me busy all day aside from classes, as there wasn't a culture of girls playing football except during the Annual Sports Week. To be honest, playing basketball for girls wasn't common back then either.
Doing anything that involved a lot of running and being out in the sun and playing with boys was not 'female-like behaviour'. But I did what I did, despite the nuns reprimanding me for unladylike behaviour.
Read our interview with Pakistani football women's football team, Al-Shams Women's FC here.

Eventually, I took football further when, at 17 years old, I heard about trials for a football club. I showed up, made the final cut (out of approximately 70 girls, 35 of us were shortlisted) and that was the birth of the Young Rising Stars.
I learnt that the initiative started by a veteran (male) footballer who wanted to promote the women's game and targeted girls from Rawalpindi, belonging to a certain socio-economic background. I didn't fit any of the criteria, but I found myself at the trials.
Shortly after, I was named captain. Together with the Young Rising Stars FC (5 times National Champions), we won the Championship under my captaincy in 2008, 2010, 2011, 2012 and 2013 (but by that time I had already left for grad school).
The greatest decision of my life was to go for those trials because we all became like family. And we played a lot of football together. The best days of my life.
Unfortunately, politics plagues almost every sport in Pakistan and remains a constant struggle between two opposing parties or two "official" Federations. There was a lesser scope for basketball, so as usual, I continued to play at school and university.
It worked out well in a way; I had the basketball facility at whatever school I attended (my father would check if they had a court before he went for my admission) and I'd play football in the evenings after school with my club.
At various times I played on the Islamabad, Rawalpindi, Higher Education Commission (HEC) and Army basketball teams. Through my performance on these teams, they selected me for national training camps for both football and basketball.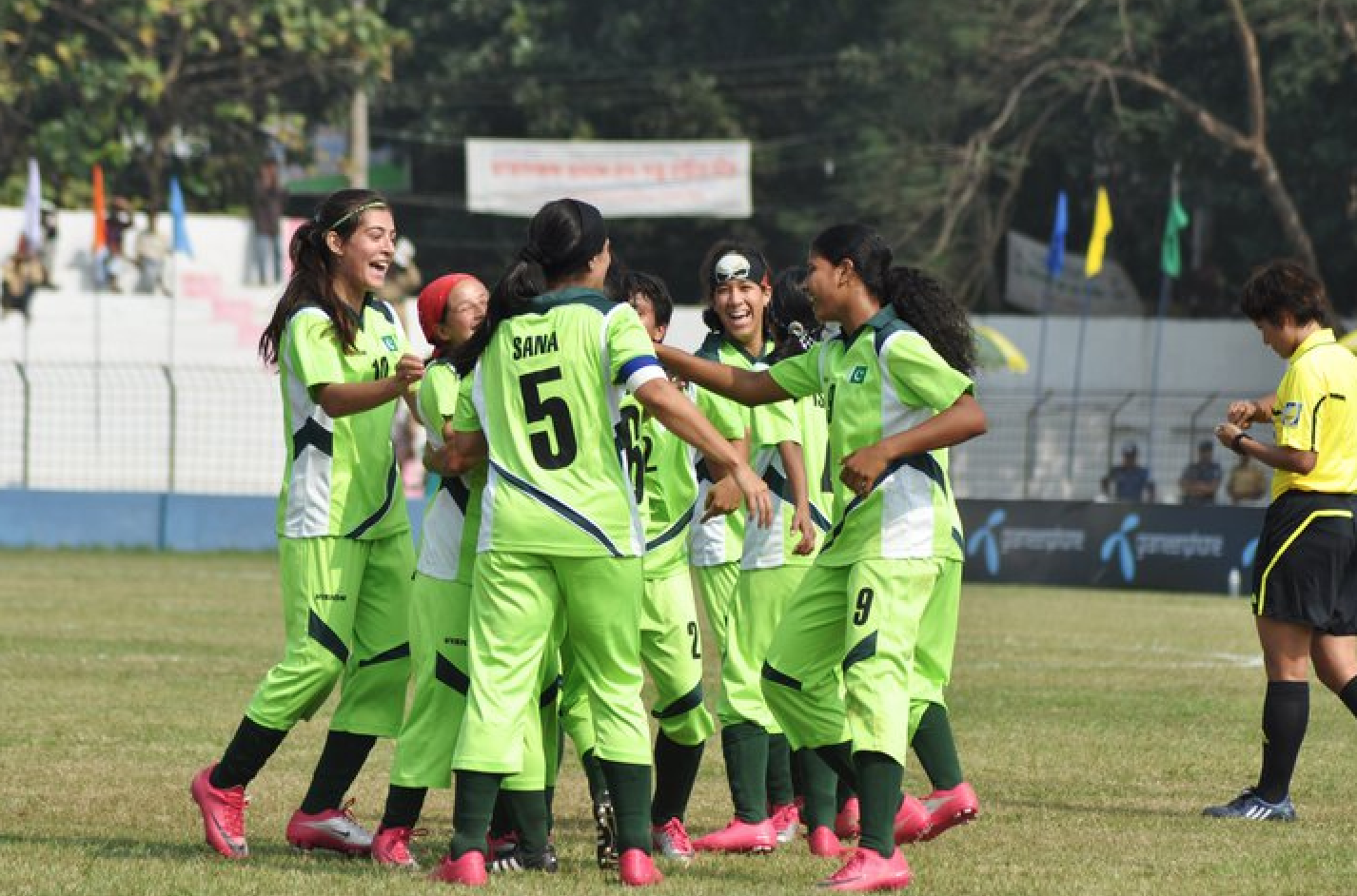 In a cricket-dominated country like Pakistan, what has it been like to play football and basketball at the elite level?
I never had a fascination for cricket. Even as a child, I remember on Fridays after school, we'd go to my best friend's house and we would all play cricket with her brother's friend. I just hated waiting for my turn to bat, and when I finally did, I'd be out after hitting a few boundaries. I guess it wasn't for me.
And as a child, I definitely think it wasn't the most inclusive game. As an adult, I have similar views. I will watch cricket because as a Pakistani that's a big thing for my nation, and it gives me an excuse to get excited and cheer my home team, but I do it more for the love of my country rather than the love for cricket as a game.
And naturally, because of all the hype around cricket, other sports, for both boys and girls, are neglected. Football has probably become the second most popular game in recent years. However, basketball is nowhere on the horizon.
Whenever I have had the chance to represent Pakistan at an international event like the South Asian Games (India, 2016) or Islamic Games (Azerbaijan, 2017), along with a contingent of athletes from other sports, I feel it is a shame that perhaps 90% of Pakistanis don't even know we exist.
Do they know we have a swimming team? Or that we compete in wushu, judo and archery? Do they know our runner once became the fastest woman in South Asia? Unfortunately, they do not.
They do not understand the hours of hard work and practice we put in. They only know what the two-minute ticker below the news channel tells them, i.e. who won a medal and who didn't.
How do you expect anyone to win a medal in swimming when we don't have access to swimming pools? For example, even the common man does not have access to a pool.
At the airports, as we walk in and out in our green blazers, airport staff confuse us for cricketers. And their next best guess is usually field hockey! They cannot even imagine that we have a football or a basketball team.
We are doing a real disservice to our country and the entire young population by not promoting and investing in other sports. It reflects in the number of opportunities we get, the media exposure we get, and our overall performances. All of it has been unfortunate.
We go for a tour, play our heart out, we win some, lose some, but not a soul knows, except for maybe our families or those who care to follow us.
Sana Mahmud (2R) with some of Pakistan's biggest athletes, including Hajra Khan and Sana Mir
Why do you believe it is important for women to take part in sports in Pakistan and around the world?
Speaking from personal experience, I think sport can teach you a lot. I am who I am today because of sport in my life. And because of this, I did my undergraduate research on the "impact of sport on the self-esteem of sportswomen in Pakistan"—I conducted primary research with various football and basketball teams here and found out such incredible things.
The way women had perceived their bodies. After participation in sport—"I feel strong", "I feel invincible", "I never knew I could run this fast".
Read our interview with Pakistani footballer Abiha Haider here.
Just discovering your body's strength and ability is empowering. Through sport, the more you realize you can do something, like make the shot, run, jump or dribble, you accept that perhaps you can do other things that you thought are not meant for you because you have never tried them.
It's not about teaching girls how to kick a ball, it's about making them believe they can fly a plane, become a doctor, walk on the moon!
For this reason, I really find it so important for women and girls to take part in sport.
Additionally, one other very important thing to note is, nobody ever asks us why it's so important for boys to play sport. Boys (especially in Pakistan), almost all of them, have grown up playing cricket on the streets.
They do so after school, to relax and enjoy, to take a break from work or studies, they socialize, they get some air, they exercise, there are so many benefits!
Those are exactly the same reasons girls should play. Do we not think our girls need exercise, or space to socialize, or the right to have fun?
Has women's sport in Pakistan changed in recent years?
It's definitely different from that of an elite athlete in the developed world. An athlete in Pakistan doesn't have the same status as perhaps even the athlete on a varsity team at a major college in the US. Instead of people flocking to come to watch our games (unless it's cricket), there's a handful of immediate friends and family that show up.
There is little to no monetary incentive for pursuing a sport here. Some public universities offer sports scholarships and quotas for athletes, but the schools are being unfair to them because they ignore their studies and expect them to focus solely on sport. This way, we have athletes that have enrolled in the same university for years with dual degrees, just so they can keep playing.
There is an overall lack of professional coaching too. In schools, we have that one odd PE teacher who manages children while they play. Particularly in government schools, this PE teacher is more like a bouncer used to discipline the children, make sure they come and go to class on time, and is often engaged in other mundane tasks, rather than engaging children in physical activity. The entire culture is very anti-sport.
So, the athletes that emerge or make it to the higher level are those that have been self-taught, are self-motivated, come from sporting families, have parents who invest the extra time and effort to ensure their child gets better, or these athletes show a bit of potential and are picked up by the sports departments at Army, WAPDA, Air Force etc and are expected to perform for them.
Even with the national teams, there is a Coach and Manager in most cases. You can forget about nutritionists, psychologists, or even specific sports physiotherapists. There is a dearth of people in sport-related professions that could help the athlete and the overall team to well.
Case in point is my knee. And three other immediate friends and teammates who are struggling with knee issues and haven't been able to recover and return to sport completely. Abroad, I have seen people come back from much worse.
I always say I had no female role models in sports while growing up (not relatable brown-skinned ones anyway), but today, girls have the likes of Sana Mir, Hajra Khan and so many others. Girls know they have something to aim for, whereas before we were just shooting in the dark (pun intended).
Read the story of a football club based in the mountains of Pakistan, inspiring young women in the region to pick up the game
It's harder for us to get space on the ground or the court. The priority is always for men's teams. They reserve peak hours for the men. With international competitions, if they have fewer funds, they'll probably just send the men's teams.
It is frustrating, and it is unfair, but we keep playing. We do what we do because we love it, and I think our passion and energy and achievements are slowly changing the sports landscape and years from now it'll be even better.
Investing in grassroots level sport, and creating that link with the education system is imperative. The world of sport right now exists in isolation, we should embed it in our mainstream and the best way to do that is through the education system.
What needs to be done for the growth of women in sports and women's sports in Pakistan?
I think by addressing all the challenges I've just talked about. Particularly for women's sports, we need to start at the grassroots level. So, while the boys can play cricket on the streets, we should provide girls with safe spaces, ideally in schools, to play sport, so they can reap the same benefits.
Investing in grassroots level sport, and creating that link with the education system is imperative. The world of sport right now exists in isolation, we should embed it in our mainstream and the best way to do that is through the education system.
If you had to pick one sport, would it be football or basketball?
People have always asked me that question, and I have always refused to answer it.
There was once a time where I would get done with school and then have basketball practice from 3 to 5 pm and then rush off to football practice from 5 to 7 pm. Till this day, my football coach hates the fact that I play basketball and vice versa.
I was young and athletic and my body could afford to do both. I probably could not do that now, and it would be stupid to even consider it. Luckily, I haven't had to pick just yet, because it naturally works out.
Unfortunately, it is easy for people, especially women to be multi-sport athletes in Pakistan because you aren't playing the same sport year-round, as the opportunities over the year are limited.
So, to keep fit and in shape, you play two or more sports. I will say this though, basketball was always my first love. It was just me and the ball on the court, and that's all I needed. Football, however, gave me my sporting family and initial respect and fame. Plus, nothing beats football in the rain!
Football is often pushed aside in Pakistan, as one of the smaller sports, whereas basketball in Pakistan is almost unheard of, let alone with female athletes. What are your thoughts on basketball in the country?
Yes, you are right. We completely ignore basketball.
For the masses, it may be because basketball requires somewhat more specialized equipment and infrastructure than football does. A poor kid can pick up any ball or ball-shaped object and kick it around on pretty much any surface. For basketball, however, you need a ball of a particular shape so it will bounce properly on the right surface, and a hoop attached to a wall or a pole.
That is harder to find in most areas. And even though cricket also requires specialized equipment, such as a paved pitch, a wicket, a bat of some sort, children will go the extra mile to make that happen, they have the knowledge and the motivation to do so. This is also probably because of the cliche that cricket runs in our veins, or as some call it the 'colonial hangover.
Unfortunately, it's not just basketball though, our masses don't even know about other sports. As part of my work with Right To Play, we started working with a charity school in Barakahu, on the outskirts of Islamabad.
We introduced football at first and the children used to call it "kutball". They did not understand what the game was. Coming from impoverished backgrounds, trying to make ends meet, their parents' focus is on getting them some basic education. They have no access or exposure to television, culture or sport. If you think about it, how would they know what football is?
Basketball, like football, also suffers at the hands of politics. It halts the progress and evolution of the game. Yet if you look at most government and private schools, they have basketball courts, which means we have the spaces, we just need to use them.
What are the pros and cons of being a multi-sport athlete?
Well, the pros are that you keep busy with sport, all year round, have more chances to develop your skills and grow. As you have more opportunities to play and also stay fit.
Cons: Injury level could be higher, burnout, fatigue and the exhaustion of muscles is more likely. Everyone tries to have that 'one athletic girl" play every sport for them.
They have offered me to try out for Pakistan rugby, tchoukball (it's actually a Swiss game, not the Punjabi Chuk), baseball, you name it. It gets to a point where you have to tell people, hey! I'm not a 'rent-an-athlete'.
I play both football and basketball because I enjoy them and I want to. I'm not up for filling in for all your missing players!
This is neither a pro nor a con, but since we aren't paid or aren't on any contracts, it's easy for us to play various sports. It's harder for cricketers as they are now often on contracts, and who have scheduled events throughout the year. They can't manage anything else except for the one-off annual event in another sport.
Who are some athletes that have inspired you?
I loved watching Sue Bird and Diana Taurasi play (online), and I got to watch Taurasi play live in Madison Square Garden. That was a dream come true. Till this day they both inspire me because they have defied age and injury and continue to be the best at what they do and the best in the league.
Back when I was a Chelsea (and Germany) fan and had the time and energy to watch a lot of football, I loved Michael Ballack and Bastian Schweinsteiger for their level-headedness and style of play.
And not to sound a cliché, but who isn't inspired by the greatest Muhammad Ali and, now, Serena Williams. I am not much of a tennis fan, but Serena's journey has been inspirational. She has really changed the face of women's tennis and women's sport across the world.
What was your experience like as a Fulbright scholar at Ohio University?
Amazing! So many things about the experience were perfect.
The year I joined OU, they had just started the sport and development concentration. Turned out the Head of our department was an avid golfer and believed in the power of sport to achieve Sustainable Development Goals.
Our department had links with the sport management school and together they had been organizing the Sport in Africa and the Global South conference for many years. Luckily, while I was there, I presented my research at the 10th Sport in Africa and the Global South conference. Renowned scholars attended, and I got to meet the same writers I had quoted in my undergraduate thesis. It felt unreal.
Especially because back in Pakistan, my academic research on the topic was not deemed important. Here, however, this whole community was doing work and research in sport and I felt like I found like-minded people. In fact, only two people in my class, myself and another woman opted to specialize in Sport and Development, we are best friends till this day.
It was an intellectually stimulating and open environment for me to pursue the work I wanted to. As part of the partnership between the Center of International Studies and the Tropical Disease Institute at Ohio University, I also opted for a study abroad program that allowed me to design a football program to create behaviour change and ensure relevant messaging regarding Chagas' disease amongst the youth in three rural communities in Ecuador, South America.
My poster presentation about the work in South America also won me an award at the Student Expo at OU. There were a lot of chances to learn, create, explore and grow.
As for sport, I played on all the intramural leagues, played basketball, football, volleyball, beach volleyball. It was the most we could manage with graduate studies, but I am glad I kept that part of me alive. Because Ohio University is in a small town, Athens, and I was on a scholarship.
I knew that if I was smart and could save in time, I'd avail every public holiday and try to travel. During my studies in the US, I travelled a lot more than many of my American friends, to places they had never even been to. It was a great cultural experience.
I am still connected to the friends and faculty I met at OU. I think of my time there fondly.

What skills did you gain from your time abroad that you have utilised for sport in Pakistan?
All of my academic work and research at Ohio University. I also had a certificate in Women and Gender studies that have given me a better understanding of many issues in society, particularly related to sport. I feel my vantage point, as an athlete, as someone with academic and research background, and a development practitioner has helped me develop a more holistic understanding of certain concepts that, for instance, just a female athlete may not have.
Because of this, they are often exploited in ways they may not even consider problematic. Identifying such issues and their underlying causes is something I feel I am better equipped to handle.
In a lot of ways, that sport is modified to teach life skills or used as a tool for development. I not only learnt that throughout my undergraduate studies because of my research, but was able to further polish and advance during my graduate studies. That has helped me tremendously in being an effective team player at Right To Play.
As I returned, I immediately got a job at Muslim Aid, a UK based NGO, and worked on a gender project with them. The sport aspect was missing, so I started a part-time job with Total Football (owner-operators of local football turfs) and started their Youth Academy.
A lot of my work abroad helped me structure the academy in a way that differed greatly from how things work here. It had over 70 registered members in the first two months, is continuing to flourish and till this day, if I run into a parent, they speak about their child's experience there fondly.

Tell me a bit about Right to Play and what you have been doing with the organisation?
Right To Play is a Canadian non-profit non-governmental organization that uses the transformative power of sport to create social change, particularly in disadvantaged communities across the world.
Right To Play works in 15 countries in Africa, the Middle East and South (East) Asia. It has been working in Pakistan for the last 12 years, directly working in Sindh and Khyber Pakhtunkhwa, and most recently it has launched programs in Islamabad.
Right To Play has worked in approximately 22 districts across the two states for 6-7 years continuously creating an overall positive change amongst children and youth in these areas.
Our main model is to work in partnership with education departments; once we have their go-ahead, we identify select schools to partner with, identify volunteer coaches from the communities, who then lead our structured sport and play programs with children.
I look after all the programs being run in Islamabad (which means making budgets, deliverables, ensuring they follow activity plans and so on). I also manage their communications and am the gender and child protection focal person.
Having such a breadth and depth of roles, you can tell we're a small team!
Tell me a bit about your plans, and what you are working on doing?
So many things! I wish I could do all of them at the same time.
On a professional level, there are a lot of great things coming up through Right To Play. I am leading one of our slightly out-of-the-box programs. It's a project with Women Win (an international organization that uses sport to empower girls) that focuses on capacity building and training for different players in the sport. It also has a Pakistan-USA exchange element to it.
Over the last 3 years, I have hosted 4 US delegations, including women working in sports development, sports education, sports media and sport to address gender-based violence. I've also conducted productive, fun-filled, and intense week-long exchanges where they have had the chance to meet with Pakistani female sports clubs from Peshawar to Lyari to Gilgit.
We have also organized multiple workshops on how to use sport as a tool to reach other objectives. I hope to leverage my role in this program as we conduct more such learning activities.
On a more personal level, I hope to delve in research, something I have always been fond of, and want to revive again. Conduct academic research on sport-related issues and write about them.
I have a few platforms where I volunteer, so I'm also hoping to start those again for a few needs-based specific projects, e.g. a summer camp or a sport and leadership workshop, etc.
The Basketball Federation has already asked me to take charge of women and youth affairs on a volunteer basis, and soon I'll start a position with them to handle things in Islamabad.
But my main priority this year is to work on my knee's rehabilitation and get back on both my feet!
What would you say to young women in Pakistan who are aspiring to become athletes, both in football and basketball?
To follow a dream that few people follow, be crazy, by crazy, I mean passionate. You must go the extra mile, as no one here is doing it for you; it will take a while for sports in Pakistan to organize as professionally and as regularly as elsewhere, but if you want to pursue it, you must put in the hard work.
And because there's hardly any financial incentive, do not drop out of school! Also, be honest. That's my advice to everyone in life to have integrity.
When you are honest with yourself, you are honest about your abilities, honest to your goals, life has a way of rewarding that sincerity.
Hard work. Passion. And honesty!
---
You can follow Sana Mahmud on Facebook.
This article was written in collaboration with Goal Click, visit their website to read more about football in Pakistan.