Sachika Balvani is a Squash player from India who has played squash for Trinity College and on the PSA Circuit. After spending some time in Hollywood while coaching, Sachika returned to playing squash as a professional.
Sportageous catch up with Sachika to talk about her career and women's squash in India in this exclusive.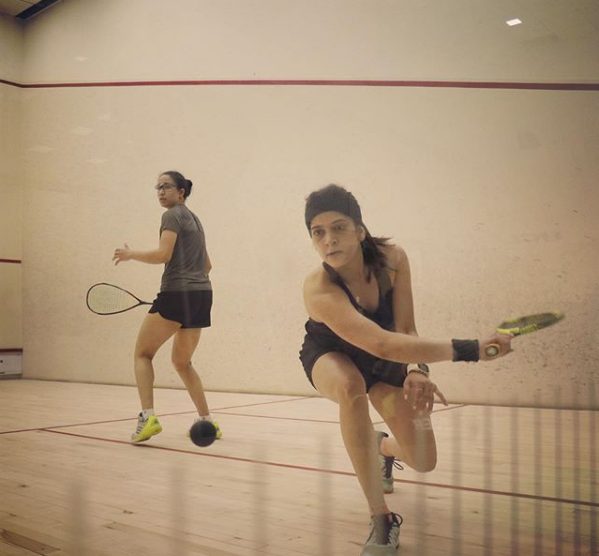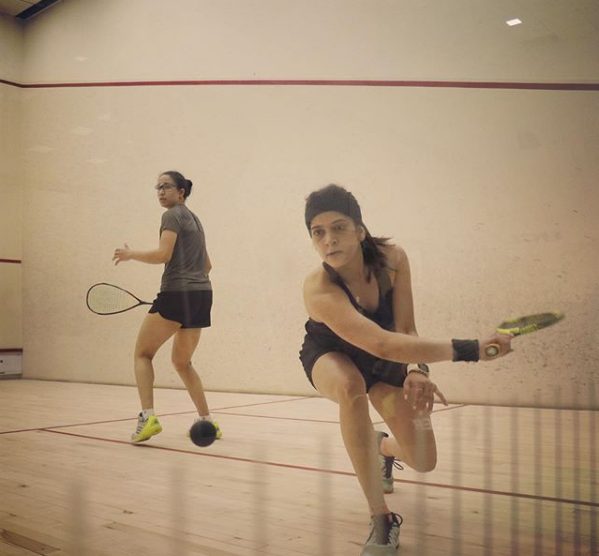 Zushan Hashmi: Tell me a little bit about your life outside of Squash and how you got involved with the game?
My name is Sachika Balvani, I'm from Mumbai and I've been playing squash for pretty much my whole life. When I was 14, I went to the US to study at The Taft School, before I attended Trinity College.
I graduated in 2016 with a double degree in English (Creative Writing) and Film Studies. While I was at Trinity, I played on the squash team there which was one of the best experiences of my life.
After graduating, I worked in  Hollywood (while also coaching squash) for a while, before moving back home and joining the PSA World Tour in 2018.
How are you keeping yourself busy amid the lockdown?
It definitely hasn't been easy. The club where I train and where I'm most happy is just down the road and right next to the sea, it kills me that it's so close and yet so far! I've actually spent most of my time building a wellness and sustainability website from scratch.
Its been in my head for a while now, so I just made it top my top priority a week or so into lockdown and it's now up and running which is such a great feeling.
I've also been training as best as I can- mostly HIIT and yoga. Its also been a time of catching up with friends around the world – so good to see their faces on FaceTime rather than just texting! Other than that, lots of cooking, TV shows, reading—that usual stuff!
What do you enjoy doing outside of squash?
I love watching tennis. Even if there aren't any tournaments on, I'll end up watching a few snippets of tennis – highlights and such – almost every day. I love to cook and bake too.
I also enjoy watching TV shows and movies, especially historical ones. Well, travelling would have topped the list in more usual circumstances. I just love discovering new places.
How did you get interested in squash?
I don't know if I had that moment of "getting interested" per se, because I don't even remember a life without it. I was lucky in that I grew up and around squash courts and players at the club near my house.
I started playing tennis when I was around 5, and then squash as well when I was 6 or 7. I actually played squash with a double-hand backhand till I was 12!
I think the turning point happened when I won my first junior national title at 8 years old, it just kind of took off from there; my dad asked me which of the two sports I preferred. I picked squash because I liked the fast pace of the game.
And that was that, he set up each day's training, tried to get me the best coaches and so on. I started travelling to compete relatively early too; I played my Scottish and British Opens when I was just 9, and, unless I'm mistaken, the British Junior Open didn't even have an U-11 category that year, so I played U-13.
It was just how things went, I guess I always just loved the game.
What has been the highlight of your career? Why?
Playing squash at Trinity would top the list, without a doubt. I enjoyed playing for a team that had become my family from the moment I had landed at Trinity in my first year.
In my second year, we won the National Championship (after losing by a difference of 1 match in the previous year's final) and that was just surreal.
It had taken a lot of grit, hard work and fight from all of us to get there, so, to have such a great win to celebrate with the team would 100% be the brightest highlight.
Who are some of the players you look up to?
I would say that from a young age, I have looked up to Nicol David and James Willstrop.
Read our conversation with Indian Squash pro, Ramit Tandon.
I really enjoy watching Camille Serme, Raneem El Weleily and Karim Gawad. I find a lot of inspiration outside of squash too, in tennis, and have always been the most steadfast Nadal fan.
You are one of the top women in Indian squash, what are your thoughts on the women's game in India?
I think it's very strong. We have a good group of players and they're all different ages.
There are quite a few girls on the pro tour now, and they are all very good. There are also some exceptional juniors, so I would definitely say women's squash in India is very strong. I think it's a bright future on that front.
How about the game in general over there? Is it growing?
Oh, definitely. There have been a lot of PSA events these days and that has just been amazing for squash in India.
It exposes younger players to professional squash which really helps the growth of the game.
There are so many good juniors and they're doing very well even internationally. With Saurav [Ghosal] and Joshna [Chinappa] at the helm, they're really making squash more well-known to the country.
What do you think is the biggest challenge of being a squash player in India?
Well, I think being a squash player has its challenges no matter where in the world you are. Squash is a niche sport pretty much everywhere.
From what I've seen throughout my career, you typically need to be a member of a private club or attend a school or college with courts.
In India, I think that the geography of the country is a little challenging to deal with. There are good players all over the country, but its definitely not just a few hours' drive away.
Is there a good, young base of female squash players in India? Why/Why not?
Yes absolutely. As I said, there is an amazing junior female squash contingent. I am sure that they're going to do very well, as they are already.
I think players like Joshna, who is so experienced and is doing so well, have inspired the younger generations of female squash players.
I'm included, of course!
Read our conversation with Canadian Squash professional athlete, Danielle Letourneau
Squash is generally well-reputed for gender pay parity, do you think this is the case?
It's so nice to be a part of a sport that is well-reputed for equal pay. Equal-pay is something that is an important, must-have debate across all sports and all professions, so it's nice that squash tournaments have equal pay.
And does it translate into squash in India?
India has had quite a lot of PSAs over the last few months and there were a few scheduled during the pandemic, along with the rest of the year.
Obviously, those are all postponed given the current situation, but it's so wonderful to see the tournament calendar with an equal number of tournaments for women and men in India.
So that's really nice, it does provide for more equal opportunity.
Is it possible to make a career out of playing squash professionally in India?
This is a tough question because I think squash as a career is difficult no matter where you are. India's most popular sport, without a glimmer of doubt, is cricket, and more so given that India's cricket team is one of the absolute best in the world.
Badminton, field hockey and a couple of others are popular too. So for squash as a sport to compete with that is difficult. But, it's picking up and now, more and more people are being exposed to squash.
What are your thoughts on squash not becoming an Olympic sport?
Squash is a beautiful sport; it's fast, it's all-consuming, and its players are some of the fittest and most agile out there. The courts are spectacular. I 100% think that it should be an Olympic sport, its heart-breaking that it isn't.
When squash resumes, what are your ambitions on the court?
I think that the lockdown has taught me a lot. Sure, I've felt incredibly anxious, but it also forced a slowdown. I think that has made me want to get back to the game with the ambition of being more calm and collected.
I have the tendency to get a little frantic about training and tournaments and that often makes me over-do things and totally backfires.
I had a slew of injuries and niggles last year, which really brought me down, so I've been working on trying to prep my body for getting back to the game more put-together.
Any other thoughts or comments?
Just that I hope everyone is safe and sound during these trying times!
---
You can follow Sachika Balvani on Instagram.
For more Articles on Squash, visit Sportageous.
Noor Shafiq assisted in the curation of this article. You can follow him here on LinkedIn