Rob Moody, famously known by his YouTube cricket channel, RobeLinda2, is a musician who plays the guitar and saxophone on international cruise ships, and at night he is on a Robin Hood-like crusade of providing quality cricket videos for free on YouTube!
Read about the unsung legend of the cricketing world here.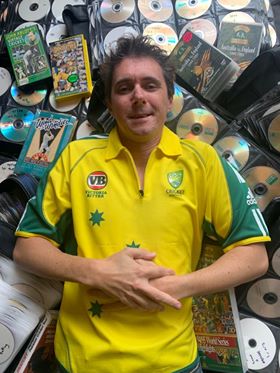 Zushan Hashmi: You get a lot of interview questions asking about running robelinda2 and so on, tell me a bit about yourself, and your life as a musician before we get into the cricket side of things?
Rob Moody: Well I'm 42 and live in Melbourne, Australia, married for 20 years with 2 kids! I am a full-time musician, I play guitar and saxophone, in bands around Australia, and internationally on cruise ships.
Where did your love for music start?
I guess from a very young age in the late 70s, I loved the Grease soundtrack as a little kid, and moving into the 80s it was a tremendous time for music, lots of classic songs that even my kids love today, in 2020!
What sort of music do you enjoy both listening to and playing?
I love the 70s, 80s and 90s rock, never been too much into the heavier stuff.
What's been the highlight of your music career?
I am very proud that everything has been really consistent, never too many lows or highs with music, but I do love travelling the world with my current batch of bands on the cruises, it's a ridiculously fun job and we have such a great time!
Do people ever come up to you on the cruises that you play on and ask you about the cricket?
Actually not very often, it's like I live a double life…
Do you see any sort of intersection between your music and your hobby aka the Robelinda2 channel?
No, not really, it always seems like two completely separate interests, but it would be very cool if one day the two worlds did collide, somehow!
Tell us a bit about the stats behind the videos on your channel, Robelinda2 you put up. I'm assuming most of the viewers are from the subcontinent, namely India, but what is the viewership from here in Australia, like?
Well according to YouTube, out of my 700+ million views; 55% are from India, 7% from USA (presumable Indians too!!), 6.8% from the UK, 6.7% from Australia and 6.5% from Pakistan. So not very surprising really!
Some would argue, what you do is almost 'Robin Hood-like', in a sense, where you upload all your old VHS recordings on your channel, Robelinda2 for people to watch without ads, for free, what do you say to something like that?
Well, I'm glad people are happy viewing my channel, at some point, it will end, I'm certain of a time where copyright law will result in a termination, so watch it while you can!
What is the underlying reason that you decided to do this?
Well, it started by mistake! A few friends and I were chatting online about Australian domestic players that we liked, and a few particular innings were mentioned. I said I had a few of those, one of my friends said I could upload it to YouTube, this was in 2009, I hadn't used YouTube much yet back then.
So I uploaded it, and then a significant amount of comments on that video and messages to my channel resulted in a few more uploads before too long it was apparent that I was in possession of almost every video that was being requested, so I decided to oblige where I could!
It has come with a lot of challenges from Cricket Australia, what has that legal scuffle been like for you?
Yes its been significant at times, but generally, I abide by a few unwritten rules, I never upload anything current or anything remotely recent. Though what exactly is deemed recent is a bit of a grey area, the ICC has told me anything going to back to 1992 is not allowed, which seems crazy! But, it keeps evolving and we'll see what the future holds in terms of copyrights and social media and YouTube.
And how is it coming along now?
Things are ok now, I just try to fly under the radar and avoid trouble at all costs!
Here's a controversial one, do you think modern cricket is expensive to watch, considering even Australian home games are sometimes behind a paywall nowadays?
Yes, absolutely it is expensive! Even for me, at times I can't justify the cost. I'm glad that Channel 7 here in Australia shows the test matches in our home summer, but a lot of cricket fans are used to seeing everything for free, but it's a different world compared to 1995 and with demand comes a cost, so while disappointing it has to be accepted that its now the reality.
If so, is this reducing the viewership and following of the game?
It's hard for me to answer that with 100% certainty, either way, the numbers for viewership are still very strong from the data that I have seen from this season, from free to air TV and Pay TV telecasts.
I know that during the home summer tests my own YouTube channel and Twitter numbers go crazy, I guess people can draw their own conclusions from that!
What is your all-time favourite cricket highlight? I know you've seen more than most, but if you had to pick one?
Well, as a kid the 1989 Ashes were huge, but I think the most important cricket highlights I've seen was the 1995 win in the West Indies. I'd never seen the mighty Winkies get beaten anywhere, and this signalled a definite change in the cricket world, which only went one way for a very long time.
And your favourite cricketer/s? Why?
I loved Steve Waugh as a kid, all courage and fight, he never seemed to give up and played innings after innings to drag his team out of trouble and to ultimately win.
Then Ricky Ponting and Greg Blewett in the early '90s, I was around the same age as them and loved the attacking batting, we got lots of domestic cricket on tv back then and it was always so awesome to watch the young players coming through the ranks. But then Adam Gilchrist came along, and I was like, wow.
He was a genius at the state level, and seeing him demolish domestic teams..well you just dreamed of him replicating that at the international level, and boy did he do that, and then some!
What are you up to nowadays, amidst the COVID-19 pandemic crisis?
Well, these days I'm in lockdown like most of the world! My music has been put on hold completely, nobody going on any cruise ships for a while yet!

I'm spending my time homeschooling my kids, who are 13 and 10 and enjoying the home time a lot. I'm also Spending time organising my huge footage archive, which is time well spent!
---
You can follow Rob on Twitter and check out his YouTube channel, Robelinda2 here.
For more cricket, visit Sportageous
Saqib Tanveer assisted in the curation of this article.