Rafael Spajic is a street football player from Croatia. He was born in Zurich, Switzerland, where he lived until the age of six, but spent around 3 months every year at his dad's place in Zurich every year.
He speaks Croatian, English and German. He is currently focusing on a range of different football projects such as his company, Pannalicious, a street football training website.
He is also running a huge project for the European Union with street football and owns a growing agency that represents different football artists.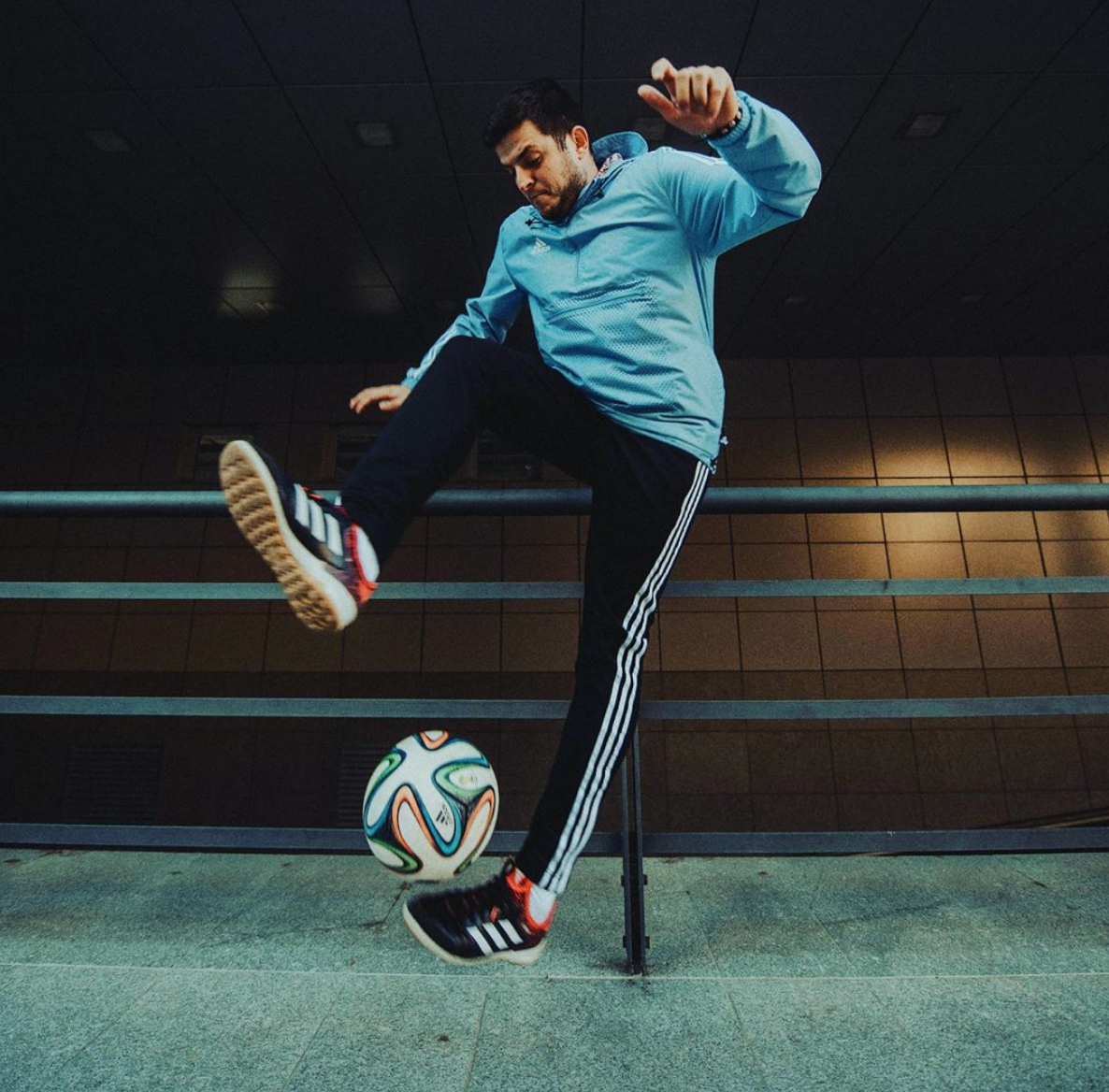 Zushan Hashmi: How did you get involved in football?
Rafael Spajic: I got involved in football because back in the days it was (and still is) the most popular sport in Croatia. Everybody was playing football everywhere – it was like that in my neighbourhood too.
I used to go to 11-a-side training in the mornings, right after school and immediately play with the ball. My whole life I've been with the ball.
Neighbours used to ask my mom if everything is fine with me, as I always had the ball on my feet.
That's how my friends and I invented different games and when it was just the four of us, we played 2v2 games and 1v1 games until the other guys turned up.
What have been some of the highlights of your Panna career?
I used to go on Panna tournaments when global street football just started. I am pretty sure that I was one of the first guys to ever go to an international Panna tournament.
I won 3rd place in the 1st edition of the European championship in Amsterdam, year after the 4th place.
In 3v3, I've won two 3rd places on World Cups, and the last 3rd place in Europe, a few months ago in Rome
What is it about Panna and football that you enjoy most? Why?
When I was a kid, I used street football as an escape from reality. In street football, I mostly enjoy the freedom and the flow of creativity.
I think everybody should play street football, as only in street football you are free of tactics, coaches etc. You just take the ball and play, you do you. You do whatever you want and try new things.
Who are some of your idols in street football?
I tried to never completely follow someone and never get too influenced by somebody. Because it would steal away the things that I do. I never liked comparing myself to anybody, as everybody has their own path.
But the very first videos of modern street football, are the ones by Edward Van Gils, Jermaine Vanenburg, Orry, Issy Hitman etc.
Of course, those videos were eye-openers for me.
Some of your idols from 11-a-side?
When I was a kid, back in 1998, the biggest player was Ronaldo from Brazil. That's how I started supporting Inter Milan and I'm still doing it today.
How big of an influence is Edward Van Gils on street football and why?
Edward Van Gils and the other guys from the first generation were really something and I do believe they inspired a lot of us.
And after learning about the tricks, Edward and his crew where the first ones to make money out of it, become a professional and making a living out of what they love.
I took that as an example and I've tried to go down the same path. The last 10 years I've been working, earning and losing money in street football, but still making a living out of it.
What are some of the things you are currently doing?
So, to elaborate, I'm doing a huge EU Project with 10 other countries, it's essentially a 3v3 Euro league tournament, with a super final in Riga, Latvia.
In March, I'm also launching my own agency, which will represent a great number of freestyle and street footballers.
Tell us about Pannalicious?
Pannalicious is actually a great tool for continued learning after my workshops and masterclasses.
For example, at the end of the month, I'll be in Spain soon, teaching street football moves and tricks to kids. After I leave, they can use Pannalicious as a means to help them grow and continue to learn.
The site has a great number of tricks online, each trick has its own video and tells you exactly how you should start and it takes you step-by-step, and it leaves you space to think about your own variations.
What are some of the places where you've enjoyed playing the most? Why?
I've been travelling now for many years around the globe, but there is no favourite list of cities.
I like it anywhere. Los Angeles, Dubai, London, Amsterdam, Doha, Chicago, Hawaii, Istanbul. It's a long list.
Each city and country has its own style, you just need to find ways to enjoy it.
Who are some of your favourite opponents?
At the moment, I think I've played against every big street soccer player in the world. Edward, Issy, Sean Garnier, Soufiane Bencok and Orry.
Honestly, I think the player with the most quality is Issy Hitman because he mixes futsal and street football into one and that makes him really dangerous.
You know, many street football players use tricks in the wrong way. A trick should always be a tool for beating your opponent – while nowadays you see so much stuff which looks good but doesn't do anything, it's just Instagramable.
How has street football changed from when you started playing?
It has changed a lot. As I said before, it should always be a tool which leads to the end result – winning.
But again, social media has helped street football grow into a bigger sport, but it has his bad sides too. For example, when you browse through Instagram, you find so many world champions, such as an online winner of so and so world Competition [kaughs].
Many of the guys are just chasing fame (likes and comments) and it gives a really bad example to the younger generations.
You see so many staged videos with pannas, so many who claim to be the best but never made it to semi-finals or finals in a real competition.
What is the biggest difference between street football and 11-a-side in your opinion?
Street football is freedom, while 11-a-side is about tactics and automated moves. But still, when there is a problem in an 11-a-side match, wouldn't it be nice to get out of it quickly?
That's how street football can help 11-a-side. Growing confidence and helping the player to get more comfortable with the ball.
Is there anything you would like to say to young street footballers?
Just work hard and enjoy the ride.
---
Rafael Spajic can be followed on Instagram. And you can check out Pannalicious here.
Zushan Hashmi is a sports enthusiast who works in the policy space in Australia. He is an avid fan of climbing, football, cricket and all things sport. You can follow him here on Twitter.