Racketware is a one of a kind motion tracking sensor for Squash rackets, which is making its mark in the squash world. We catch up with Paul Mellor to hear the story of the technology itself, and what it can mean for squash.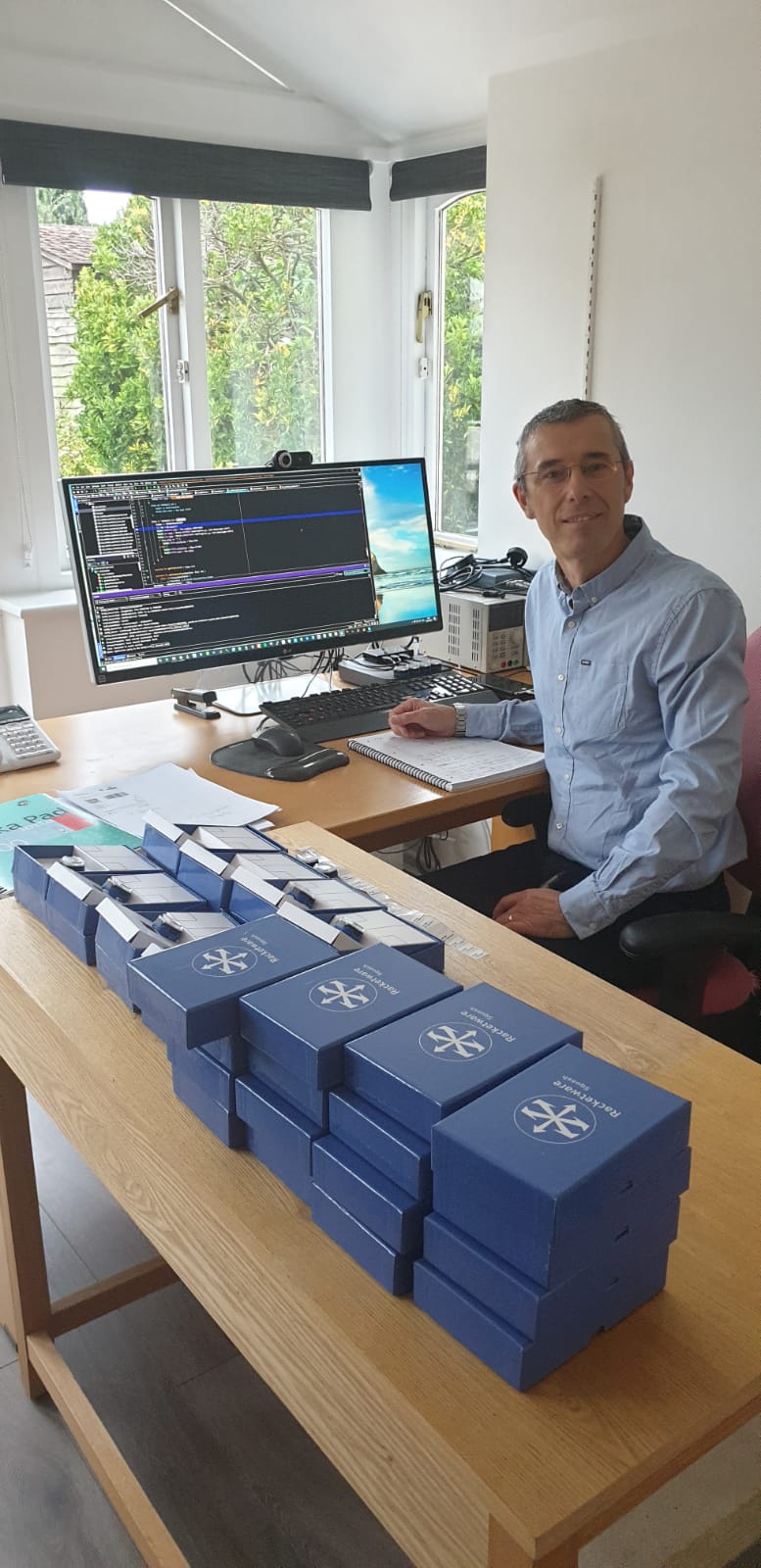 Zushan Hashmi: Lets start off with yourself, outside of squash and Sports Technology, you have a PhD in computer engineering, was squash always a passion?
Paul Mellor: Yes, I started playing at University and loved the game, so I've played ever since. It's always been a part of my life and I've spent many happy hours on court playing and practicing.
I find squash a great complement to office work. Also it's nice to see Hull (my University city) now hosting the British Open.
Why did you decide to develop Racketware? And what is it?
Well I was on court with a friend and we were talking about the importance of keeping your racket head up during a rally. Dropping the head is a common mistake.
So that set me thinking: maybe I could make a small electronic device to make a "beep" whenever the player drops the head. And it all started from there.
We now have a high performance motion sensor that attaches to your existing racket and records all the movement both you and your racket make during a match or practice in perfect detail 500 times a second.
How does one use the sensor?
There are two main ways to use the sensor: for match play, and also live on court when practicing. There is an app that shares data with the sensor and presents all the performance analysis and feedback.
The live mode provides a real time analysis of your practice sessions and analyses your swing, giving you instant feedback which can be viewed on the app, shot by shot as you play.
In the match mode, the sensor records all your play during a match and then you sync your data with the app after the match. It then gives you an analysis of your match play, with detailed feedback on your skill, fitness and tactics.
And where does the information go?
The information from the sensor goes into Racketware app wirelessly through Bluetooth. In match mode the player can use the app to view all their stats.
In live mode, you can view information on the phone as you play each shot, or at the end of a set, or you can use the audio coach.
We love this feature: it allows you to play with a pair of headphones on (courts can be noisy) and get audio based feedback for every shot – just like having your coach shouting at you!
What sort of data can a player, be it professionally, or at practice, extract from the sensor?
Our focus at Racketware is to provide accurate and meaningful data to players to help them evaluate their ability, track their performance, and improve their game.
In live mode we give feedback on 7 different swing phases, with 17 different swing stats available for 20 different shot types. Recreational players can also use the "compare to pro" feature to compare their swings to top pros and try and emulate them.
In match mode we have many stats. The fitness stats relate to calorie burn, but the key here is that we understand you are playing squash: we track the strength of every shot and the acceleration every time you run to the ball or back to the tee and factor this into your energy use.
We also track skill-based stats such as the average number of shots per rally, the pace of the game, your average power, average racket prep, and so on. We also track winners and losers in each quadrant of the court, so you can adapt your tactics.
Recreational players can make use of our monthly challenges and awards in which they can push themselves out of the comfort zone and win themselves some trophies. And we will soon be releasing a new feature which will guide players through a practice session based on their specific strengths and weaknesses.
Is Racketware solely for squash? Do you see it moving into other sports or is that not something you're interested in, at the moment?
Well honestly at the moment we're focusing on squash as squash is the game which is closest to our hearts and we understand well.
But once we establish ourselves in squash we will certainly move into other sports where similar motion sensing technology can be used.
The sensor has been designed to be adaptable to other sports, and many of the AI algorithms that do the main work can be re-trained fairly easily for other sports now they have been developed.
T

he time is not far off when you won't be able to buy a racket that

doesn't

have a motion sensor already built in. So as a sport we need to step up to the challenge now of embracing data and learning how to make the most of it. We hope Racketware can help in that process.
And what has your experience been like, moving from academia to entrepreneurship?
In many ways it has been the best time of my life, since I am passionate about the sport and working on something I love. Given my background in electronics and artificial intelligence – it was a perfect fit for me.
On the other hand there are many lessons to learn in setting up and running your own business and these can be hard at times.
There is a massive amount of technology involved in the sensor and the app, and it has taken us eight years now to get it all developed, tested and working.
Do you recommend taking research to application and making a business out of it?
I can recommend it wholeheartedly, as long as you don't mind living without sleep, working night and day, and earning very little money!
Are you working with any squash associations/organisations? Could you tell me a little bit about that?
During the initial phases we won an Innovate UK grant (given to high tech UK companies that have strong potential to launch significant new products) and through this we worked with England Squash to do some of the initial product testing and tuning.
It was great to get the help of the elite squad at this early stage to steer the product. But as our operation has grown we are increasingly looking to connect with other squash associations and organizations around the globe.
What are some of the key markets you are looking at and why?
We're the only company making motion sensors for squash, and moreover we're the only company who is building in this level of advanced AI to help players improve.
So essentially we are focused on a worldwide market. But we are still a small company, so we are in fact right now in the process of signing up distributors who can help us extend our reach into other geographies, where they can provide a deeper understanding of the needs of players in their area. Through this route we hope to reach many more players around the world.
We've also tried to put features into the app to appeal to a broad range of players: from juniors just starting out to club players and elite players who want accurate science based data.
What do you envision for the future of Racketware?
I see a very bright future. Sports technology is growing fast, and the world is getting more data-oriented. Smart phones and wireless connectivity have given everyone the opportunity to use powerful products like ours in an easy and convenient manner.
And as the power behind the sensor – Artificial Intelligence – continues to be developed, the sensor will only get smarter and smarter, helping players who don't currently have coaching to get some help for example, and adding a new dimension to players who are already working with a coach.
Any other thoughts/comments?
Only that perhaps the time is not far off when you won't be able to buy a racket that doesn't have a motion sensor already built in. So as a sport we need to step up to the challenge now of embracing data and learning how to make the most of it. We hope Racketware can help in that process.
---
You can follow Racketware on Facebook and Twitter or visit their website here.
Reach out to Paul Mellor via Linkedin.
For more Squash related content, visit Sportageous.
The curation of the article was supported by Kinza Tahir. You can follow her here on Linkedin.