Nikki Todd is a Canadian professional squash player, who recently broke into the top 50 of the world rankings. In this exclusive, she shares her story in the beautiful game.
Zushan Hashmi: How did you get involved in the game?
Nikki Todd: I got involved in squash when I was very young because my dad played and put my brother and me into lessons. I actually ended up taking 2 lessons and then quitting.
I played most other sports growing up and it wasn't until I was 14 that I said to my dad that I think I would like to try again.
My brother was competing nationally and I wanted to do the same. Since we were going to nationals for my brother anyway, my dad said we will put you in and see how it goes, you can't be that bad.
Well, I was that bad. I lost my first match 9-0,9-0,9-0. I came off the court, said we have some work to do and I have loved it ever since!
My favourite shot would be my forehand drop. My coach might tell you I should pick a new favourite shot though.
What are the opportunities like for squash players in Canada?
Opportunities for players in Canada are similar to the opportunities for players from most other countries, I would say.
Although being from Egypt would be difficult because in order to make the national team and compete for your country there you need to be in the top 4 in the world!
So in that respect, I would say being from Canada gives us more opportunity as once you are around 80 in the world you are getting chances to be on the national team.
We are also lucky that we are given the opportunity and funding to compete in World Teams, PanAmerican Games, and Commonwealth Games. Some countries aren't part of those games and don't get to represent their country at such events.
What was it like to break into the top 50 of the squash rankings?
Breaking into the top 50 was something I have always wanted to do and I am proud that I did it. However, I am not satisfied. I want to break the top 30 next.
Who are some of your all-time favourite squash players? Why?
My all-time favourite squash players in the past were Amr Shabana, Nicol David, and Ramy Ashour. And currently Nour El Tayeb.
I love watching Nour El Tayeb play because she isn't afraid to go for it.
It can be 9-9 in the fifth and if she has the opportunity she is going to take it. Not only that, but her acrobatic skills and diving are extremely entertaining too.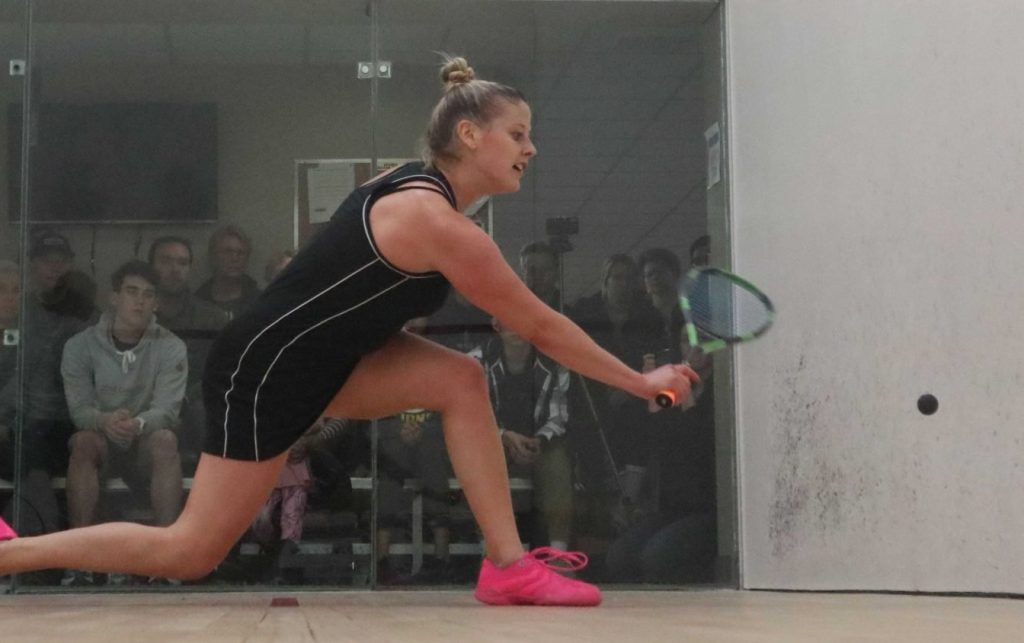 What has been the highlight of your squash career?
A highlight of my squash career would probably be the final of the doubles in the 2015 Pan-American Games.
My partner Sam Cornett and I took on the USA team of Amanda Sobhy and Natalie Grainger. It was a packed audience, the squash was intense but so fun, we played great, and getting a silver medal wasn't all so bad either!
Another highlight would be qualifying for the 2018 Commonwealth Games in Australia. Canada was only sending people who were in the top 5 at the world doubles in Manchester.
Sam Cornett and I placed 5th beating Wales in the 5/6 playoff and booked our spot on team Canada at the Commonwealth Games.
And of course, reaching number 1 in the world on the hardball doubles tour!
Who are your favourite opponents on the court?
My favourite opponent on the court is actually also my least favourite opponent on the court [laughs]. And that would be Sam Cornett. Playing against her is always a fair fight with good long hard rallies. Good long hard rallies that I never seemed to win in the 5th.
But we trained together a lot, so competing against each other was tough, especially to put aside the friendship and just compete, but we also knew each other's games so well that we were always going to have a battle out there. She has actually just announced her retirement which is a sad day for squash but maybe now I will be able to beat her!
And your favourite shot?
My favourite shot would be my forehand drop. My coach might tell you I should pick a new favourite shot though.
What was the experience like playing in the 2018 Commonwealth Games here in Australia?
Playing in the 2018 Commonwealth Games in Australia was an amazing experience. That was my first Commonwealth Games and both my parents and Sam's mom ended up coming down to watch and cheer us on.
It was a tough competition and we just missed out on the semi-finals in the doubles losing to India in a tight third game. Competing for your country at an event like that is a feeling you don't forget.
Is it true that you are the first Saskatchewan athlete to represent Team Canada? Has that been a burden of sorts on it down?
It is true that I am the first Saskatchewan squash player yes, definitely not an athlete. I believe there were a few Saskatchewan athletes at the games but I am the first squash player to represent Saskatchewan at the Commonwealth Games.
I don't think it is a burden at all, I just hope that it inspires more squash players from there to work hard and aspire to compete at that level!
What would you say to young women who want to start playing squash or are interested in the sport and want to go pro?
I would say go for it! Anything is possible, and if you work hard, you can achieve your goals!
How are you maintaining your health, fitness and squash skills during the current COVID-19 lockdown?
It is a tough time with everything shut down, but I have become quite creative with my home circuits and finding ways to get some exercise in. As far as squash skills, those are a bit tougher without a court, but hitting the ball against the wall gives me my fix for now.
I also love to run so I am using this time to enjoy my long runs and get outside.
---
You can follow Nikki Todd on Twitter and Instagram.
For more Squash content visit Sportageous
Saqib Tanveer assisted in the curation of this article. You can follow him here on LinkedIn.