Sports analyst, mental health advocate and community facilitator, Nicholas Bloom takes us through a lifelong love affair with sport and a decade of working in the industry. In this exclusive, Nicholas shares his views on COVID-19, and the prevalence of mental health issues and toxic masculinity, both in sport and wider society. Combining his greatest passions, Nicholas is on a mission to help others grow and flourish.
Zushan Hashmi: Tell me a little bit about yourself and your connection to sport.
Nicholas Bloom: I am born and bred in Melbourne, Australia – the self-appointed sporting capital of the world. I've religiously played, watched and followed the sport for as long as I can remember.
Collecting footy cards, dribbling a ball around the house, playing fantasy games and repeatedly watching highlights – it didn't matter what aspect of sport it was, I couldn't get enough of it.
This passion consumed my teenage years and led into my university studies, shaping my professional career over the last decade.
Although I'm still sports-mad, it doesn't define every aspect of my life.
My passion for mental health, facilitation and philanthropy has exploded into my world over the past few years.
I can see you are widely involved in sports. Can you give me an overview of your professional work in sports?
Sure thing. Whilst completing a Bachelor of Business (Sport Management) at Deakin University, I picked up jobs as a junior basketball coach and futsal referee.
Through these experiences, I got my first taste of leading others, learning on the job how to teach resilience, discipline and balance on and off the field.
I then dabbled within the worlds of marketing, sales and business development before interning at Conquest Sports (now Converse).
Soon after, I joined a sports culture company that developed athlete mentality to achieve peak physical performance.
Across the last five years, I have worked in Australia, Ireland and the United States as a sports analyst, predominantly focussing on the Australian Football League (AFL), soccer and tennis.
I was also contracted to various roles for Tennis Australia's digital department during the 2018 and 2019 Australian Open tournaments.
You're obviously a sporting enthusiast, and you told me you've played squash for a long time. Tell me your thoughts on playing the sport and its popularity or lack thereof?
When I stumbled upon squash in my early teens, I viewed it as an 'old man's game'. As I started playing though, that myth dissolved, and I really warmed to the sport.
A major turning point was attending the finals of the 2006 Melbourne Commonwealth Games where I gained a deep appreciation for the sport, and so I started playing pennant competition.
Nowadays, I regularly play social-competitive squash and I participate in an annual charity event associated with Multiple Sclerosis (MS) Australia.
I view squash as an extremely demanding and technical war of attrition, requiring a great level of craft, instinct, concentration, and mind-body connection.
It's just about the sweatiest sport I've ever played, and I always feel exhausted and satisfied after a good hit.
Unfortunately, my love of the game isn't shared by the masses. Its popularity is rapidly dwindling, with non-representation at the Tokyo 2021 and Paris 2024 Olympics a crushing blow.
Squash has no energy or player marketability, as it hangs its top hat on two centuries worth of memories and milestones.
It's an unbelievable workout and stress outlet, and I feel the game needs to sell itself to younger generations from both a fitness and mental health perspective.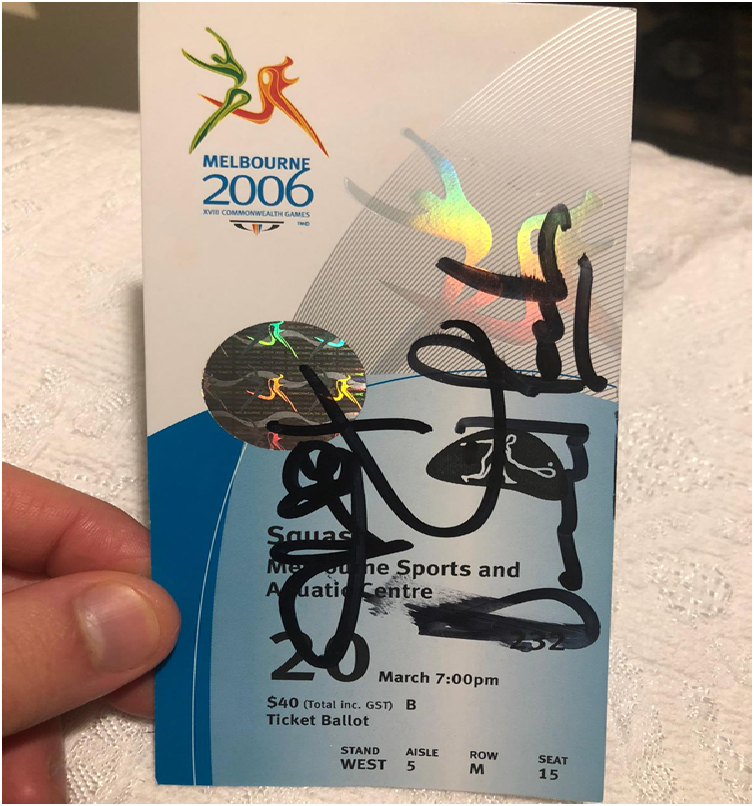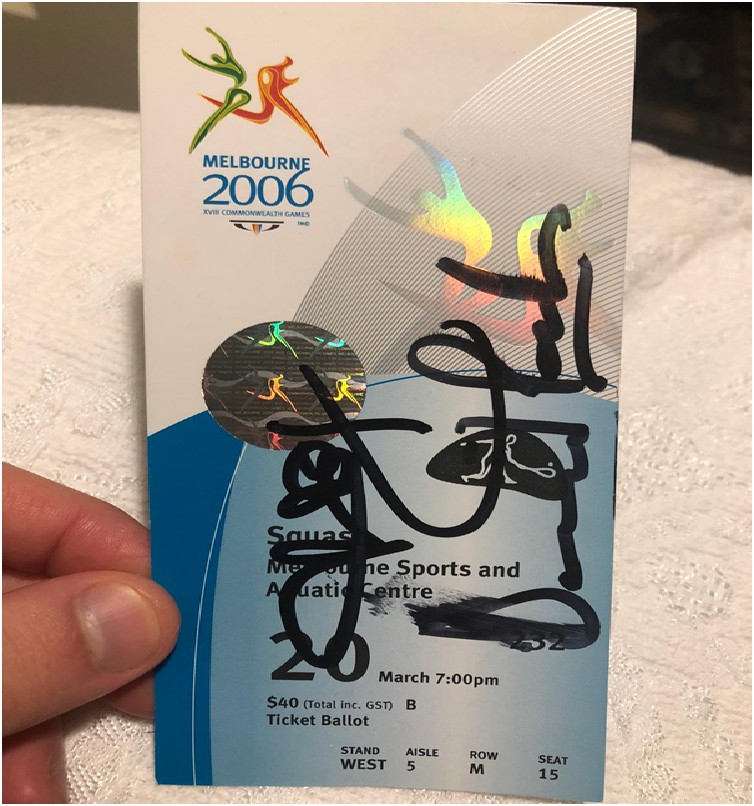 Can you tell me more about your association with MS Australia?
With pleasure. MS 24 Hour Mega Squash & Racquetball is an open event where at least one player from each team is competing on the court for 24 hours straight.
It's one arm of the MS Mega Challenge charity that organizes Australia-wide sports team relay events to raise funding for MS Australia.
Multiple sclerosis is similarly gruesome to motor neuron disease (MND) – a terminal illness that took the life of my beloved uncle after a long battle.
I competed in my first MS Australia event two months after his passing, reinvigorating my love of squash. Now, this challenge is my annual tribute to him.
Since 2017, we have raised over $6,500 as a team, collectively generating more than $54,000 for MS Australia. Later in 2020, I'll be competing in my fourth straight event.
I'd be very appreciative of any support, whether people donate to MS Australia via my fundraising page and/or share the event amongst their family, friends and colleagues.
This involvement with MS Australia inspired me to offer my time and energy to other causes and organizations I believe in within the mental health sector.
I can see that a lot of this passion is focussed on mental health. Are you able to take me through your journey with mental health?
My journey with mental health started very young.
As a child, I witnessed the depression, instability and mentally ill health of a family member.
I also struggled my way through school, feeling lost and being bullied for physical imperfections.
Throughout my adolescence, I was very insecure and unmotivated, with next to no self-worth.
Some of this trauma carried into my twenties, but it dissipated as I broadened my social circles, traveled extensively, developed a sense of independence and found purpose.
In recent years, I have been confronted by close friend's battles with chronic illnesses and substance abuse.
On top of coming to grips with my own issues and insecurities, I have healed by trying to help those close to me come to terms with their own demons.
Playing the role of a family mediator, confidant to friends and counsel to strangers comes naturally, so I want to be a vessel for positive change in others and help to eliminate the stigma around mental health.
I feel particularly drawn to men's work and youth facilitation, with an aspiration to transform current and future generations of men.
Can you tell me about your work in mental health and with the Island of Men?
Happily. The Island of Men (IOM) is a not-for-profit organization dedicated to creating transformational spaces for men to connect more deeply with themselves and the wider community.
I'm very involved with IOM as a committee member, content creator and co-facilitator of their fortnightly sharing circles.
Alongside my work with IOM, I've helped run weekly events with a private community group over the past two years, honing my ability to tune in to the emotions of others and create an environment where people feel safe to be vulnerable.
I also take part in Movember to support men's health, mental health and suicide prevention.
I've committed to picking a fundraising challenge each month to help Movember hit their goal of reducing male suicide by 25% by 2030.
Today's conversations around mental health have a very different flavor to 5-10 years ago as awareness and education have normalized a once-taboo subject.
I'm excited to see where the world sits in the next few years, and I'm very eager to do my bit.
We have seen more and more athletes coming out and speaking about their mental health struggles. How important do you think this is for athletes and sport?
I think this is incredibly important, not only for pro athletes and the sporting landscape but for society as a whole.
Although sad to see athletes struggle in public, it's heart-warming to see them take the first step and open up for the betterment of themselves and others.
It's incredibly humanizing that these people face the same challenges as everyone else.
We all have mental health and sit somewhere on the mental health spectrum, no matter how talented, wealthy, famous or successful we are.
Although professional sportspeople are afforded many luxuries, it comes with immense pressure and sacrifices.
Athletes shouldn't just be treated as a dog's toy to be played with, chewed up and spat out, particularly as their professional careers are only a tiny fragment of their adult life.
The mental health of athletes must also be supported and protected post-career, and it's encouraging to see recent strides in organizations like the AFL Players Association.
Toxic masculinity has been common across most sports, with high-profile examples in soccer and cricket. Do you think this is changing? Why/why not?
I feel the sporting landscape is slowly shifting from the traditional masculine ideology, but there's a long road ahead.
The industry is recognizing that athletes can't be treated as carbon-copy robots due to varying cultural backgrounds and life experiences.
Some struggle to self-motivate and need a verbal blasting to lift them out of a funk, whilst others are more sensitive and require an arm wrapped around them when in need of support.
Athletes are now publicly sharing their battles against depression, shining a light on the prevalence of mental health issues at clubland.
The Last Time I Cried is a new initiative that addresses the stigma often associated with men sharing their emotions, whilst the Richmond Football Club is a club successfully cultivating an environment where players are encouraged to be vulnerable in front of their peers.
Opening up is pivotal for sportsmen who have been conditioned to bottle up their feelings.
From a performance and cultural point of view, this builds invaluable connection, respect, love, trust, unity and brotherhood.
I'm optimistic that the next generation of sportsmen will be able to freely express their individuality, but will also be held accountable for any unacceptable attitudes and behaviors, inside and outside the arena.
Can you tell me how you think toxic masculinity negatively impacts individuals both inside and outside of sports?
By upholding the old-school stereotype to 'man up', attitudes of misogyny, homophobia and violence are promoted and normalized.
This can cause a catastrophic chain of events that lead to sexual assault and domestic violence, as recently seen in the National Rugby League.
The #metoo movement also shone a light on the effects of toxic masculinity, putting the spotlight on men that have used power and influence to dominate, intimidate and abuse others, particularly vulnerable women.
Across society, the image of the strong, tough and emotionless man is gradually dying off as we push through new ways of thinking and behaving. Bullying, catcalling and 'boys will be boys' attitudes are far less tolerated nowadays as manhood is being redefined.
Violence and aggression are more commonly deemed unacceptable, gender stereotypes are thinning out and toxic masculinity is being called out – by women, but also by men.
What are your thoughts on mental health issues during the COVID-19 pandemic and lockdown? Any suggestions or tips for people who are looking for outlets or means to improve their mental health and wellbeing?
COVID-19 is an invisible global war causing unprecedented damage and transformation. Financial pressures, family pressures and loss of lives are growing as the virus infiltrates every aspect of life at a human, economic and social level.
The uncertainty around how this pandemic will play out is affecting the physical and mental wellbeing of many, causing fear, anxiety and loneliness. As I touch on in my Finding The Silver Lining blog post though, your reality doesn't have to be viewed through that lens.
No matter how great or small COVID-19 has impacted you, we all have the power to decide if we suffer or not. As author Mark Manson wisely notes: "Because pain is the universal constant of life, the opportunities to grow from that pain are constant in life".
There is always a separation between what we experience and how we interpret that experience.
In a piece I wrote on Maximising Isolation, I discuss how we have polarity in our choices –  feeling chaotic vs calm, lonely vs self-connected, uninspired vs expansive, or imprisoned vs free.
Although our ability to form in-person connections is restricted, a new wave of positive and supportive digital community groups are emerging.
Perhaps you can learn a new skill, discover a creative outlet, explore a fresh routine or develop a self-practice that is sacred to you. Perhaps this is the perfect opportunity to cultivate some self-love.
For me, I'm loving cooking and eating as a family unit, extending my morning routine, writing and sharing with others, discovering and building online communities and completing a course in permaculture living.
Whatever your situation, you always have moments in time to check in with yourself.
I invite you to close down your eyes, take a deep breath and ask yourself… what's my silver lining in all of this?
Any other thoughts or comments?
Yes. As we're amidst a particularly challenging time and we've unpacked some confronting topics, if anyone reading this feels they are in danger, please ring 000 for emergency help.
For any suicide and crisis support services please contact: Lifeline (13 11 14), Beyond Blue (1300 22 4636), Suicide Call Back Service (1300 659 467), Kids Helpline (1800 55 1800), MensLine Australia (1300 78 99 78) or 1800RESPECT (1800 737 732).
Remember to take care of yourself, your loved ones, your community and our planet.
---
You can get in touch with Nicholas Bloom on LinkedIn, follow him on Medium and support Movember and MS Australia through his fundraising pages.
For more Articles, visit Sportageous.
This Article is written by the Sportageous Editorial Team.
Noor Shafiq assisted in the curation of this article. You can follow him here on LinkedIn