Nadine Shahin is an Egyptian professional squash player, who recently broke into the top 20 of the Professional Squash Association rankings. At the age of 22, she is one of the up and coming stars of squash from Egypt. We talk to her in this feature, about her career, how she got into the sport, and Egypt's dominance in the game.


Zushan Hashmi: How did squash become your sport of choice and why?
Nadine Shahin: My father used to play a lot of squash and he used to participate in local masters tournaments as well.
I grew up watching him play and win tournaments and I instantly fell in love with the game. Him and my older brother were my inspiration for playing squash while growing up.
What is it about the game that keeps you going?
Have you played squash? The thrill and excitement you get just by stepping on the court is unbelievable, the challenge and persistence of hitting that small black ball on the wall is an irreplaceable feeling.
To add to that, the adventure of travelling around the world, meeting new people, visiting new places, experiencing different cultures and playing in amazing venues around the world is something else.
Honestly, I can proudly say that I have the best career in the whole universe.
How would you say squash has changed in the past few years?
In my opinion, the game has become faster, harder and more challenging.
Anyone can beat anyone; even the top players are beatable.
Abdelfatteh Amr, Mahmoud Karim and Abdelfatteh Aboutaleb all dominated squash in the 30s, 40s and 60s, for periods of time, respectively. But squash is no longer dominated by just one squash player, but several. Why do you think this is?
The game has changed drastically since then; a lot more countries started emerging and showing great talent in the squash world. Now everyone is dreaming of being the world number one. So all players from all over the world are training very hard for their target.
A lot of exercises have been discovered and developed to boost your squash and fitness. So now you have plenty of variety in your pressure sessions. It's just a matter of who wants it more, who's hungrier for the win, who is more consistent and persistent.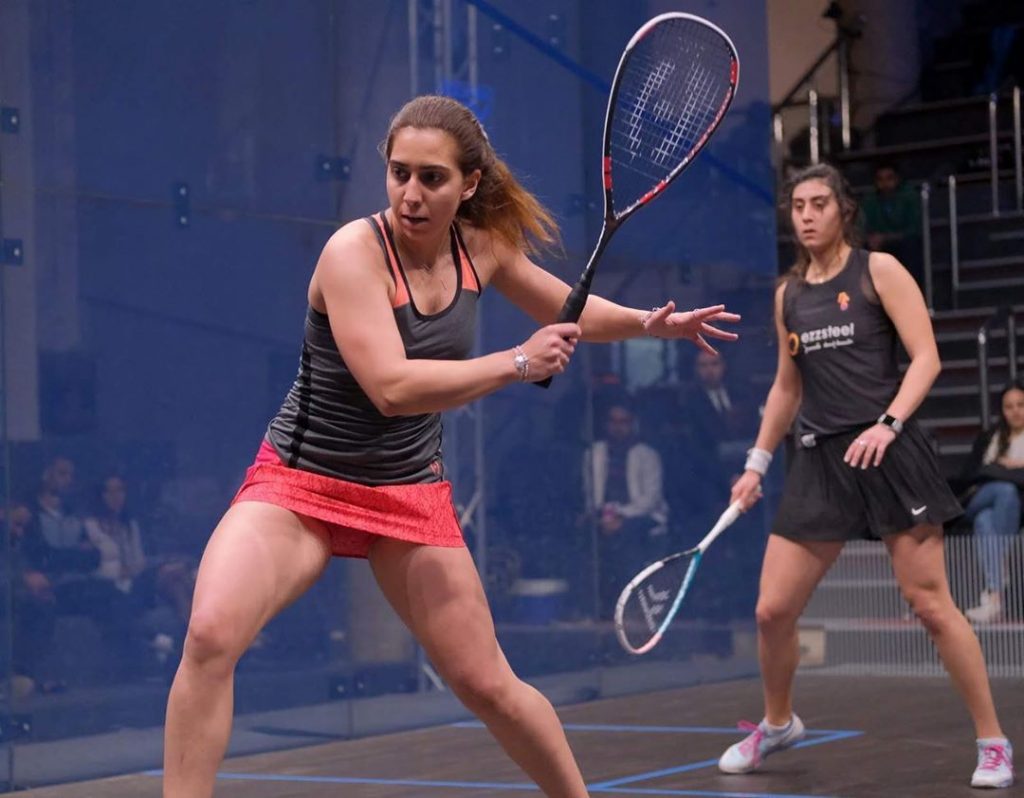 In the past 10 years, women's squash has also grown significantly in Egypt, what are your thoughts on that?
Women squash in Egypt was not the best before, but now Egypt is dominating from top junior players to top senior players.
Egyptian players play at a very high and fast pace, hitting the ball very hard and showing great athleticism and mental toughness.
Egyptian players are also known for their competitiveness even amongst each other. Also, players who used to be at the top and are now retired, often give back to the sport by coaching the youth,
What does Egypt do differently when it comes to squash?
Egyptians start playing squash at a very young age. We have a lot of amazing coaches who were once professionals and they give back to the sport by coaching the younger generation.
Even from a young age, Egyptian players are very competitive and train plenty of hours during the day. All of them aspire to be the best; they're trained to have a mindset of a champion.
Is it possible to sustain a living with squash as your sole career in Egypt?

Yes, I believe you can make a living out of squash. Of course, you have to be a great player and win matches and tournaments.
Then come sponsors, exhibition matches and league matches that you help you make extra money. You have had a lot of players over the years that lived only by playing squash, then retired and started coaching, hosting clinics, camps and even started academies for the game.

What has been the highlight of your squash career?
First, I believe it's one of the most fantastic things to be able to travel around the world, meet new people and learn about their culture. Second, to play in amazing venues that have majestic views. Third, I have won 9 titles I'm proud of; beating former world number 2, Jenny Duncalf, now world number 5, Joelle King and former world number 3, Alison Waters.
What have been some of the challenges of your squash journey?
One of the early challenges that I faced when I was young was the passing of my father; it took a toll on me and that interrupted my training and slowed down my progress.
Of course, there's always the challenge of finding the right coaches for squash and finding the right fitness and nutrition regime that suits your body. One of the most important obstacles that you face in squash is having a strong mindset; mental toughness.
Who are some of the players that you look up to or are inspired by, and why?
One of my main role models is Raneem El Welily; she is so well-mannered, talented and demonstrates the true example of sportsmanship. Also, I look up to Nour El Sherbini; I admire her fighting spirit, her skills and her strong mindset.
How have you managed to juggle studying at university and playing squash at the elite level?
The key is managing your time; organizing time for studying, finishing assignments and projects, while managing a fixed time for practice every day. You also have to have the will and motivation to work hard every day and not postpone anything to the next day. As for travelling, I would get permission from my professors to finish my assignments and tests online, so it all worked out well.
You recently broke into the top 20 for the first time, what has that experience been like?
It felt so good to achieve something I have been working really hard on for years. It gave me the push to work even harder to break into the top 10 in the upcoming months. Also, it made me believe more in myself that I'm able to beat the top players.
Many would say, you are one of the rising stars of Egyptian Squash, how do you manage the pressures involved with these expectations?
By experience; playing lots of matches and experiencing the stress and pressure of tournaments over and over again. It gives you the motivation to try harder and be the best when you find that younger players look up to you. Also, you watch these top players play and you just want to be in their position and not waste all the efforts you put in your hard training.
Tell us a bit about your fitness regime and what goes into training to be at the highest level in squash?
My training consists of high-intensity intervals, plyometrics, resistance, long-endurance exercises, gym, footwork and track sessions. I do an hour solo every morning followed by one hour or 90 minutes of fitness training.
Then, I have a break, eat lunch, then a one-hour pressure session with my coach and then I play a match in the evening.
What would you say to young women in Egypt who want to become squash professionals?
I would tell them that if you're hungry and you want it bad enough you will make it. Don't be too sad if you lose or have a bad day at the office; it's all part of the learning process.
You have to lose to be able to win and gain experience. Also, re-watching your matches assists you in figuring out your mistakes and improving on them.
---
You can follow Nadine Shahin on Instagram.
For more squash content visit Sportageous.
Saqib Tanveer assisted in the curation of this article. You can follow him here on LinkedIn.