Millie Tomlinson is a professional squash player who represents England and reached number 20 in the world rankings. She has won 14 PSA tour titles in her career to date. We caught up with her to talk about her career, what it was like playing varsity squash at Yale and how she's keeping busy during the lockdown.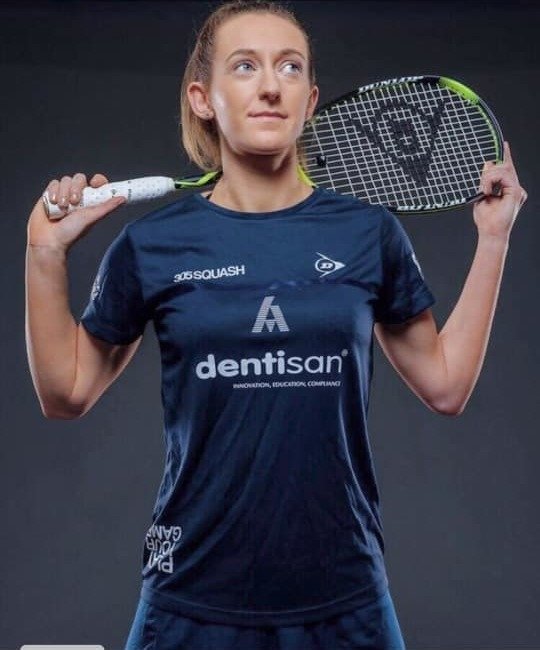 Zushan Hashmi: Tell me a little bit about how you became a professional player?

Millie Tomlinson: As a youngster, I got involved with every sport that I had access to. I played a mix of sports and also had a keen interest in drama until I was around 16. At this time, school got more serious and I had to cut down my extracurricular activities.
By the time I had completed my A (Advanced) levels, I had won 4 national junior squash championships, was the number 1 ranked junior squash player in Europe, and had represented England at the World Junior Squash Championships.
After achieving the grades I wanted in my A-levels, I went to study Political Science at Yale University. There, I picked up some of my old hobbies – I joined a drama society, wrote for a university paper, and played on the Squash team. During my time competing for the Squash team, I won the National College Squash Championships.
I left Yale in 2014 and took on a journalism job. After a few months of working in journalism, I took time off work to compete at the World University Squash Championships in India.
I had an amazing time playing on the Great Britain team and loved being back in that intense competitive environment again.
It was a bonus that I ended up winning the event. Within 2 months of returning home from India, I had quit the office job and joined the England Squash Academy.
I have now been playing Squash professionally for 5 years, and have won 15 tour titles so far. I haven't looked back at all. I get to travel the world, playing a sport that I love.
Tell us about how you picked up squash as your sport of choice?
I enjoy most sports but was drawn to squash for the mixture of physicality and skill. To be a complete squash player, you need endurance, speed, agility, skill, and tactical awareness.
My favourite matches are the long battles, when you're absolutely exhausted but still have to try and figure out a way to outplay your opponent.
Is it easy to make a living off of squash in the UK? Why/Why not?
This is a difficult question to answer, as it varies for each individual and obviously depends on your standard. I make it work by supplementing my income with coaching, playing in leagues, exhibitions, and playing in smaller non-PSA events. You can definitely make a decent living from the sport, you just have to work hard and be flexible.
What was the highlight of your career, and why?
Winning the European Senior Championships.
What is your favourite shot and why?
Crosscourt nick! Especially if played when mid-air.
Who are some of your favourite all-time squash players? Why?
My idol growing up was Cassie Jackman.
I loved watching her play for Duffield Squash Club in the Premier Squash League.
What was your experience like playing Varsity squash at Yale?
I loved the feeling that I was playing for something greater than myself at Yale. It's amazing being part of a team and having that banter and camaraderie. I'm still very close to some of the girls that were on my team at Yale.
Do you think that experience set you up for your squash career and life beyond the sport? If so, how?
It's definitely a different type of pressure playing on a team, as you don't want to let people down.
On the other hand, it's amazing to feel a sense of common purpose and camaraderie.
I learned a lot from my team members at Yale, and have taken those skills into every area of my life.
The UK is where the game comes from, do you feel there has been a decline in squash since its golden years? Why/Why not?
There has definitely been a slight decline in popularity, but I think all sports go in cycles of popularity. It's an amazing sport – as soon as people try it, they get addicted to the physicality and social side of the game. I am sure it will have another resurgence.
What are your thoughts on squash not being accepted into the Olympics, once again?
It's really frustrating, but I prefer to think about the positives of Squash and what makes it unique.
The global squash community is incredibly tight nit and full of really interesting people, the sport is highly addictive and can be played in so many different styles, and we're lucky to have big events in amazing locations all year round. I love the fact that we get to compete so regularly in all of these amazing locations.
Is there an issue within squash, like many other sports, when it comes to gender pay parity?
Unfortunately, female Squash players still earn significantly less than their male counterparts.
This is true from the local level (in regional leagues and small tournaments) to the world tour (with there being more professional tournaments on the world tour for men).
Luckily the Professional Squash Association is making a big push towards prize parity and most of the major events have equal prize money now. There is definitely more prize parity than in the past, so I hope this continues to improve.
Squash is one of those sports where several players have single-handedly dominated the court for decades. Do you think this has changed today?
There is a huge amount of depth in the sport today, and you see a lot more fluctuation in the rankings than in previous years.
What do you say to young, up and coming female squash players who want to go pro?
Definitely give it a try, it's a great opportunity.
Throw yourself into it 100%, or you will always wonder if you had more potential than you realised.
There's time after Squash to pursue other things, and I don't think there is any point in doing things half and half.
---
You can follow Millie on Instagram and Facebook.
For more Squash, visit Sportageous.
The curation of this article was supported by Saqib Tanveer.