Lauren Tuffrey is a county cricketer from Derbyshire and started playing cricket when she was 11. Tuffrey is a pathway coach for the Derbyshire Cricket Foundation (DCF) and has joined Spondon Women's team in the newly created East Midlands Women's Cricket League this season. We caught up with Tuffrey to discuss the scope of cricket in the UK, her skills and what the future holds.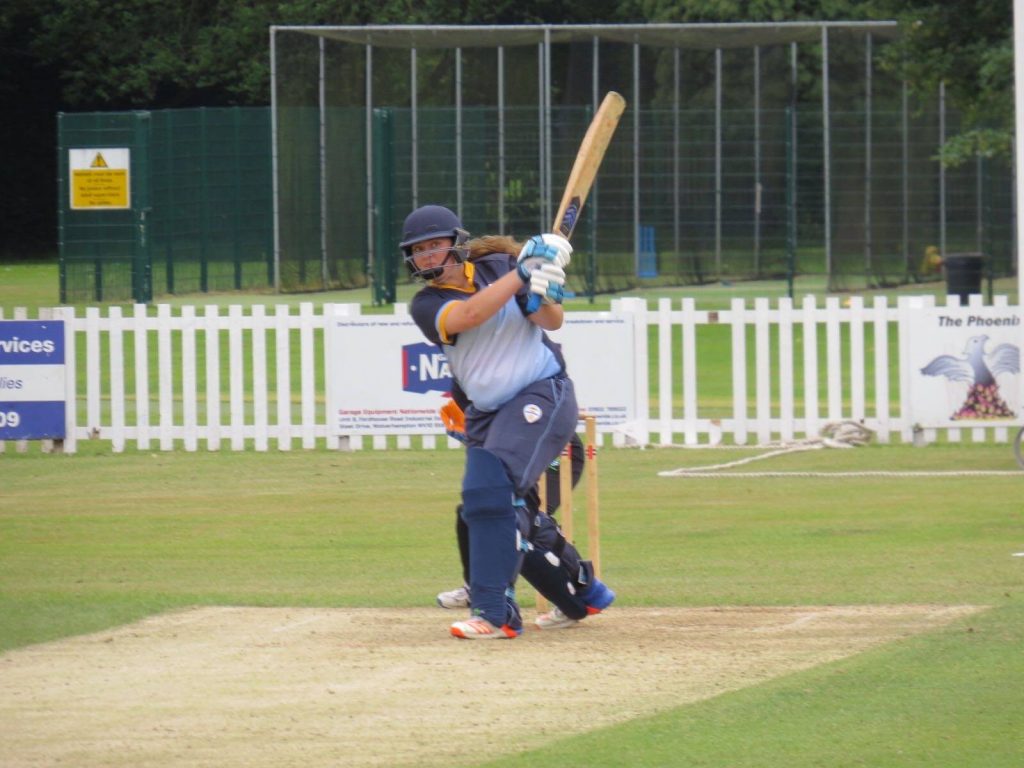 Kinza Tahir: Tell us about yourself. What do you do when you're not playing cricket? What are your likes and interests outside of the sports world?
Lauren Tuffrey: Derbyshire and cricket, in general, take up a lot of my time with both playing and working within the sport, it can be very hectic so I like to take time to wind down when I can.
I enjoy listening to most types of music and love a good historical podcast every now and again. Being able to spend time behind my camera gives me time to take a step back from life for a bit.
At what age did you start playing cricket? How did you get involved in the game?
I first picked up a cricket bat at the age of 10 but started playing when I was 11. I had never really heard of cricket before that point, I was more into football.
The initiative, Chance to Shine, came into my primary school with England International Katherine Brunt and she pushed me towards joining a club, so I thought I would give it a go.
I was very lucky to have had that opportunity as other schools in my area did not receive the same type of programme. It's nice to have been able to deliver some Chance to Shine sessions through the Derbyshire Cricket Foundation and provide that opportunity that I was given to children in schools now.
How do you see county cricket in Derbyshire growing in the last few years?
Changes to county cricket have started to take place across all the age groups in Derbyshire for women and girls. There are more girls coming through the county system from a young age which is really positive which means that there are more opportunities for girls to play cricket within Derbyshire.
There are also some good players coming through the age groups and joining the senior women's side, so much so that our average age must be under 25!
There have been some excellent players making their way through the Derbyshire set up in the past who have gone on to play in the new regional setups and even the international side so hopefully, we can keep developing players at a high standard for years to come.
Are you a bowler or batter and why?
When I first started playing, I was definitely a bowler, batting was not my strength! Playing against boys who were much stronger than I was, meant that batting was always much harder and could be demoralising as a girl.
As the years went on my batting developed to the point where I am now a top-order batter, both for county and club. I still pick up the ball for the club when asked and do really enjoy it when I get the opportunity to do so.
I keep working on my bowling and hope that I can show I have potential as a part-time bowler on top of my batting in the future. I have also been known to put on the keeping gloves if needed for my club!
Who is your all-time favourite cricketer?
I would have to say that one of my favourite cricketers would be Katherine Brunt. She is the one who actually got me into cricket, and she has been such a critical part of the success of the international team for the entire period I have been following them.
I am a big fan of AB de Villers as well. Absolutely love watching him bat in the IPL!
There are more girls coming through the county system from a young age which is really positive which means that there are more opportunities for girls to play cricket within Derbyshire.
What are the skills and lessons you have learned playing for Derbyshire?
So many areas of my game have developed since being involved at Derbyshire, which I doubt I would have gained without being at that level.
I have developed so much more batting depth, being able to access more areas of the ground and feel confident in doing so. One of the biggest things that our coaches drill into us is to be busy at the crease, look to rotate the strike if you are getting stuck down.
I used to put so much pressure on myself to play shots that looked good and were as close to 'textbook' as possible, whereas now I just want to score and I am less worried about how it looks to everyone watching.
How has your preparation, fitness and training developed amidst the COVID-19?
I started off the year with an excellent preseason. I felt I was going to be entering the season in great form and I had worked hard on my fitness levels. I was in the best shape I had ever been in.
Obviously, we then went into lockdown and all that hard work had gone.
I won't lie and say it wasn't a struggle to keep up the motivation to keep training up, it was hard. Not many people would know this, but I had some struggles with my mental health during the first couple of months of lockdown, which massively affected my motivation to train.
It took work and the encouragement of some of the amazing people around me to get me back out there. I started running again, worked hard on my fitness and did lots of tennis ball work in the garden to keep my eye in. Before I knew it, I was back and ready to get started once our shortened season was announced.
Tell me a bit about your domestic career, the teams and leagues that you played in, and what that was like?
Most of my season is spent playing club cricket, and I am lucky enough to be involved at Chesterfield CC. I have just finished my 4th season in the senior sides with them and my game has grown so much from being there.
When you are at a club that shows so much support not only for myself but other female players coming through the age groups, it really helps create a comfortable environment to excel in.
This season I have also joined Spondon Women's team in the newly created East Midlands Women's Cricket League. With the team being in the Premier League, we are playing at a good standard and it is still a young side allowing for juniors to develop alongside some more senior players.
It is a great balance and is looking really positive for the years to come.
Have you considered playing internationally?
I think playing internationally is a dream that many players have. I have always wanted to play at the highest standard that I possibly can, and I keep pushing and working hard to continue improving so that I can do that.
Competition at the higher levels within women's cricket in England is strong so I will keep working hard and we will see what happens.
What has been the highlight of your career and why?
I have been extremely lucky to have been able to achieve some of the things that I have but I would have to say scoring my first 100 for Chesterfield is my highlight.
That moment really helped prove to myself that I was good enough to play men's senior cricket on a Saturday and that I deserved to be there.
It was like a great weight had been lifted off my shoulders and it was just an added bonus to have been the first woman to do that in the Yorkshire and Derbyshire League!
Women's county cricket is seeing the biggest changes in terms of being turned into a regional set up.
What is the scope of county cricket in the UK in terms of opportunities, development and growth?
Women's county cricket is seeing the biggest changes in terms of being turned into a regional set up. For the County 2020 season, there would have been no 50 over competition for the Women's side, only a T20 competition, which obviously changed due to Covid-19.
The new regional teams that have been created are looking positive for the improved competition element needed in women's cricket to bridge that gap between the county and international set ups.
These teams will see the best players within those regions playing against each other. I think this will see some excellent standard of cricket being played and be something that girls still going through the county pathways can look up to and aspire to play for.
Obviously, with these new regional teams being added, it leaves county cricket in the air a bit. I hope that there will still be some sort of competition for the county teams so that girls within those county set ups still have the Women's First XI to see.
How your coaching experience evolved and enabled your growth in cricket since you became a pathway coach for the Derbyshire Cricket Foundation (DCF)? How do you feel when the girls you have coached finish top of the league?
Being able to coach the Derbyshire U13 girls has helped develop my coaching massively. It has allowed me to pass on knowledge and experience from my own game to the girls, as well as push me creatively to make their sessions the right level for them so they can get the most out of them.
Joining the DCF pathway coaching team has also helped to improve my confidence in all areas of not only cricket but my life. The other coaches involved in the pathway set up are excellent colleagues and help to push me into adapting my coaching and try new things within sessions.
We work well together as a team and this transfers into our coaching sessions.
At a U13 girls' level, it is focused upon participation and getting as many girls playing as possible so there is no league. Despite this, all the girls want to win and take great pleasure in winning friendlies against other counties, especially winning against local rivals Nottinghamshire!
I have been lucky enough to be involved as a coach with some of the U15 and U17 girls' games in the past, and hope that if I keep developing as a coach I can become more involved in that.
What are your future expectations and aspirations for yourself?
I want to be able to keep playing cricket at the highest level I possibly can for as long as I can. I also want to continue developing my coaching, as it is something that I am passionate about and enjoy.
I also like the idea of potentially looking at a level 3 coaching qualification in the future, obviously if the timing is right, to help my development and growth in my coaching roles.
I am very lucky to be in a role at the Derbyshire Cricket Foundation that I enjoy and want to continue developing so that I can help make a difference within cricket.
What advice would you give to upcoming players who want to play domestically?
I would say that you have to show that you want to be there, the right attitude will help you stand out from others around you. If you show that you are willing to listen, learn, try new things, and adapt, you will set yourself up well to succeed in whatever you are wanting to do.
Don't be afraid to fail or get things wrong. If you don't try new things you won't know if they will work or not. Finally, try not to put too much pressure on yourself.
Most of the time you will end up being your own biggest critic. Give yourself a break, remember that you can make mistakes or have an off day, they won't last forever and enjoy it for what it is.
---
For more cricket, follow Sportageous.
You can follow Kinza Tahir here on Twitter.