Katriona Allen is a pro-squash player for Scotland, who has played regularly on the circuit. We caught up with her to talk about the game, its challenges and much more.
Katriona Allen (2R) with the Scottish national team (Source: Supplied)
Zushan Hashmi: Tell me a little bit about your story, how did you get into squash?
Katriona Allen: I got into squash because my dad used to play here in Scotland, he still does in fact, but prefers racketball these days because it's easier on his old man joints! When I started secondary school they were running coaching at the local sports center so I forced my mum to take me along.
From there I progressed through the regional to national pathways.
When I left school I went to Edinburgh University and made the decision to train at the same time.
I've recently finished university and now my plan is to go full-time as a professional player. 
As one of the most physically demanding games, can you share a little bit about your fitness regime and how you keep yourself prepared and ready to play the game?
The main thing is getting on the court and getting your body used to the 'squash specific' movements.
Outside of that, we get in the gym twice a week and make sure our muscles are strong enough and do conditioning to make sure my lungs can cope as well. Recovering well is also a big part of training to make sure you're ready to go day after day so yoga, a good diet and lots of sleep! 
You've now placed 3rd & 4th in the Scottish Nationals, tell me a little bit about those experiences? 
So, I came 4th in 2019 nationals and that was tough to get so close to the podium and lose at the final hurdle.
I played Georgia [Adderley] in the 3/4 playoff who has been a rising star for a few years now and it's always tough playing your mates, especially when we train together almost daily.
However, I put in a good performance and at the end of the day that's all I can ask from myself.
This year I went one better and came 3rd my highest finish at a senior Nationals.
My opponent was just coming back after injury but is so talented with a racket you can never count her out.
I scraped the win 3-2 and it was one of the best feelings, especially after being 2-0 up and going to a tie break.
To be able to dig deep and cross the finish line, especially on such an important occasion, meant a lot. 
Who are some of the players that you look up to, particularly in Scotland but also across the world?
In Scotland, Lisa Aitken has to be one of my role models, she's one of the most supportive people I know and always there to offer advice, have a laugh, or just be a shoulder to cry on.
I'd also have to say Greg Lobban who is making big strides on the World Tour.
His attitude and professionalism is something that I try to replicate each day.
He's constantly searching for what's going to make him the best player in the world and I look up to him, for sure.
Outside of Scotland, I'd have to say Joelle King from New Zealand. She's a class act both on the court and off it.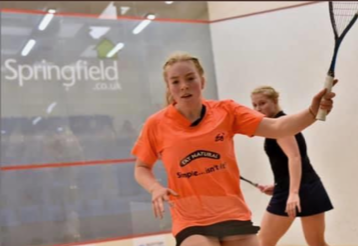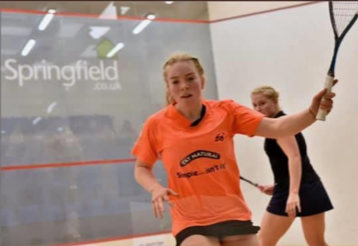 A lot of pro-squash players talk about how great it is to travel around the world while playing the game you love, you've already traveled to several countries, can you share the experiences around that?
Yeah, it's definitely one of the massive perks of the sport and I've been fortunate enough to visit some pretty cool places.
One of the last tournaments I played abroad was in India, which was a massive culture shock, not to mention the difference in temperature with Scotland.
It was the first time I've had to change a t-shirt mid-match! It was an unbelievable experience though and I can't wait to explore more amazing places. 
Sport has changed my life. It's given me so many opportunities to make friends, travel, experience other cultures, study and learn about myself.
Do you think there is enough being done to grow the sport of squash in Scotland? Why/why not?
I'd say so, but you can always do more.
I know the other senior women and I are trying to inspire more of the younger girls at any opportunity.
There's also been a drive of ScottishWomen in Sport by our CEO, Maggie Still and that's a great initiative that we can hopefully keep building on. 
What would you say is key to practicing when wanting to improve your squash game?
I'd say nail the basics, once you've got those down then you are free to add some of your own creativity and have fun too! 
What do you say to young women who want to take up the sport in Scotland (why is it worth it and what are the plus points of playing the game?)
Sport has changed my life. It's given me so many opportunities to make friends, travel, experience other cultures, study and learn about myself.
At the same time, I get to keep fit (even more so with squash) and challenge myself every day. What's not to love?!
---
For more Squash, visit Sportageous.
You can follow Katriona Allen on

Twitter

.
Noor Shafiq assisted in the curation of this article. You can follow him here on LinkedIn