Sohaib Irfan runs one of the largest and most successful digital transformation sports agencies in the Middle East and Pakistan regions. In this exclusive, we chat to him about all things SportsFever 360.
From self-made beginnings, Sohaib has taken the organisation to some of the biggest successes in sports in Pakistan. With continuous innovation and experimentation, SportsFever 360 is making huge strides in changing how sports are presented to the world.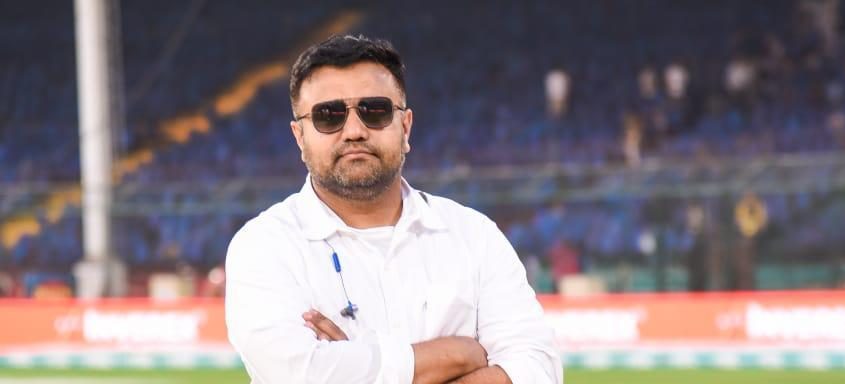 Sohaib Irfan
Zushan Hashmi: Tell us a little bit about yourself, outside of SportsFever 360? 
Sohaib Irfan: When I was 17 years old, and just about to start university, my father passed away. That changed my entire life and how my family upbringing was managed. I have been working in various fields since then.
So, 2002-2005 was all about freelance work, projects, sports events, anything or everything that would help me sustain my studies and look after my family. I used to work around 2 to 3 small scale jobs, provide home tuitions, work at my university and more. In 2005 I finally graduated with a degree in computer science.
From 2005-2009 I taught at various institutions as a visiting fellow and completed my MBA. I then moved towards IT Solutions and Business Development. I naturally then worked for several IT companies and then joined IBM as a brand manager for their Data Center Solutions. I then moved to Dubai and worked for Lenovo as the Country Manager for Pakistan & other GCC Countries.
Alhamdulillah (All praise to God), it has been a completely self-made journey with a real 24×7 work routine but an ambition to move ahead in life.
When did you start SportsFever 360? And why?
Sports, especially cricket, have been an integral part of my life since I was in school, I didn't know anything else. Even today, I play regularly at different levels in Pakistan & Dubai.
I always felt that our athletes and domestic sports events in Pakistan were deprived of their identity and people did not give them the value that they deserve. Amateur leagues are mismanaged and there is no ecosystem. Sports in Pakistan are at least 2 decades behind any level of sports in other parts of the world.
We have always focused on how we can empower sportsmen and women and bring them into the limelight. How can those unattended big events get the attention of the masses in Pakistan, and the answer to every question we had was digitalisation.
We then looked into the market segments and niches of digital technology and products available in Pakistan. There was hardly anyone who was working on Sports as one single entity, I mean, there were people who were doing things in other segments but sports were untouched.
I still remember we did a small live test with a two-camera setup for a school game in Islamabad, the reaction, the positive vibes, the feedback from parents and people around was awesome. Everybody started talking to us, since then we have not looked back and have tried to bring on new things into the digital space and have done around 200+ days of broadcasting from basic to professional levels of sports.
Tell us more about SportsFever 360 and what you do?
We are an end-to-end sports technology and solution provider. Our major focus is the transformation of sports and the way in which sports events take place in Pakistan. We want to change the shape of those local events by integrating technology into those events, we have our solutions and products for sports events which help these events showcase as better products.
We also support sports events from developing their brand identity to production and give them complete end-to-end support. The latest example of this is the Kabbadi World Cup where we did the holistic digital and TV production for the event but also facilitated operations, logistics and many other functional areas.
Our Major Services include:
Production & Broadcast
Event Management Solutions
Graphics, TV, Digital & Social
Technology Integration Solutions
Digital Transformations
Online scoring Solutions
Virtual Studios and Studio Setups
Broadcast workforce Management
Leagues & events – Local, Amature & Professionals
Remote Learning Solutions
What has been your biggest challenge in running SportsFever 360?
When we started SportsFever 360, the biggest challenge was to tell the world who we are and what we are up to. The second challenge we had was finding the right people, who are willing, trained and want to adopt sports as their careers.
As you are aware, Pakistan was deprived of sports so it was a very risky decision on our part to work on something which actually does not exist in the country. Since then we have mentored over 25 students and professionals, trained them on our own and now we have an almost completely in-house team that works together, travels together and is willing to take their skills to the market.
Another challenge we faced was to let people know we have the capability to deliver a product of international quality, which we literally did by producing and broadcasting events and projects.
And your biggest success?
Winning the project for the first-ever digital stream and broadcast for Pakistan's biggest Domestic tournament and later on winning many other events from the Pakistan Cricket Board (PCB). I will, however, take the Kabaddi World Cup and its mega success on digital platforms with our platform partner BSports, Transmedia & Blitz, as our biggest success so far. The audience on the final day alone, reached over 4 million viewers in less than 24 hours.
What do you envision with sports in Pakistan, where a lot, but not all, of your work, is based?
We envision a complete digital journey for all local sports other than cricket. We are working on some digital products for local sports which we believe will completely change the landscape of local sports and events in Pakistan.
What are some of the limitations of sports in Pakistan at the moment?
For starters, the lack of awareness, lack of sponsors and perhaps, the biggest issue is the lack of intent amongst authorities, who are not willing to take risks, adopt the latest technologies or believe in the capabilities of others.
Tell me a little bit about the coverage of sports that you provided during the Pakistan Super League (PSL)?
Humaray Heroes was a  unique initiative developed by the PCB & Inverex. We were lucky enough to be chosen as the agency for the project, it was a very challenging experience due to time management, availability of the guests and so on,
We had to deliver the entire project in a very limited time which thankfully we did. The response we received from all of these unsung athletes was amazing as no one had ever given tribute to them at any stage prior to this and the PSL becoming a platform for their work and a dream come true.
How about the sports coverage in the Middle East?
The Middle East market is growing and there are already many several players that are present here. The issue, however, with this market is that they only have 4-5 months for the event. Not to mention, the cost of doing business in the Middle East is much higher than in other countries as well.
The only responsive sports market at the moment in the region is Qatar and that too we all now have to wait and see because of COVID-19.
What are some of the benefits of running your business from the UAE?
In the first three years of launching SportsFever 360, it helped us make our strategic partnerships and train up our team. Sourcing the required equipment for digital & broadcasting was also a bit easier here than sourcing it from Pakistan, as you have more options available but now, since sports & specifically cricket are back home we are focusing on the Pakistan market and would like to grow ourselves in that region for a good part of 2020 & 2021.
What are you guys currently doing with no live sports on?
We are working on many initiatives which will be revealed shortly and I believe everything will be reset now. It's all back to square zero and we are working on a few projects which we believe will be doable and will generate trends in the market space. Lots of experiments are going on and we are spending more time on revamping the way we have been working.
Read about the Sportageous and SportsFever360 partnership here.
How do you intend to work through this pandemic?
We have already advised all our staff and team to stay home with their families. We are trying to find unique ways of getting work done. This is the best time for all of us to learn how to use new technologies, tools and increase our skills as well. I believe this will pass and it will open up multiple ways of working for everyone.
What would you say to young and budding entrepreneurs about getting into the sporting industry?
The sports industry is huge and anyone can come up and tap a certain segment in this industry. If they give it their best they will surely make their mark in it. It has a future and in parallel working for sports gives you pride as you are serving your country directly.
What is the future for SportsFever 360?
I see it emerging as a complete digital product with all services and working on Content for themselves and their clients. We are well on our way to becoming one of the leading production and technology companies. With 100% homegrown talent and staff, working in Pakistan. We aim to provide and create job opportunities for the talent of Pakistan both on and off the field.
---
Sportageous is proud to announce its partnership with SportsFever 360. Stay tuned for our upcoming collaborations.
You can follow SportsFever 360 on the following platforms, Twitter, Facebook and Instagram.

Visit the SportsFever360 website here.
Get in touch with Sohaib Irfan on Linkedin.
Zushan Hashmi is a sports enthusiast who works in the policy space in Australia. He is an avid fan of climbing, football, cricket and all things sport. You can follow him here on Twitter.
For more Sports Tech content visit Sportageous.