At 17, Guy Walker had already represented the Australian U19 Cricket team at a World Cup in Dubai. A few years later he gave up his cricketing career due to injuries and played in the AFL. Having played for both the Melbourne Renegades in the BBL and Melbourne FC in the AFL, Guy Walker called it quits on his sporting career, before turning 24 and after a serious injury that threatened his daily living.
This is an exclusive interview with Guy Walker, an athlete who picked himself up after his promising career came to a crash landing, and started working with community coaches and players on mental healthcare.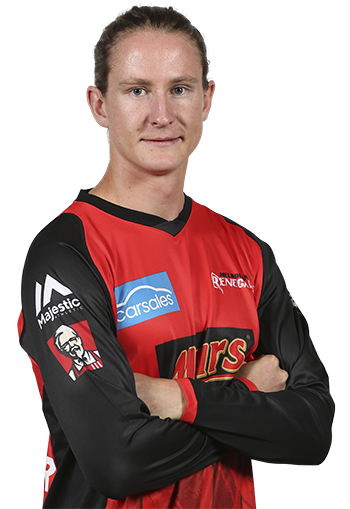 Zushan Hashmi: Tell me a little bit about your journey in sports? Your dad was a first-class cricketer in the UK who then went on to coach the Malaysian cricket team. And you got to live across Australia, the UK and Malaysia at a young age.

Guy Walker: It was an interesting journey for me to start, I was born in Nottingham as dad was playing country cricket there and unfortunately, he had to retire when he was about 24 years old, through an injury to his thumb while wicket keeping.
So, his career was short-lived and we ended up moving to Malaysia, as he got the job of the national team and that was an amazing experience. I can remember a little bit about it and then we headed to Melbourne when I was six years old.
He influenced me on becoming a cricketer, as he was one himself. He also knew that I had to go on my journey and he let me go about my business from a young age, which I think was good as it helped me develop and learn in my way.
So, you're six years old, living in Melbourne, and you grow up playing cricket and AFL? Or were you trying out a range of sports?
Yes, I started off playing every sport I possibly could with friends, such as soccer, a few athletics and of course, cricket and AFL. That was what I more or less did until I was about 14 or 15 years old.
And then that's the period where people start telling you that it's probably time to make a decision [on the sport you want to play seriously]. It wasn't great, at the time, as I wanted to keep playing all the sports that I enjoyed.
Is that the transition point then, you're 15 and you decide to go into cricket?
Yeah, it was sort of the time when people started asking the question 'what sport do you think you're going to play properly?' I was lucky enough to go on a tour of New Zealand with the Australian Under-19s team at the age of 17 and through that, I got a contract offer with Cricket Victoria.
This presented a choice for me, and I loved cricket, more so than [Australian] football, and I'm really happy that I made that decision.
So where did the love for cricket begin?
I think with dad playing regularly, I was naturally inclined to watching and playing cricket, it's all had lived and breathed for a long time in my life.
I enjoyed watching some idols of mine, particularly a day of test cricket and don't get me wrong, I enjoyed all sorts of sports, but cricket was always the one that was on top for me. And that day of getting that contract offer at 7 am was a dream come true for me.
Do you feel that Test cricket has declined from when you were a teenager?
Yeah, I think so. To be honest, even now I struggle to watch five days. If there's a game on and they're playing at the MCG or playing somewhere with a flat wicket and one team is piling on 500 runs and the other team is also piling on 500 and the love of watching it isn't quite there for me anymore.
It's different when I watch the Ashes in England and the wicket has quite a bit in it for the bowlers. That is a contest and I think it's still the epitome of cricket. I think you're right though that the five-day game is declining.
And even while coaching some of the younger kids nowadays, they're always trying to reverse sweep and try unorthodox shorts and that is the natural progression of the game.
We've seen T20 cricket for a long time now and things like the 10-10s are starting too, so it's quite hard as a bowler to variate your deliveries to two batsmen who are so good at hitting at 360 degrees It's quite incredible.
What was your speciality in cricket?
I was always more of a fast bowler and all-rounder, I always made sure I could bowl as fast as possible. Although, I probably got hit harder past me. I was more of a lower-order batsman. It was something that I wanted to develop and make sure that I became an all-rounder but unfortunately, I wasn't able to play enough cricket for that to happen.
What was it like signing the contract with Cricket Victoria?
I was very lucky. I got picked up pretty early and got to play for Australia. I pretty much signed the contract as a 17-year-old and had the classic back stress fracture injuries through the majority of my career as a fast bowler.
However, I was able to get some amazing experiences by playing against some really good players at the U-19 World Cup. I then got to apply the skills I developed to the BBL clubs and Victoria. I also made some really good mates from whom I learned so much about cricket and life.
They were all also extremely supportive and easy to talk to. Imagine walking into the dressing room with some amazing Australian cricketers of the time. They would be more than happy to offer up their time and have a coffee. So I was very fortunate in that way.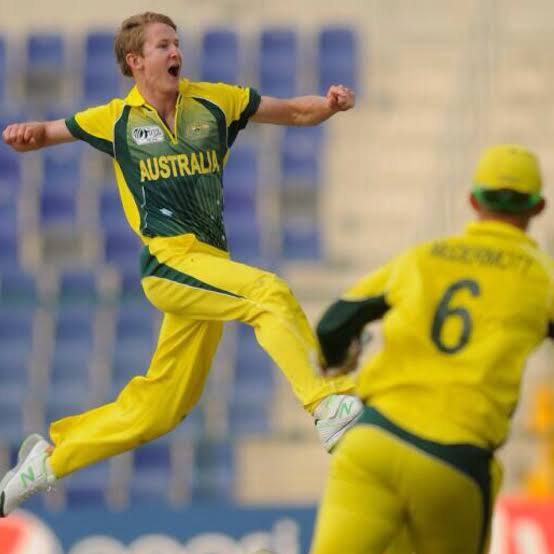 Who were some of the players you played with that people know today? And how did Australia go at that World Cup?
I played with Billy Stanlake, Ben McDermott and Jay Richardson. So, we had quite a good team and we ended up making it to the semi-final, where we lost to South Africa. Rabada took six wickets against us and knocked out our top order over pretty quickly.
Overall it was a great World Cup and we had some amazing players come out of it. And some of my good friends are doing well now, which is great to say.
After that, the injuries took their toll and you decided to move over to play in the AFL? What was going through your mind when you made that decision to swap sports?
It ended up being quite an easy decision for me as I had experienced many highs and lows in sport within three or four months. I had played my first Big Bash game for the [Melbourne] Renegades and was hit around by Chris Lynn and then a few months later I was in for my first shoulder surgery.
I never had any shoulder troubles previously, but that was the start to my long list of surgeries to the shoulder. So, it ended up being quite an easy decision, I think I had three surgeries on the shoulder and realised that it was going to be difficult for me to come back in and play as a fast bowler and also field and bat.
I had footy knocking on the door a few years prior saying come back as a category B Rookie and we want to get you back on our list, back into the football system and I was fortunate enough that Melbourne came and I made this decision to stay here.
I could have gone interstate, but the development available through the club was great and some of my best mates were there too. It ended up being a decision that I was happy to make.
You get into the Category B draft and what happens then?
The way it works is that category B enables you to return to the AFL as a rookie if you haven't played for three or more years. For example, Mason Cox, Conor McKenna and my friend, Joel Smith came into the AFL through this platform.
I then signed with Melbourne and got into the preseason pretty early. It was all going well, I was enjoying it and being able to try it again, as it was about four or five years since I was able to train again from when I had my first surgery.
So it was quite a foreign experience for me to run back on the track. And it almost felt like it wasn't right to be training because I hadn't done it in so long. Then comes the middle of the preseason, and I'm loving it as one of the smallest blokes on the list at Melbourne at the time.
During one of the games, I was bumped on my shoulder and felt a little sting and then that was it. We tried to patch it up and tried to train on for a few months, but we didn't realise at the start, but it was such a rare injury that I had some severe nerve damage.
The decision had nothing to do with whether or not I could play football or cricket every day, the nerve specialist made it pretty clear that I had to try to get back to living life normally, before even trying to consider sport again.
How long was the gap between playing cricket and the AFL?
It wasn't a long gap, I made the decision that I didn't want to stay in cricket and pretty much took the football contract within a month.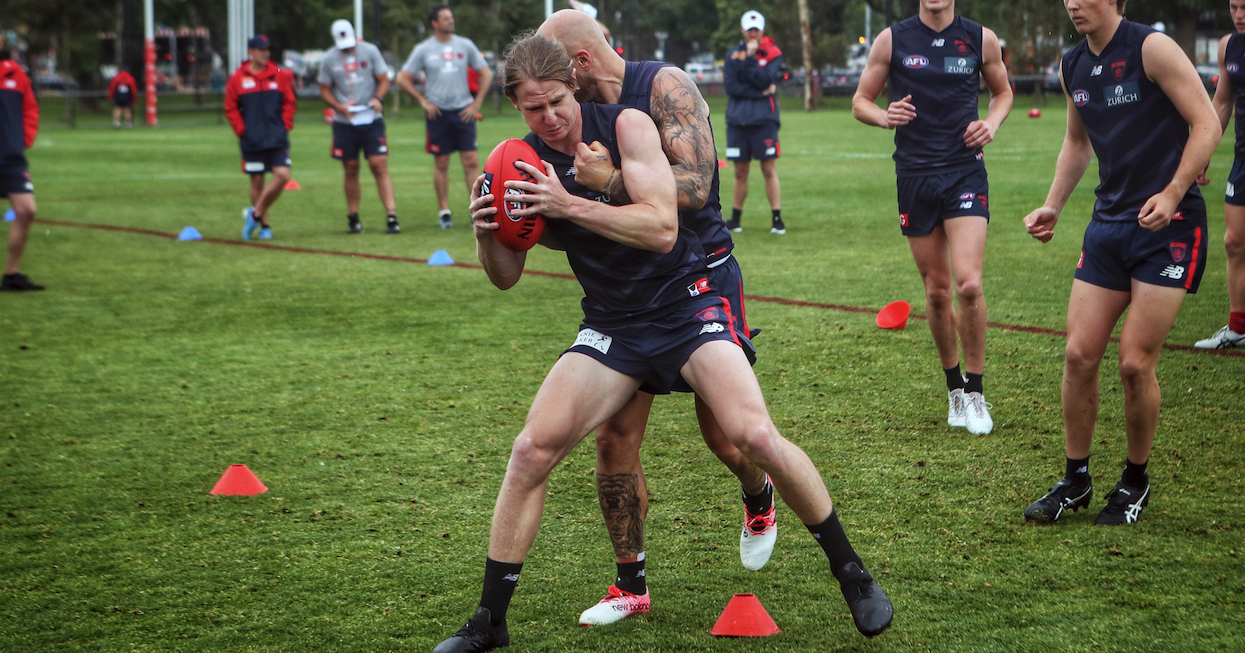 So after the nerve specialists suggested that you stop competing, you decide to call it quits?
Well, I thought, with this injury, it was just about being resilient and trying to stay on the track and, and trying to get through it. Unfortunately, it got to the stage where I was waking up at two or three o'clock in the morning, every single morning, in pain, nearly crying because it felt like someone was sticking a needle in my shoulder. The pain I was experiencing was 10 times worse than the day after surgery of the shoulder reconstruction.
I've never been in pain like that and I ended up getting to the stage where I struggled in the mornings with it. And one morning, I got up for an upper-body session, and I actually couldn't get my top off. We were in the gym as a whole team and I had to try and take my top off and I couldn't take it off and the boys were just wondering "what is what's going on with you?" And I just said, "I don't know", it went on for months as well.
And then that was the point where the medicals they just said mate, we need to find out what's going on with you. And it turned out that with the hit that I took it nearly served a nerve in my neck. And what happens is that you lose all the muscle in your shoulder and over the next couple of months, you progressively lose all your muscle and it's described as severe pain.
So, I was going through all these symptoms and it took me a few months to realise what was going on. The doctor said to me that, there's no decision to make, you've just got to retire. So it was about four or five months ago that I made the decision, just after my 24th birthday I didn't think I was going to do this, but I called it quits on my sporting career.
Unfortunately, things like this happen and I was incredibly lucky to live out my dream, not only as a cricketer but as a footballer as well. , I wasn't able to live up to my potential, but I was lucky enough to play both sports professionally.
I almost saw it as a failure initially, as being 24 and playing both sports and not being able to play anymore. They are the mental health challenges that you go through as an athlete. In hindsight though, I was lucky and also privileged to live out my dreams and I now try to look at it as a positive instead of a negative.
What does it feel like to have this image in your head, to have this career laid out for you and then suddenly, it ends?
I think that's a great question. I think it's a question that doesn't get asked enough. Recently, I wrote an article on my LinkedIn, of what it's like to be an athlete in rehab and what sort of challenges you face.
This obviously isn't the glamorous side of the sport, and people don't want to know about it, but the article was received so well. Being out for a season, you lose a little bit of your identity.  I missed the whole season with Victoria and I missed three [Melbourne] Renegades seasons because of it.
And I was rocking up to some Renegades family days, two or three years after my injuries and people were sorts of walking up and they didn't know who I was. You get replaced and it's a shame because you're always injured. You're always on the sidelines doing rehab, you're doing extra sessions with physios and specialists.
I was isolated all the time, never really around my teammates or my friends and you almost lose that connection, which is something that is essential to our wellbeing. So, while my teammates were travelling and playing, I got hit with the news, after a year in rehab, that the surgeon accidentally left an anchor in my body.
It happens sometimes in people's bodies but it meant that I needed to get surgery again to remove it. So, after a whole year of being isolated and doing rehab, I was told that I need another surgery and that I'll be on the sidelines for even longer.
It was absolutely devastating and a lot of my friends and teammates didn't know how to deal with it or react. Almost every conversation that we had started with them saying how that must be really bad, and then not really knowing where to go with it.
So, I did find it really hard, but I also had some really good support around me and again I think it's a great question and it's something that we probably need to shine a light on, as athletes often go through multiple surgeries and injuries and spend many years on the sidelines and they're the people in sport that struggle the most.
Tell me a little bit about the ideas around sports and masculinity and how that impacts one's mental health and alongside their physical health in team sports from your opinion?
I think there needs to be more work done around the topic. Actually, I was recently reading some studies on how men have to be respected in a team for them to perform at their best.
Whereas for women, it's completely the opposite. They want to be loved before they can perform. There was a recent study focusing on men's sports that discussed how players that are normally playing in teams have more confidence and are able to speak more openly to their coaches.
It is definitely improving though when I first started at Victoria, there were more cliques and the players that spoke the most were the ones who were known the best. Honestly, it was a huge shock for me as to how the first-year draftees were treated more recently, everything that they needed was given to them. And it should be this way because some of these boys are travelling in from Western Australia, come from indigenous backgrounds and they're getting flown to Melbourne, which is essentially a foreign city and they've never been away from their families before. So, they need all the support that they can possibly get.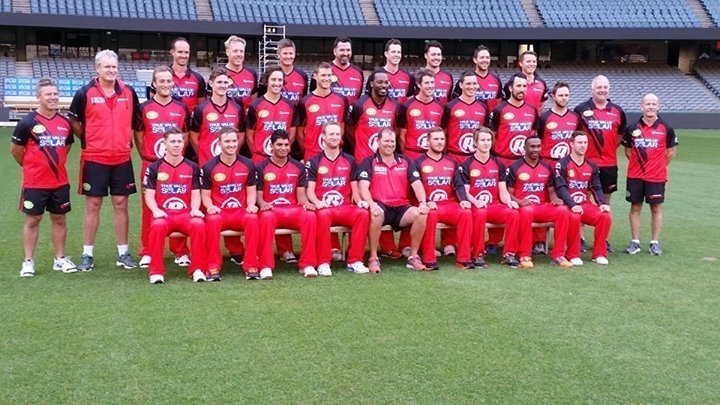 What are your thoughts on the recent wave of cricketers who have taken breaks from the sport due to their mental health?
I think it's great. I knew Glenn [Maxwell] pretty well when I was a cricketer. He's a really nice man, and I do feel sorry for him just because he has to play so much cricket. This means that he is always on the move, and there's never really too much routine.
I think it's incredibly brave that he came out and did what he did. People portray men as being brave, but why can't you put your hand up and say I'm not going to be brave?
I think that's a hell of a lot braver the classic old man stigma of  'just get on with it'. So sometimes things aren't right and to put your hand up and come out publicly and say, I am struggling is an incredibly brave thing to do. It also shows that there are so many other cricketers that have come out as it is such a mentally challenging game because if you think about it, you're playing for eight hours a day, four-to-five days in a row. You could get out two times in a row for ducks, and that makes it very tricky and difficult for you.
And this isn't just the case for cricketers, AFL players like Tom Boyd and Dayne Beams stuck their hands up and have been very public about what happened to them. I'm also working on a program now called Tackle Your Feelings, focusing mostly on the AFL, and some of the coaches and players that have been happy to get onto video to talk about their struggles, which has been incredible and brave.
What about your personal experience in regards to how your physical injuries and having to retire have impacted your mental health?
That is something I've thought about extensively over the last few months since I retired. Having been in that cricketing environment, which is still very much an individualised sport, the mental health stigma was still there and you didn't really speak about it.
I definitely went through some dark times and mental health issues, but I was not brave enough and I never stuck out my hand to say that I'm really struggling. I always tried to get through it by pushing on.
Looking back at it now, I wish I did. But the prospect of doing that always scared me because that kind of thing was frowned upon back then, which is why it's so important that these amazing players are coming out and even though they're so good on the sporting field they are admitting that some things might not be going so well.
I wish I did it when I was younger though, I definitely went through a few mental health issues and I got through them luckily. I have to say that it was thanks to some of the amazing support that I had, but the awareness nowadays is great and it needs to keep improving.
Nowadays, with the growth of social media, you can't get away with anything and everyone has a platform to criticise. Which is why I believe it is even more important for us to talk about mental health, especially, with younger athletes, who tend to read everything written or said about them.
Do you think that if the platform was as it is now, having had players such as Glenn Maxwell, speaking about these issues, would that have made it easier for you to speak out?
One hundred per cent!  If I had a teammate, like Glenn [Maxwell], and he came out with what he was going through, it would definitely have given me about a bit of platform and also some confidence. Like I said before, I was dead set scared to come out and say anything.
I wish that I had the bravery to come out and talk about it back then, but it certainly would have helped if one of my teammates had put their hand up and especially a big star, on a global stage with all the fans.
Tell me a little bit about, Tackle Your Feelings, whom you now work with.     
Well, it's a mental health awareness programme for community club coaches in the AFL.  It originally made for AFL players and coaches but they quickly realised that it was needed at the community sports level too. Zurich [Insurance], the AFL Coaches Association, in partnership with the AFL Players Association have come up with an amazing programme run by three AFL Players Association psychologists.
We go to various clubs and meet with community club coaches, and it's an hour-long session with one of the psychologists. I went to one of these sessions myself last year and I couldn't believe how good it was.
It was a Monday night in winter and there were heaps of dads there alongside community coaches, volunteers, and we couldn't get them out of the room as the programme was really good and engaging. It's definitely the kind of thing that is needed.
What is your role with Tackle Your Feelings?
I'm one of the account managers there and I help run and facilitate sessions and go through my story. I also tell community coaches about what I went through and how it might be what some of their kids are going through.
How can someone get involved with supporting Tackle Your Feelings?
So the course is free to do. So if they are interested, they've just got to get their coaching accreditation through the AFL coaching system and they can simply go to the Tackle Your Feelings website and sign up. And the best thing about it is that we run sessions all over the country.
What do you think is important for athletes to do off-the-field when thinking about their health and wellbeing?
I think that the greatest support a player can have off the field is an education and work experience. The transitioning of athletes is such a hard thing, which I failed to realise at the start of my career, but I certainly realised that towards the end of it, I'd seen some of my good mates lose contracts in a matter of days, and some of them have been really struggling because it's not just that you might have a backup plan and you might have to go into a job that you don't like, but as I mentioned, you also lose a bit of your identity.
For example, I was known as Guy Walker, the footballer (AFL) or cricketer, but now I've lost that in a sense. The 9-5 work that we have to start doing isn't what we're used to. We're normally used to a 9-1 or 9-2 and you head out. You then go out for lunch together and your day is done.
I've been lucky enough that the ACA and the AFL-PA have funded a lot of my study and work experience that I've actually had something to fall back on. And in spite of that, I am looking to do something full-time as I want a decent job and to do something I'm passionate has been hard to find.
What would you say to younger athletes who are going through issues similar to the ones that you faced during your career?
Outside of sport. I think that it's so crucial that you have a life away from it. The best players I've played with, have such a good balance between their work and life. It could be family time or studies or they loved travelling.
I think it's crucial that you tell an athlete who is just coming into the system that sport is important but it isn't everything and you need to make sure that you are working on yourself outside of sport. You need to find an outlet and you need to find out what your hobbies are or how you enjoy relaxing and also find the people that you like to spend time away from the sporting circles.
If you are struggling, get in touch with your coach, go to your club psychologist or they can refer you to someone outside of your sport, and you can get the help you need.
---
You can get in touch with Guy Walker on Linkedin.
To find out more about Tackle Your Feelings, visit their website.
Zushan Hashmi is a sports enthusiast who works in the policy space in Australia. He is an avid fan of climbing, football, cricket and all things sport. You can follow him here on Twitter.
For more articles like this visit Sportageous.
AFL