Sportageous and Bullpen bring you the first of a two-part series on Guerilla Cricket (scroll down to read part-2 from Bullpen)
The Guerillas may seem like an ordinary Internet radio site that broadcasts cricket commentary internationally, but with a fan following in almost 200 countries, passion and love for the game, and a Guerilla mentality, they make for fun listening, conversation and insights!
We caught up with part of their team, namely, Tony Bishop, Nigel Walker, Nigel Henderson and Nakul Pande to talk all things Guerilla Cricket.
Zushan Hashmi: I'd love for our readers to learn a little bit about you, Tony.
Tony Bishop: I'm Tony Bishop: Commentator, Analyst and Marketer for Guerrilla Cricket.
I'm happy to say that my previous life on the treadmill of daily work in the world of digital marketing and advertising has now been replaced by writing and broadcasting with a bunch of like-minded, somewhat eccentric, but always entertaining Guerillas!
You were a middle-order batsman yourself, Tony, tell me a bit about how you got involved in cricket?
My Dad loved his sport and certainly cricket. He would recount the exploits of the likes of Don Bradman, Len Hutton, Dennis Compton, Bill Edrich, Ramadhin and Valentine and so many more.
All heroes who have acquired larger than life status through the telling and retelling of their exploits. So, from a very young age, my fascination with the game was there.
I played for my school and then club cricket and in the early 70's started to go to Lords to watch Middlesex, often in the John Player League as it then was.
I was privileged to see so many great players. When I left home to go and live in London, where else could I live but in St. John's Wood? Lords was a 5-minute walk and I would often pop into the Tavern Stand to catch the last knockings of play on balmy summer evenings. Happy days and wonderful cricket.
Fittingly it was in the Lord's Tavern, one evening in 2017 that I fell into the dubious company of Nigel Henderson (founder of Guerilla Cricket) and Daniel Norcross (now BBC stalwart and founder of Guerilla's predecessor Test Match Sofa). Fuelled by the alcohol, I asked how one could begin a career in commentary…and, well, here I am…
Where did the idea for Guerilla Cricket spark from?
Nigel (Hendo) Henderson and Nigel (The Bear) Walker are both founders and directors.
Hendo takes up the story here… "Guerilla Cricket exploded as an enhanced version of what had originally been set up in 2009 as Test Match Sofa by the now BBC commentator Dan Norcross. That came into being to provide a genuine alternative to the somewhat staid, conservative output from the national broadcaster. No small irony there given where Dan ended up!"
The Bear adds "the objective had always been to provide not just an alternative, but to make it 'by fans for fans'. The growth of internet-powered social media was perfect to help us create something where listeners were totally central to what we do. They needed to be part of lively conversation, rather than just a tweet or email read out here and there. Ultimately Test Match Sofa was bought by The Cricketer who at the time lacked either the intent or ability to make the most of what they had".
Suffice to say then, that philosophical and business differences with The Cricketer brought an end to Test Match Sofa. But from those ashes, Guerilla Cricket (as it was christened by Hendo) was born in 2014 and has since gone from strength to strength.
It's also worth saying that we have since built bridges with the new guard, at The Cricketer are collaborating even as we speak during these socially distant times.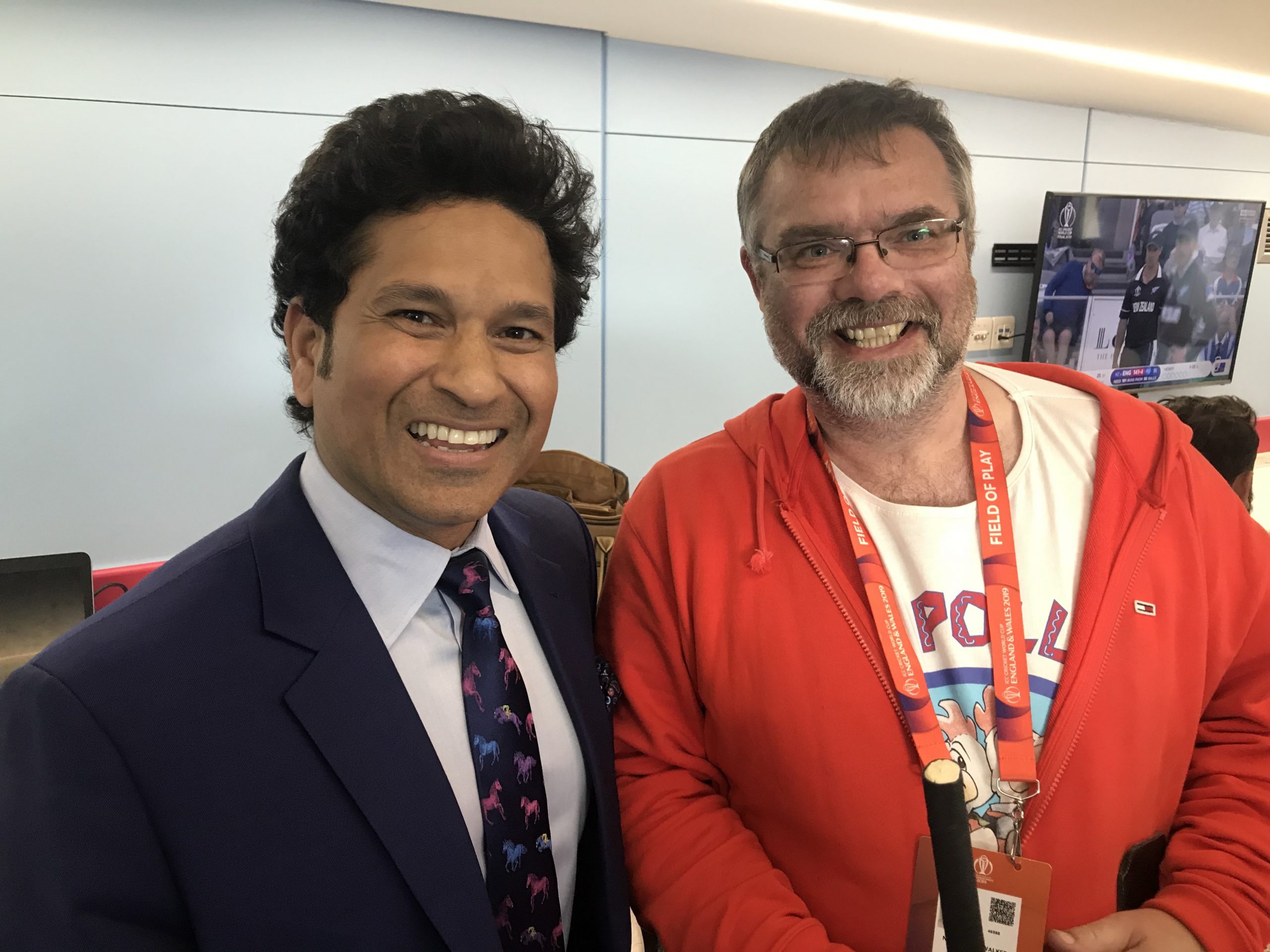 What does Guerilla cricket do as an organization?
Hendo attacks this question hungrily, with an extra helping of relish…
"We are ball-by-ball commentary but not as you know it. It's ball-by-ball with your mates rather than the old boys' club of former pros and journalists. We cover everything from Test matches to ODIs to T20 Internationals to IPL. We're non-geo-blocked unlike some of the big radio outfits. The BBC's cricket coverage, for instance, is unavailable in many parts of the world – hardly inclusive in this global digital age. We're by fans for fans. Inclusive, interactive and social.
Our conversations and interaction with listeners are central to what we do. Then there are the jingles. Regular, short musical interludes that punctuate the commentary to introduce the players or signal moments in the game such as wickets, boundaries, or landmarks. Most of our jingles are created by listeners (we have some real talent out there with musicians, comedians and others).
We've been heard by fans in almost 200 countries, from Suriname to South Korea, Myanmar to Malaysia, Namibia to the North Pole (yes, we realize that the last one's not a country, but you get the idea).
Tony continues, "We believe we take cricket to all parts of the world in a unique way. And we are gathering listeners as we go via Facebook, YouTube, Tune In, our own website and importantly partner sites who are happy to carry our video commentary. We had close to 2 million views and listens for the last Ashes series and approaching 8 million for the most recent South Africa Vs England series.
We now do more than just match commentaries too with articles and broadcast shows. This is where we differ from the Test Match Sofa, having lots of additional content with a constantly evolving website. Our podcast channel is a rich-well of content covering cricket in all its forms at a global and local level, all in our own unique way".
Your brand mission and values are similar to ours, in the sense that you are challenging or rebelling against the status quo as a 'guerilla' organization & an alternative to cricket commentary and the like? Tell me a little bit about this?
"Absolutely", says Hendo. "Nobody has ever thought you can do cricket commentary in a way that is different from Test Match special. Wherever cricket commentary has been done around the globe, it has kind of been done in a TMS way. There are restraint and constraint and reliance upon ex-pros, regardless sometimes of their commentary expertise".
Bear continues this thought. "We are not against ex-pros at all. In fact, we have had both past and present pros on the show on many occasions. Essentially though, we approach things as if we were just sat with friends watching the match. That said, we have all spent a lifetime watching cricket, so there is no shortage of genuine expertise, but it is delivered in a more intimate, involving and frankly uninhibited way. We will have a drink or two whilst we commentate and occasionally let the odd swear word slip.
The establishment likes to pick up on this because it suits them too. But it is not what defines us. Genuine expertise, passion, ability to communicate and an almost unbreakable relationship with our listeners is what defines us".
Says Tony, "As a result of people like us, the original broadcasters are also evolving and there is a new breed. Just look at two of your Australian countrymen in Geoff Lemon and Adam Collins. There's a strong shot of Guerilla running through them and it works".
Why did the founders feel that an organization like this was needed in the cricketing world?
With smart footwork, Hendo takes a swing at this one.
"We take our responsibility to support cricket broadly and freely very seriously. We are passionate about seeing the growth and health of the game everywhere, not just in the big 3 test nations. So 'being Guerilla' is not just about how we deliver commentary, it's our focus on evangelizing, promoting and communicating the game as broadly as we can".
What is it that makes Guerilla Cricket unique and different in its perspectives and vision?
"We are the independent voice of cricket listening, reaching millions of devoted, diverse global listeners, primarily, though not exclusively, through non-geo-blocked 'off tube' broadcasting over multiple internet channels. We use that independence to promote the game globally and to excite and entertain through conversation with our audience" enthuses Bear.
You have a strong following of active listeners and supporters, how important are they to the functioning of Guerilla cricket?
"Everything we do is built around two – way conversation, not one – way broadcast", says Tony."Typically, with radio commentary channels, you may get the odd tweet or email readout, but it's really a somewhat cursory nod to audience participation. Our listeners, however, are completely integral to the show, with frequent on-air interactions through Twitter and other social channels. Yes, we're broadcasting. But we're also engaged in an ongoing two-way discussion. The discussion that diverges and engages, meanders yet never loses sight of the game before us. You wouldn't sit with friends or family at a cricket match or at home watching on your sofa and not get excited, angry, maybe even bored on the odd occasion. The conversation would flow back and forth. You would laugh, joke, tease, ask questions of each other. We are the same (but with a big family!).
And that family also provides us with content in the form of our music and jingles. They are talented as well as informed and entertaining"
Have you ever been supported by any official cricket bodies? If yes, who? If not, do you look for opportunities of that sort?
"Yes we have", says Hendo "and yes we do, but the key thing is that it is on our terms and without compromise. We have had conversations with governing bodies within the game, but nothing long term yet that works for us. That said, there have certainly been occasions where we been inside the tent pointing out. We were at Malahide as an official radio broadcaster for Cricket Ireland's inaugural test against Pakistan in 2018. We also worked with The Cricketer again to provide a daily Blog on the event and our exploits.
Likewise, we partnered with Cricket West Indies as accredited radio and stadium broadcaster for the Hurricane Relief T20 match at Lords, so we have darkened the doors of the famous Lords Media Centre. The key thing for us is that we can continue the audience engagement in our output. There is a huge opportunity there for rights holders there, so providing we can retain that, we are open for discussion".
The Bear has an interesting and related story to tell. "Well, when the ICC ran into very well documented problems with its official 2019 World Cup broadcast, who did they call to get them out of bother? None other than Guerilla Cricket. So, I not only got their show back on the road technically but also had the privilege of being Sir Clive Lloyd's chauffer from match to match across the UK. I have three speeding tickets to prove it too, getting from one end of the country to the other overnight!"
Tony adds "the one thing he never tells us is what Sir Clive Lloyd made of his driving. Having been a passenger in Bear's car, I can only hope for his sake he was blissfully asleep for most of it".
What are your thoughts on the argument that test cricket is dying and do you think discussions around 4-day tests make sense? Why/Why not?
Hendo is quick to point out that many of the world's greatest current players, Virat Kohli, Steve Smith and Joe Root amongst them have firmly expressed their support for the 5-day game as the pinnacle of our sport.
"Test cricket is proving that it is alive and in rude health. Revenues they generate are essential as well as being the core of the game's very DNA. The key thing is to not only
support this for the likes of India, Australia and England but to also support and promote the format in other nations. Not just associates, but importantly the likes of the West Indies, New Zealand and South Africa.
Excellent media coverage, where possible free to air, is essential to do this" With regards to 4 – day tests, Hendo adds "There would have been no Headingly 2019, or Headingly, 1981 for that matter if we had a four-day format. Pitches would be prepared differently. Results forced rather than allowed to evolve as the game dictates. Let's remember that two of England's four tests in South Africa this year went to 5 days. Both of the previous New Zealand tests also did. It is considered the ultimate test by the players themselves for good reason".
Nakul Pande is quick to support this view. "The 5-day Test has only been the global standard since 1973, and even those had rest days into the 1980s, so 4-day Tests per se isn't a radical idea. And it's important to note that if boards want to schedule 4-day Tests, whether, for economic reasons or to please broadcasters, they can – South Africa did it with Zimbabwe in 2017 and England did it with Ireland in 2019. But the discussion around making them mandatory, quite apart from being unnecessary is misguided.
Even when Tests end inside 4 days, the option of the 5th day changes a match for the better – there is no need for contrived declarations or overly reckless batting to force a result, and a 5-day game can absorb a couple of days' bad weather and still produce a fairly organic result. Mandatory 4-day Tests are fiddling around the edges. The discussion needs to be focused on the two fundamental forces in Test cricket: one, the financial imbalance among Test-playing nations, and two, a misconception that Test cricket is struggling. It isn't in terms of quality or audiences, not any more than it ever has been, and not more than committed marketing of it can solve".
Financially, it is clear that cricket is dominated by one country, namely India, do you think something went wrong in how the ICC and cricket authorities were founded or was this an expected evolution, which is very different to say, FIFA, where all the power is centralized by a board and not an individual nation, per se?
This is a hugely important question that impacts the future health of the game. Guerilla Nakul Pande's eyes flame with passion when provided the opportunity to answer it.
"This is the single biggest problem in cricket: the evolution from an imperial members' club to a global governing body never happened. The ICC may have abandoned the word Imperial in their name (though it took till 1965), but the way that first England and Australia and now India maintain financial and political control is akin to the sort of soft power imperial powers sometimes wield.
To take football as the counter-example, while the sport was codified in the British imperial era, FIFA and UEFA were founded in mainland Europe with a specifically expansionist mandate – in other words, they get richer and more powerful by growing the game. But because the ICC is a members' club, the richest members have control rather than a governing body, and they hold on tightly to that control.
Thus, it's easier for them to get richer by restricting access to a small number of other members, all of whom are reliant on them for survival, than by growing the game. Cricket will have a better chance of staying relevant if it grows its market, and sadly that won't happen without the sport realigning so that its administrators are directly incentivized to make that growth happen". Says Tony "Far be it from us to reduce such a big issue to a T-shirt slogan. However, many people proudly proclaimed our belief on their chests in the 2019 World Cup". The global growth and health of the game has to be a priority"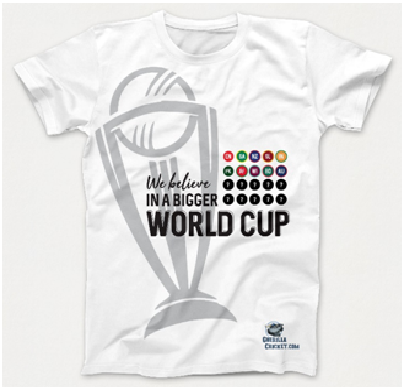 How important do you think the growth in women's cricket has been for the game? Particularly, here in Australia, CA has done a phenomenal job, as we witnessed with the T20 final recently.
Again, this one has been tossed up for Nakul to smash.
"This year's Women's T20 World Cup is one of the best things to happen to cricket in generations. People can no longer deny something that admittedly should have been self-evident: if you promote cricket properly and spend your time and energy showing people how brilliant it is, people will be excited and will want to watch it. Australian are the world leaders in women's cricket for much the same reason: they've systematically invested in it for well over a decade. By contrast, England only launched full-time women's contracts in 2014, and India with all its money only got there in 2018 and still hasn't launched a women's IPL.
Let's give some credit to the ICC here: they've invested time and money in developing women's cricket the world over, and thus we're seeing nations who hadn't taken women's cricket seriously at all make huge strides. Most encouragingly, we're seeing nations like Thailand who have no history in men's cricket qualify for women's World Cups.
The more that growth is encouraged and the more exposure to a worldwide audience women's cricket gets, the better for the sport as a whole. Let's just hope the COVID shutdown doesn't arrest that momentum too badly.
This is a pretty good place to mention that we are very keen to increase our representation of women commentators. We already have some fantastic ones, but more will help us to increase our own diversity. If you are a budding woman commentator out there, please get in touch!"
How can people reach out to, and support, Guerilla Cricket?
As 'the marketing guy', Tony tackles this one. "Our door, as they say, is always open".
You can contact us on twitter or you can email us on [email protected]. From a 'support' perspective there are a number of ways and I've summarised them here:
You can become a Patreon donor as there are no less than 7 levels including our undying gratitude, priority access to all our content, shout outs and inclusion in our role of honour, having your own jingle, sponsoring and ODI, Test match or series;
You can access the archive of all our matches and jingles we've ever done. The Two Hundred gives you the chance to be a Guerilla for a day, join our team and try some commentary yourself, with hospitality (well beer and a sandwich) thrown in, plus the opportunity to hang out in our green room;
Play our regular GPL (Guerilla Prediction League) to win the end of day 'total runs scored' pot – There's some fabulous merchandise to buy too!
If you already like a flutter then you can open an account on Betway with us.  Of course, there are great opportunities for enterprises to sponsor us too and indeed, we have a number of conversations on the go there.
But if you want to reach a global, passionate and smart cricket audience in a new and interesting way, then call me!
What are you guys up to during the current lockdown?
"Well pretty busy frankly," says Tony. "Necessity is very much the mother of invention."
We have provided commentary to The Cricketer for their Quarantine Cup series where players take the PS4 controls for their counties against one another. It sounds crazy, but it's getting some pretty good audiences. Have a look here:
We are also about to launch a hugely exciting new show that gives a very Guerilla twist to an old cricket game.
It lends itself perfectly to involving our audience at every dice roll (oops I can't say too much more yet).
We are working with partners as well on other initiatives. So, there are irons either in or just coming out of the fire.
Add to that, our Podcasts continue to deliver thought-provoking and entertaining interviews and discussion on all issues for cricket globally and at a county level here in the UK.
What can we expect from Guerilla Cricket in the future, and where does the organization envision itself, as it continues to grow?
"We certainly have a pretty clear vision of where we want to go," says the Bear. Hendo adds that "Currently, we are all volunteers and primarily listener-funded. Our shared objective is to be able to do this full time.
Social media and technology will increasingly enable new and interesting ways to bring people together, watch, listen and talk about cricket.
We will continue to evolve in a way that promotes cricket as a whole and also the growth and health of the game in every geography, not just the big 3.
But we will do things our way, ensure audience participation and challenge rather than become the status quo. Wherever and however, we will keep it, Guerilla!"
---
Haven't had enough, read part 2 of this series with Guerilla Cricket on Bullpen here.
Read about the Bullpen/Sportageous partnership here.

For more Cricket content visit Sportageous
Noor Shafiq assisted in the curation of this article. You can follow him here on LinkedIn.