Farida Mohamed is an Egyptian professional squash player.

As of April 2020, she was ranked number 41 in the world.

She won the 2018 Growthpoint South Africa Open PSA professional tournament.  In this exclusive, we chat to her about her career, and how she has come up the ranks so quickly.

Furqan Ur Rehman: How are you keeping fit these days amid these challenging times?
Farida Mohamed: By working on a healthy diet, home workouts and whenever I'm allowed to go out, I go for a run on the beach here in Egypt.

Egypt is a major powerhouse in World Squash now, heavily dominating both men and women's version of the sport, it must be extremely competitive back home?
Well, I'm not exactly sure what the reason is for it, but it might be that since the very beginning of the game, we've had so many good players and that has continued to motivate future generations.

What drew you to the sport?
My elder sister, Habiba Mohamed, started before me and I was always watching her play and achieve so many wins so this was the start that made me want to play squash to achieve my dreams.
If you had to pick an athlete from any sport that inspires you to push harder, who would that be?
Well From squash it's definitely, Raneem El Welily and I'd go for Roger Federer in tennis.
I've noticed you wear glasses during your matches, are these prescription glasses or do they serve some other purpose?
In squash, all players under the age of 19 have to wear these for safety and protection.

According to you, who is the best current female player in Squash?
Definitely, Raneem El Welily.
Now same question, but for men's?
Well, for me I see it differently in men, where the competition is a lot closer. My top 3, would be, Mohamed Elshorbagy, Tarek Momen and Ali Farag.
Squash used to be a thriving sport which has struggled to get the nod for the Olympics, why do you think it has failed to achieve that?
I think it's unfair that squash isn't a part of the Olympics, as squash is a sport that requires the toughest level of being fit and there are so many more advantages to playing it than most of the sports that are involved in the Olympics.
Tell us about Alexandria Sporting Club in Egypt and how you have been involved?
It's one of the best sporting clubs in Egypt and I've been a member since I was really young. My squash journey started there as well, so it's a special place for me.

Only 18 and already in the top 40 in the world, that is a massive achievement, but we have seen a lot of players with an early uprise and quick downfall, so I guess it is the right question to ask you, why do you think that happens? Media pressure or something else?
Well, it might be that they felt that they already did so well in the game, and they stop practising as hard as they used to.

Read our conversation with Egyptian Squash professional, Kanzy El Defrawy, here.
When did you turn pro?
I turned pro 2 years ago in August 2018, which was also around the time I won my first PSA title.

If you were given an option to pick only one tournament that you could win, what would you pick and why?
I would definitely choose the World Championship, as it's the biggest title a player can win.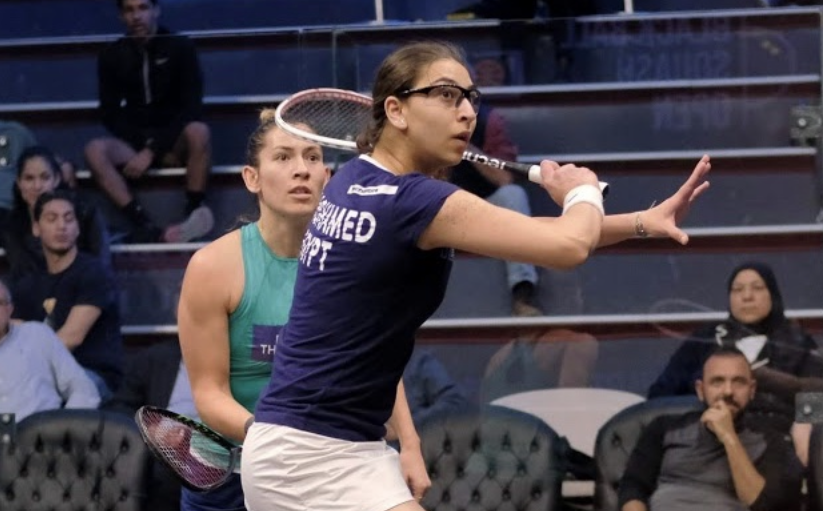 Squash is now beginning to catapult through various sponsorships and we are seeing a rise in prize money, how do you feel is that going to change the dynamic of the sport?
Actually sponsors play a very big role as they help in tournaments getting bigger which makes the sport more and more famous and I think we can all see this happening in the past few years.
Massive shoutout to your accomplishments Farida, before we wrap up this interview any words of advice for anyone stepping into the world of squash?
Always set your goals and dreams and take it step-by-step.
Squash is one of the very few sports that makes you super fit, healthy and happy.
If we always push harder, we achieve more and we become motivated. Then we're all able to push harder no matter what.
And how can they keep connected to squash when there is nothing going on at the moment due to the COVID 19 pandemic?
Some home workouts and working on a healthy diet.
---
You can follow Farida Mohamed on Instagram.
For more squash, visit Sportageous
Saqib Tanveer assisted in the curation of this article.