We recently caught up with Danielle LeTourneau, a professional squash player for Canada with a career-high ranking of 36.
She shares some great insights into her life during COVID-19, her time at Cornell University on the Varsity Squash team and some of the key moments of her career, including her favourite players and experiences.

Zushan Hashmi: How did you start playing squash?

 
Danielle LeTourneau: When I was 6 years old, my parents signed me up for the junior program at the Glencoe Club. My whole family, including the grandparents, parents, brother, cousins, play squash so it seemed like a natural fit!
What is the squash circuit like in Canada?
We have a great squash circuit in Canada, at all levels. Our junior, senior, and professional tournaments are growing. The Canadian squash community is very welcoming and has been building up the professional circuit more and more.
There are a lot of 5k-20k PSA events around the country that have brought exposure to smaller squash communities and there have been strong players developing around the country.
Right now, the majority of the professional players are based out in Toronto, but there are a lot of strong players in each province in Canada.
What was it like to win the Queen City Open 2020 recently?
It was an amazing feeling to win the Queen City Open. It gave me more confidence in my game, especially mentally being able to back up my win in Calgary, Canada, when I was feeling fatigued, and coping with all the uncertainty regarding COVID-19 that was happening at the time.
It was such an amazing tournament with great people, so it was especially fun to celebrate the win with my amazing billets and friends in Regina.
Who are some of your all-time favourite squash players? Why?
I've always been a huge fan of Raneem El Welily, and even more so after practising with her one time in Egypt. She is always calm, smooth, and sportsmanlike.
She makes the game look so easy with the way she flows and moves around the court and yet can apply enormous pressure.
I truly admire how incredible she is at squash.
On the men's side, I've always been a huge fan of Jonathan Power. I might be a bit biased because he's Canadian, but I always loved watching him play because of his holds, his volleys, and his feistiness.
What has been the highlight of your squash career?
It would either be winning my first Canadian National Title at the Glencoe Club, or representing Canada at the 2019 Pan American Games in Peru. I had placed second many times before I was able to finally break through and win the title and it was really special to share that moment with my friends and family.
I felt so much support throughout that tournament and it really touched my heart. Representing Canada alongside my teammates, and being able to compete at a multisport event was a cool experience, that also gave me the opportunity to meet a lot of really interesting people.
Who are your favourite opponents on the court?
Hard to pick but here are my top 4, each listed for a different reason: Olivia Fiechter, Zeina Mickawy, Hania El Hammamy, and Nada Abbas. Each time I'm on the court with Olivia we have a high-quality training session, or in tournaments, very competitive, mentally and physically challenging matches.
I've only played Zeina once on tour, but we play a lot of practice matches together. She's extremely creative and smart on court, which brings out my creativity.
Read our conversation with Indian professional squash athlete, Sachika Balvani.
I normally just play condition games with Hania, but she puts me under enormous pressure and forces me to raise my game or else I'll get crushed.
Nada shows up to every session with 100% effort. We play a lot of competitive practice matches, but also have great warm up hits at tournaments.
And your favourite shot?
Backhand crosscourt nick
What are your thoughts on the popularity of squash? Is it the way it was in the 70s, 80s, 90s? Why/Why not?
It's tough to say because I feel that the sport is continuing to grow around the world and building more traction, especially among women, and in countries such as Egypt.
It's easier to watch online as well, and there are more tournaments around the world which have enabled the squash community to grow and become more connected. At the same time, there are places where courts are starting to be converted to gyms because they aren't used enough.
What was your experience like being in the varsity squash circuit in America, at Cornell University?
I had an amazing squash team and great coaches, Mark and Julee Devoy. I felt that playing for Cornell brought a whole new energy and perspective to the game because I wasn't just playing for myself.
Our team came together and we were able to bond and push each other throughout the season. I've always loved the squash aspect and being to compete against the other schools, but the best part of playing for Cornell was being with my teammates.
How do you think that experience really set you up for squash as an athlete?
It really helped me put life into perspective and to really enjoy playing squash. During the year, I was balancing school and squash which was always a challenge, but I found that squash was always the best part of my day. It was my time to have fun and let loose, but at the same time push myself. It really helped me relax, take a deep breath, and enjoy the process.
I was able to cope better with external pressures and distractions and focus my attention on the task at hand. The experience also helped me become more confident in myself and fight through longer and tougher matches.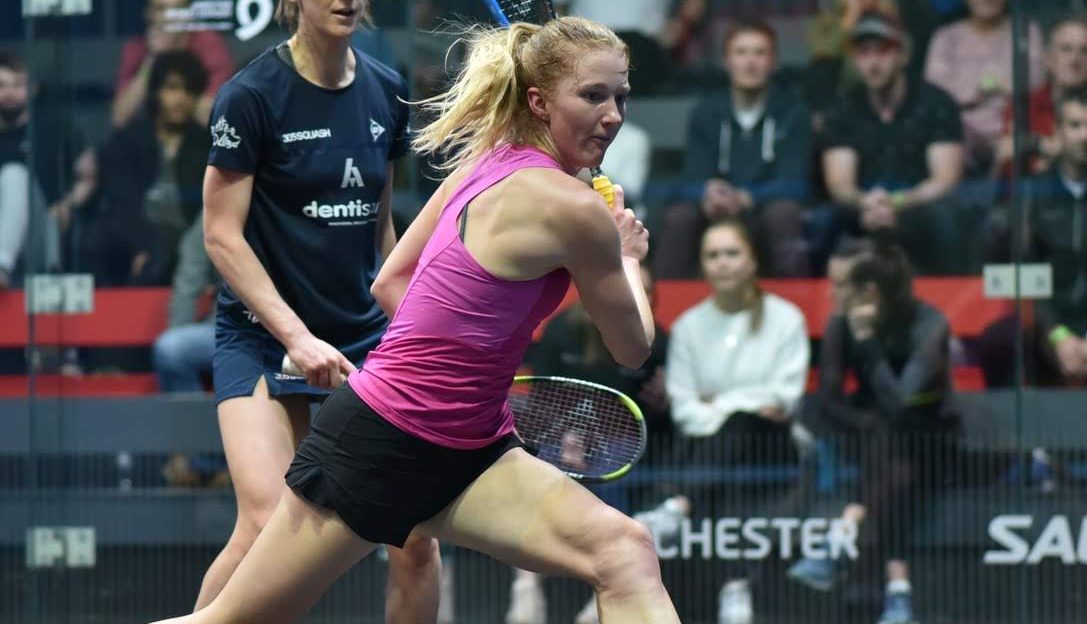 What would you say to young women who want to start playing squash or are interested in the sport and want to go pro?
There are a lot more women playing squash now, and not only is it a great way to stay in shape, but it's a great way to create friendships. If you're looking to just get started, there are lots of ways to get involved.
Most clubs have fun leagues, either mixed or just for women and it's focused around being social but competitive. The Women's Week PSA in Calgary, Canada, is a prime example.
There were different levels of draws being played, and some of the women I met were just starting out. At the same time, there was a PSA event being held so women had more exposure to high level women's squash.
For anyone who wants to join the PSA tour, I highly recommend it. It definitely has its challenges when it comes to performing and trying to climb up the rankings, but the positive aspects of it greatly outweigh the negatives.
It gives you a chance to challenge your skills, but also be able to travel the world, meet a lot of interesting people, and create friendships with other players. PSA has also been amazing at creating equal opportunities and pay for female players relative to the men.
I'm always open to answering more specific questions about the tour if anyone is interested in joining!
How are you maintaining your health, fitness and squash skills during the current COVID-19 lockdown?
At the start of the lockdown, I reached out to my trainer and through an app we normally use throughout the season, he has given me weekly workouts to do based on the equipment I have in my basement.
I've also been working on my mobility and flexibility to prevent injuries because it is something I need to improve. I'm waiting for the snow to melt so I can go hit the ball against a wall outside and practice some footwork, but in the meantime, I am doing more visualization and watching SquashTV.
---
You can follow Danielle on Instagram, Twitter and Facebook.
For more squash content visit Sportageous.
Saqib Tanveer assisted in the curation of this article. You can follow him here on LinkedIn.