The Sportageous team caught up with Chris Binnie to talk about Jamaican squash, his career and how he continues to play the game he loves.
Zushan Hashmi: Tell me a little bit about your life outside of squash.
Chris Binnie: I love playing and watching football (soccer). I'm a big Manchester United fan from childhood so I follow them a lot. I love being at the beach as most people do who come from Jamaica and the Caribbean. Other than training, I do a little coaching in Greenwich but I try to keep my focus on playing and training.
When one thinks of Jamaica, track & field, and cricket are the two sports that come to mind. How did you get into squash?
That is very true and even football with our only World Cup appearance in 1998. I essentially grew up at a club that had squash. My parents played a lot, both tennis and squash, and I just kind of fell into playing. I would play with them and then eventually progressed enough to play a few tournaments and then it continued. I did play cricket growing up too. It seems like everyone had to play cricket and football, and then you could do something else, but those were school staples.
How has squash changed in Jamaica since you started playing the game?
I certainly did not envision myself playing on the tour and it just evolved into that. Because of playing, I have seen many places and met many wonderful people that I don't think I would have ever had the opportunity to. I believe you also learn a lot about yourself and the qualities of your personality when you are faced with adversity and playing a sport professionally. I am very grateful to have been lucky enough to have had this as a career.
Do you see a growing number of young people coming into the sport? Why/why not?
I have been based in the US for a few years now since college graduation and it appears more and more people are playing here. In Jamaica, it seems steady and I can't really speak for anywhere else but in terms of viewing and exposure, I do think squash has grown and is slowly making it into the general public's household. The more exposure we get, the more the game will grow I believe.
The Caribbean is an interesting geographical location, in that, you are competing regularly against North American athletes and South American athletes, tell me a little about your experiences in that regard?
Yes, it seems like we play each other on so many occasions. Not only is there the pro tour, but there are so many regional games. Many of these we are obligated to play for our countries so we end up playing several times a year. I do love the cultural mixing though from these events. There is so much culture throughout the Americas that everyone should try to explore.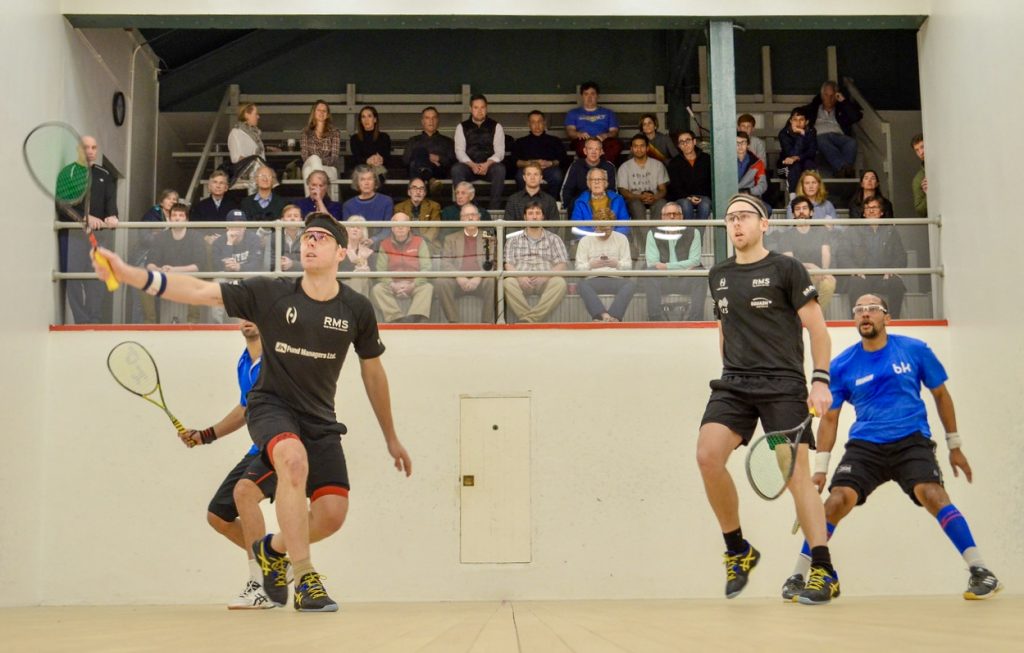 How about in the context of the Pan American Games?
The Pan American Games is one of those regional events. It is probably the second or third biggest event for us behind Commonwealth Games and maybe World events. There is no Olympic option for Squash so this is one of the highest and most 'Olympic' of situations we can get, even though it is regionally restricted to the Americas.
Last year was the 2nd time that Jamaica competed in the World Team Championships, what was that experience like?
That was a great one. Representing Jamaica is always something special and I am so fortunate I have been able to do this on many occasions. We did our best out there but there are several good teams around the world so just trying to get in the mix of it all was fun. Hopefully, we can continue to represent and continue to making strides one the world stage.
Prior to that, you had overcome an injury and gotten fit in time for the tournament. Tell me a little bit about what goes through your mind when dealing with an injury?
It was actually that summer before that I tore my calf playing an event in New Zealand. Honestly, I have had so many injuries and setbacks that it has become a part of the journey and experience. I think all athletes are constantly learning what the right balance is and it's a knife-edge between staying healthy and have small little injuries here and there. Regardless, we just have to take it in stride, try to learn from it, and build back stronger.
And what are the sort of measures or techniques that you work on during rehab to overcome it?
I did everything I could find and worked with many people to get back quickly. I have a good physio and good team around me that I am thankful for.
What would you say was the highlight of your career? And why?
I think I have had many moments that I will not forget. I don't think I could pinpoint any one moment, specifically. Being the flag bearer for the Jamaican team at the Pan American Games 2019 opening Ceremony is certainly one of the biggest honours I have had. I have had several big wins at events that I will not forget either. But being able to play and pursue something that was just a game growing up, would definitely be a highlight. Having that opportunity is something I am truly grateful for.
When squash resumes professionally, what are your ambitions on the court?
Not really sure right now, but I will get back to training and hopefully win some more events. Improve my ranking of course and continue to enjoy this short-lived time on the tour. 
---
For more Squash related content, visit Sportageous.