Carla Khan is the only female member of the legendary Khan Squash dynasty. Reaching a career-high ranking of 21, Carla was all set for greater heights, but her career was cut short by injuries. We sat down with Carla to discuss all things squash and talked about her journey in the sport, alongside the current state of squash in Pakistan.

Furqan Ur Rehman: Thanks for taking out your time for this interview. Firstly, we are so sorry for your loss. Your grandfather, Azam Khan was a legend who contributed heavily to the rise of squash in Pakistan. What was it like growing up in this squash family?
Carla Khan: Thank you for your kind condolences, it was tremendous to see the number of messages and tributes from the squash world and media that followed my grandfathers passing. The Khan brothers have truly made a huge impact on the game of squash and they are a part of squash history.
The real story and the truth is, I didn't know that I came from a legendary squash family and when I started playing at the late age of 12, I didn't do this to continue the dynasty in some shape or form. Culturally, females linked with the name Khan did not play a sport or it was quite rare, but I was a weak child and was told by my doctors to take up a sport.
It was decided by my parents that squash would help me more than any other sport and they kept me from knowing the extent of what was to come.
However, once I started playing on the circuit that is when I realised that players, coaches and so on, would treat me different, mostly, in a negative manner, as I was carrying the Khan name and because of what I had to live up to, but I loved squash with an obsession and passion, and I knew I wanted to try to do the best I could.
For the first few junior tournaments I took my mother's maiden name, as my parents felt that the responsibility may be too much to carry, but later on, the Khan in my name became known and I did not realise it until after I retired, about the Khans dynasty in Squash, and how many family members were still playing. I met many previous top players of Pakistan who I didn't know and were actually legends of the game.
The Khan family enabled Pakistan to keep atop of Squash, longer than any players from other countries in the world. Why is the sport unable to reach the same heights in Pakistan as before?
Unfortunately, there is still politics involved in squash in Pakistan, there are different squash families that can't work alongside one another, plus the players are not given the right chances by the governing bodies, hence in my opinion that is the reason they leave Pakistan to improve their game or coach abroad where they are respected like other players, as they rightfully deserve. I do not believe enough is given back to the game or players.
Egypt and Malaysia, however, both start from the bottom, bringing in fresh players all the time, working them hard from a very young age, to make them champions and give them the financial and mental support, which is needed.
This is what I remember from playing and how my career obstacles to succeed were coming from all directions. Players need free minds to just play the game and enjoy it. Like my family, they are legends that will be remembered but the future is the next generation who need to be supported so they become the next legends.
You retired early in your career and then turned to television presenting. Are you still involved in any of the two? If not, what are you up to these days?
I retired early having faced too many battles in my career, one of those being injuries.
My passion at that time was to get players, current and past, to have a fresh look at squash which I'm delighted to see now.
My life took many turns, from coaching in the US and then getting married, to having my own little family. Over the years that I've been away from squash, I've always tried to encourage the next generation of players and encouraged the youth to keep playing.

After retiring, I worked in London, but the fire of squash is and always will be in my belly, it's, sort of like a family trade that I will always have. However, whatever I do, it is done to the best of my ability. I would love to return to playing, one day.
It was shocking to see you collapse during the 2006 South Asian Games. It was believed that was the end of your career but you came back and won 2 more titles. What was going through your mind at the time of the injury and who was your biggest support at the time?
Yes, this was a disaster, I had many injuries but this impacted me a lot, as I was in Sri Lanka, hospital bed-bound, being told I never compete again.
I had no real support, to be honest, the only strong support I had was my mother who was always by my side. When I had back surgery in the US, she flew straight away to be with me, after all, that's a mother's, true love.
My father arranged for me to return back to the UK from Sri Lanka, but I was still crazy to continue playing, so I decided to give itone last shot, I had nothing to lose and 2 more titles were a nice touch to it.

We see a lot in sports movies about the rise and falls, but what do falls mean in real life and the impact they can have on mental health?
I'm pleased you have mentioned this because in squash this isn't talked about at all. What happened to players after they stopped playing or how was their mental health whilst competing or how players dealt with losses.
When you lose, you have the weight of the world on your shoulders, I remember when you win everyone wants to be by on your side, but when you lose, no one is there. You really do have to be mentally extraordinary to compete at such a high level, because so many obstacles are placed on the player.
I, personally, felt bullied constantly on the scene by fellow players, I felt there was no kindness shown by organisations that did not want me not to compete due, to my family and who they were, I couldn't truly be the player I wanted.
There were many times I wanted to stop and many times I was broken but I couldn't just give up so I made myself mentally strong to ignore what others thought and that always put a smile on my face. When I finally retired, I felt relieved because I wasn't just a name but a person who had feelings. I have always felt players need help, counselling which was not just given to the countries top players but accessible by our governing bodies that can ask why a player is being shunned or why a player is at rock bottom or just someone to talk to as in squash you can't express how you feel, at least, that was the case in my day.
I know that we now have social media, but this isn't the absolute solution because there is always a player suffering with mental health ailments in silence. I was lucky that my mother travelled with me as much as possible and would always solve my problems and give me the emotional support I needed, but other players may not have had this. My mother was always the one to give me the strength to continue and keep my mind healthy.
Nowadays in squash everyone is talking about Egypt and comparing its squash run to that of Pakistan. An Egyptian player, Kanzy El Defrawy, whom we recently interviewed, told us that Egypt is making the game accessible to the middle class. Do you feel there are lessons for Pakistan? What else, in your opinion, needs to be done to catapult squash to its glory days?
Totally true but with squash in Pakistan it's very accessible to the middle and upper class but the working class is where the talent really lies.
Egyptians have players from different families, new and fresh young faces, excellent female players that represent the sport fantastically, this is the difference, Egypt wants to make champions, Pakistan doesn't. On the one hand, they want to live in the past, however, the players want to succeed and travel to other countries and compete.
You were the player all women in Pakistan looked up to, how would you compare the opportunities presented to women in Pakistan back then and now?
I hope from my achievements representing Pakistan and promoting female sport in those days helped encourage women. When I was competing, there was little social media and I had to do several TV, radio and newspaper interviews to get my voice heard.
However, I know that the girls and their parents were impressed by my skills and after winning the first Pakistan Open, more girls took up the game and women playing in all different fields are achieving a lot more.

Young Pakistani athletes, in my opinion, require media, sponsorship, and also financial help, plus recognition and not just favouritism and nepotism.
The Tennis Association has taken the first step to address gender pay parity issues, which are unfortunately still tainting global sports, why isn't squash following suit? Do you see that happening soon?
We are very behind other sports, unfortunately, but in recent years, the pay for women's tournaments has increased significantly. There is a slight movement but until squash is recognized more and top players are seen in mainstream media as presenters, this won't happen. I personally do not see anything changing in the near future.
Overall, squash associations are failing to capitalize on a lot of opportunities and I'd throw social media in there, you'd see a million followers for athletes of other sports, but top players from squash only have a couple of thousands, do you feel it's because of squash's absence from Olympics?
Yes, the Olympics is partly to blame, but also the way our players are publicized and the lack of TV viewership impacts it. For example, the British open should be on public TV channels in the UK like Wimbledon, but squash is still very small and only for a small market.
We have to ask why? Remember when squash was at Wembley and courts were built all over the UK but now it's a dying sport there.

If you take Nicol David, she is a huge name in Malaysia mixing alongside celebrities and fabulous endorsements. Malaysia has supported her and the players the right way and given plenty of opportunities to her, which is why she is a household name there.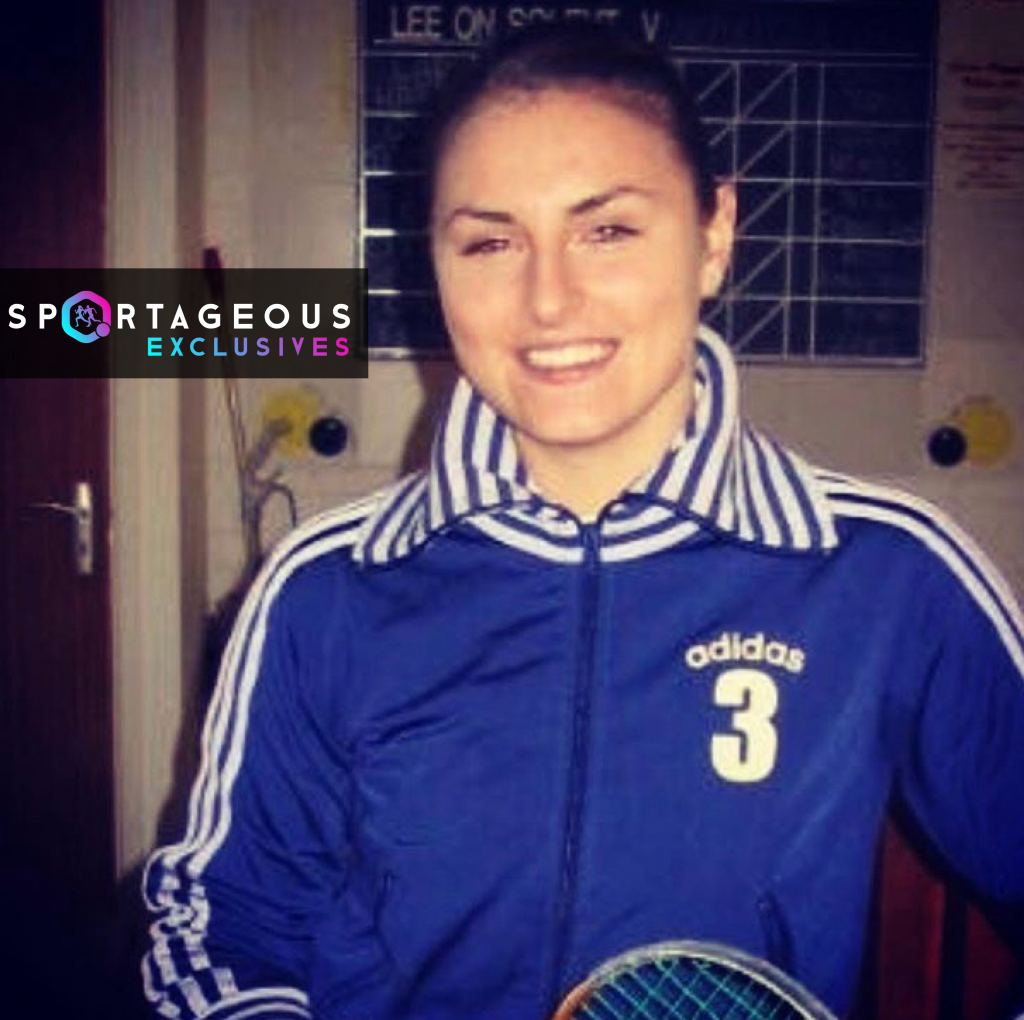 What is your most memorable and favourite match from your career?
My answer is always this, beating Nicol David in the Irish Open, which was the biggest achievement for me, but unfortunately, my injuries stopped me from breaking into the top 20 in the world after this injury.
What are the other highlights that you still remember and appreciate?
I think the whole experience of being given the opportunity to compete worldwide, travel all over the world, spend time with interesting hosts, interact with different nationalities & cultures. I've also been asked to coach women in other countries to improve the sport, for instance, I went to Iran to improve their squash, it was an honour because I felt I could make an impact on another players' game or mentor them in a positive way.
I never had many female role models in squash so it's been great to give time to others.
Do you still watch your old matches?
No, my playing days seem such a long time ago now and my life is different with my two beautiful kids, but I'm sometimes reminded of what I achieved or my family's achievements and this puts a smile on my face. I'm grateful for what I've been given.
What would you say to budding squash athletes and parents, especially women in squash?
You face so many hurdles in squash if you're not in a click, personal battles, financial etc but don't give up, champions are the ones that face the most battles and battles are worth fighting. There are also many encouraging people involved in squash and we are a squash family spread across the world.
I remember I was told by a famous players' parent at a junior tournament, don't worry what people, players, organisation think of you and whether they like you or dislike you, your racket will do the talking, that's the ultimate truth, what a gift of words that has stayed with me to this day.
Any other words you'd like to add?
I would like to thank Sportageous for taking the time out to interview me and asking some very interesting questions, I'm very humbled. Thank you
Also, good luck to the future players of squash for they will refresh and change our sport for the better.
---
You can follow Carla Khan on Instagram.
For more squash content visit Sportageous.
Saqib Tanveer assisted in the curation of this article. You can follow him here on LinkedIn.