Anna Davey is a former bodybuilder, who is a lawyer by day and a professional climber by night. She also spends her time personal training individuals in both climbing and fitness in Perth, Western Australia.
We chat with her in this exclusive, about getting into climbing later in her life, competing at the highest level, and managing her dynamic routine.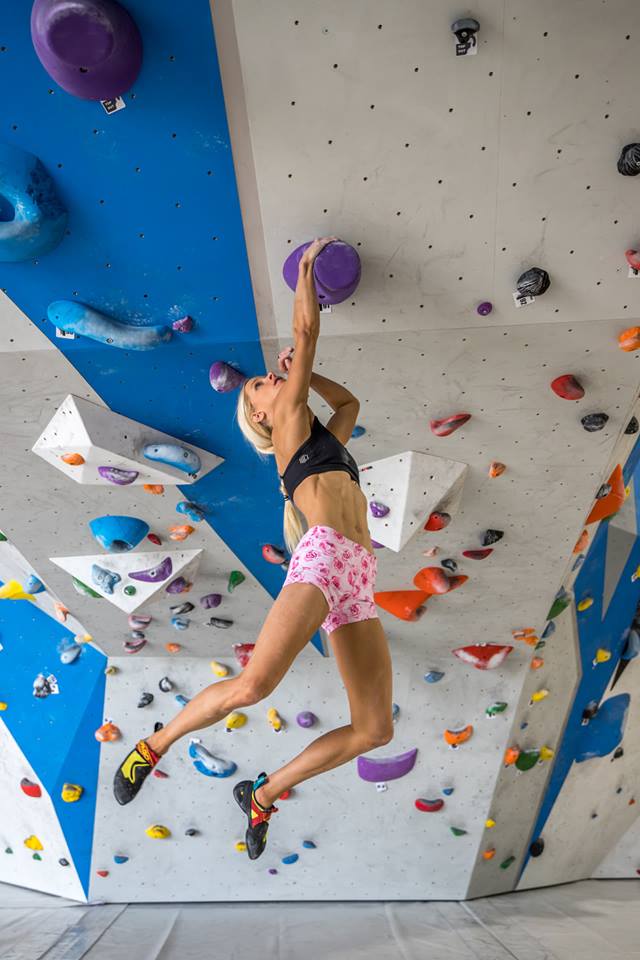 Zushan Hashmi: Tell us a little bit about your life outside of climbing, and fitness, what do you get up to? What is that like?
Anna Davey: I work a lot. I'm an online coach so I'm constantly busy programming and also social media is my job, I'm attached to the phone, unfortunately.
What sports did you compete in before you started climbing?
Tennis and netball my entire life. Bodybuilding just before climbing.
Have they

benefited

you on your climbing journey?

Yes, I came into climbing already conditioned.
What got you interested and involved in climbing?
I was bored with weightlifting and wanted a fun challenge. I was instantly hooked.
Do you do a lot of outdoor, trad climbing? Why/Why not?
Not so much anymore. Outdoor climbing is very limited in Perth.
What discipline of climbing do you enjoy the most and why?
Bouldering because I'm all about power and new age moves.
You are also an Obstacle Course Races, what has that experience been like?
I did Ninja Warrior season 1 and 2 and made the semi-final. It was fun but I'm not that serious about it.

Why do you think climbers tend to perform well in Obstacle course races?
The skills are transferable from climbing as well. Climbers already have great body awareness, coordination, grip strength and endurance, upper body strength and dynamic capabilities.
With a wide array of experiences, how do they translate into the fitness and climbing coaches that you offer?
There are so many climbing coaches who aren't actually qualified in general strength and conditioning, so I feel I have more to offer being qualified in that I can program for proper conditioning.
For non-climbers, I've been a bodybuilder (got the trophies), so I'm able to offer physique coaching.
For climbing-specific coaching, I've won many competitons and know the all the mental and physical pressure that comes with that.
I've also competed at international level competitions, so I can offer insights to athletes that want to go in that direction.
How do you manage your day job, multiple sports and coaching/training? Is it easy?
My day job is coaching and personal training both in-person and online. It's not easy at all.
I can have up to 55 client's at a time from all over the world, so I'm often answering emails 24/7.
I'm constantly programming, filming, editing and doing social media work as well (Instagram and YouTube).
On top of that, I have to train myself, as I'm very busy. I don't have much downtime.
What type of holds do you enjoy? Why?
Underclings. I love getting my biceps involved.
And which ones are not exactly your

favourites

?

Definitely, pinches, as they hurt my fingers and they would be my weakest grip.
If there was one thing you had to say to young women who want to get involved in climbing, what would it be?
Always believe in yourself. I started climbing at the age of 25 and I remember a year in, I said "I'll climb for Australia one day" and people laughed at me.
3 years later I made that happen. I never gave up.
---
You can follow Anna Davey on Instagram.
For more climbing content visit Sportageous.
Saqib Tanveer assisted in the curation of this article. You can follow him on LinkedIn.