Allen Iverson changed the face of the NBA, as a player and a fashion icon, but what made him who he was – the controversy, the skill or the swagger?
Allen Iverson, The Answer or AI, as he was known, changed the face of the NBA. He is an 11-Time NBA All-Star, four-time scoring champion and the 2001 MVP (the shortest player ever to do so). A man who I grew up idolising as a substitute on my school basketball team. He gave me hope that short (I stand at a mere 5″9) folks, like myself, have a shot at the game. In the case of my short-lived stint in the sport, I was completely wrong, because hope did not amount to talent, unfortunately.
As a mediocre basketball player through middle school and high school, I gave up on the game soon after, but when it came to Allen Iverson, he revolutionised the way basketball was perceived, not only through how he played and performed (1997 Jordan crossover, anyone?) but through everything he brought to the culture of the sport.
This was long before Lebron became a GIF on Instagram and well after kids across the basketball fandom got into trouble for wearing Jordan's to class. Iverson was not unique in what he did for sport as a whole, but he was unique in what he did for the game of basketball. He stood up to a system as Ali did against the Vietnam War and more recently, like Kaepernick, when he bent the knee against racial injustice.
Iverson, after all, brought hip-hop to basketball. All the songs you listen to Spotify with references to the NBA, the collaborations between NBA players and rappers, and the style and outfits that we see across both the sport and the culture, were influenced by AI.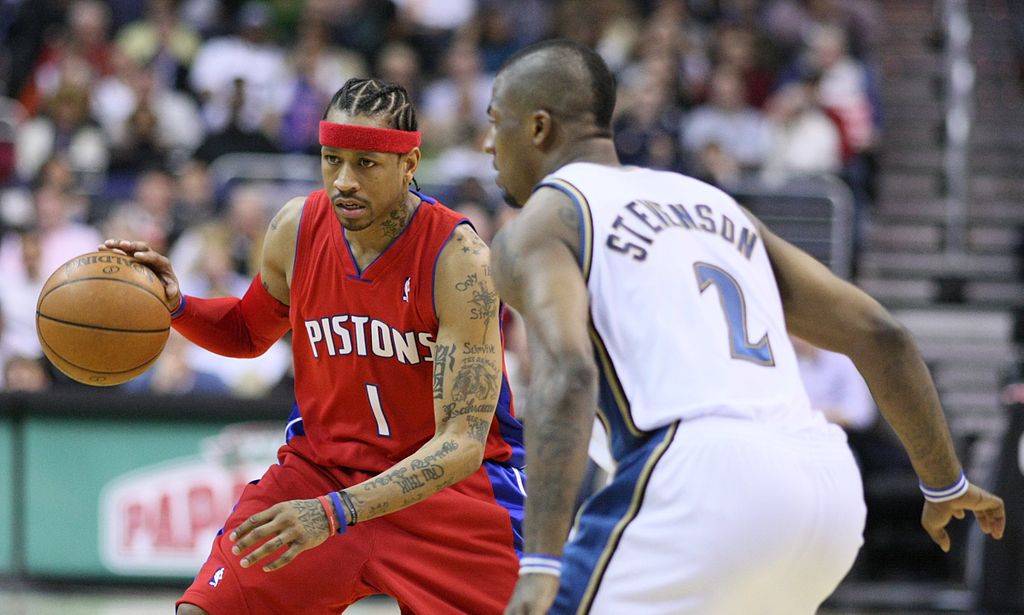 He showed an NBA, managed predominantly by white people, but consisting of mostly black athletes that it was the streets that raised him. The projects, the violence, the single mom and the culture, and if he was not allowed to represent the upbringing he hailed from, he would rebel – rebel until his outlying style and culture became the norm of the sport. On the flip side, if it was not for this side of his character and behaviour, a type of persona that was powerful and impactful enough to influence a Pakistan-Australian growing up in Dubai to go shoot hoops, he may have become the greatest player to play ball instead of the greatest NBA player to not reach his fullest potential.
Iverson was by far the biggest youth athlete that Hampton, Virginia had seen.A fine player of basketball and football (NFL), his career, however, almost came to a halt at 18, when he was part of a minor racial brawl at a bowling alley.
They gave him a fifteen-year term, for 'maiming by mob', a law defined in the books of Virginia to protect black people after the Civil War from lynching, but he was released after four months, after being granted clemency. This was the beginning of a career filled with contradictions and dichotomies that resulted in people feeling disappointed with how it all turned out at the end.
As his career progressed, AI reached heights (pun not intended) a kid from the Hampton projects dreamed of, his skills were on display with the 76ers, Reebok had picked him up on a $50 million contract and every household in America had heard of him. On the other hand, he dealt with arrests and domestic disputes, a fall in form, alcohol abuse, and became public enemy number one for the NBA management.
Iverson's attire, attitude and persona had always been a point of contention. He spearheaded the rise of the shooting sleeve as an accessory, tattooed arms, cornrows on his head, sagging pants and street culture in basketball.
Read the tribute to Kobe Bryant
It was the sort of image that millions of the 80s and 90s era kids had grown up on. His rap album was scrapped, but in its odd way, it was meant to be an ode to the culture that raised him, and not a controversial homophobic, misogynistic amateur attempt at the music genre (although he has since stated that he regretted recording the songs). Similarly, AI's game was ballsy, full of grit, and rough, but eloquent and technically-sound as well.
He was fresh and raw, distinct in the way he dribbled, and a master of crossovers.
Michael Jordan inspired me, and I looked up to him, but he was out of this world. AI was God – Lebron James
However, in 2001, Iverson's friend Rahsaan Langford was gunned down and this impacted him deeply. It was cited as one of the key reasons that led to his infamous 'practice rant', when stricken by grief, he lashed out at the media and was accused of being drunk at the time. Alcoholism eventually became one of the factors that led to his decline as a player.
But it was probably his swagger and persona that made him a monster in the eyes of white America, and even amongst Black American sceptics. So much so that in 2005, David Stern, then commissioner of the NBA, implemented a new dress code that banned do-rags, large jewellery, shorts, sleeveless shirts, indoor sunglasses, and headwear like baseball caps. Iverson reacted stating that they're targeting guys who dress like me, guys who dress hip-hop.
Put a murderer in a suit and he's still a murderer. It sends a bad message to kids'. Black Americans argued that this was once again a means to target their people, whereas others said it had to do with the infamous Malice in the Palace 2004.
Either way, Iverson was in the midst of the controversy. And concurrently, Reebok saw continuing sales growth thanks to the Iverson marketing campaigns, testament to his place in pop culture as something more than an athlete.
His career, however, went on somewhat of a downward spiral when he left the 76ers in 2006, having left a legacy of the highest scoring average in team history of 28.1. He moved to the Denver Nuggets, but faced controversy there, after being fined for criticising a referee. Eventually, he went on to play for the Pistons, Grizzlies and returned to the 76ers for a year, before making the move to Besiktas (no, not the Turkish football club) in the Turkish Super League.
After his calf injury in Turkey, AI never donned the jersey on a professional court again. Retiring and leaving behind a legacy that will forever be remembered as controversial with a stark contrast of career-highs and career-lows.
As a fan, my earliest and most precious memories of the game will be of Allen Iverson, rife in controversy, full of swagger and gifted on the court. But millions of black Americans, particularly kids, saw him as the true representation of black America on a platform as big as the NBA's Talented and hardworking, yet tough and rebellious.
Lebron even went as far as to say in the Sports Illustrated that 'Michael Jordan inspired me, and I looked up to him, but he was out of this world. AI was God'. Meanwhile, Kobe wrote that he watched every game AI played and studied his every success and struggle, trying to find a weakness because he was just that good. He remains beloved amongst basketball circles. And leaving aside the could-have-been and would-of-been, Allen Iverson played with his heart on his sleeve, showing the world that despite every difficulty, even a kid from the projects, can make it big, if they put in the time, effort and dedication.
---
Zushan Hashmi is a sports enthusiast who works in the policy space in Australia. He is an avid fan of climbing, football, cricket and all things sport. You can follow him here on Twitter.
For more articles like this, visit Sportageous.