Abiha Haider is a Pakistani footballer who plays as a midfielder for the Pakistan women's national football team. She has also represented Pakistan in the AFL, and sits down with us in this interview to talk about being a dual athlete, breaking world records and her passion for social activism.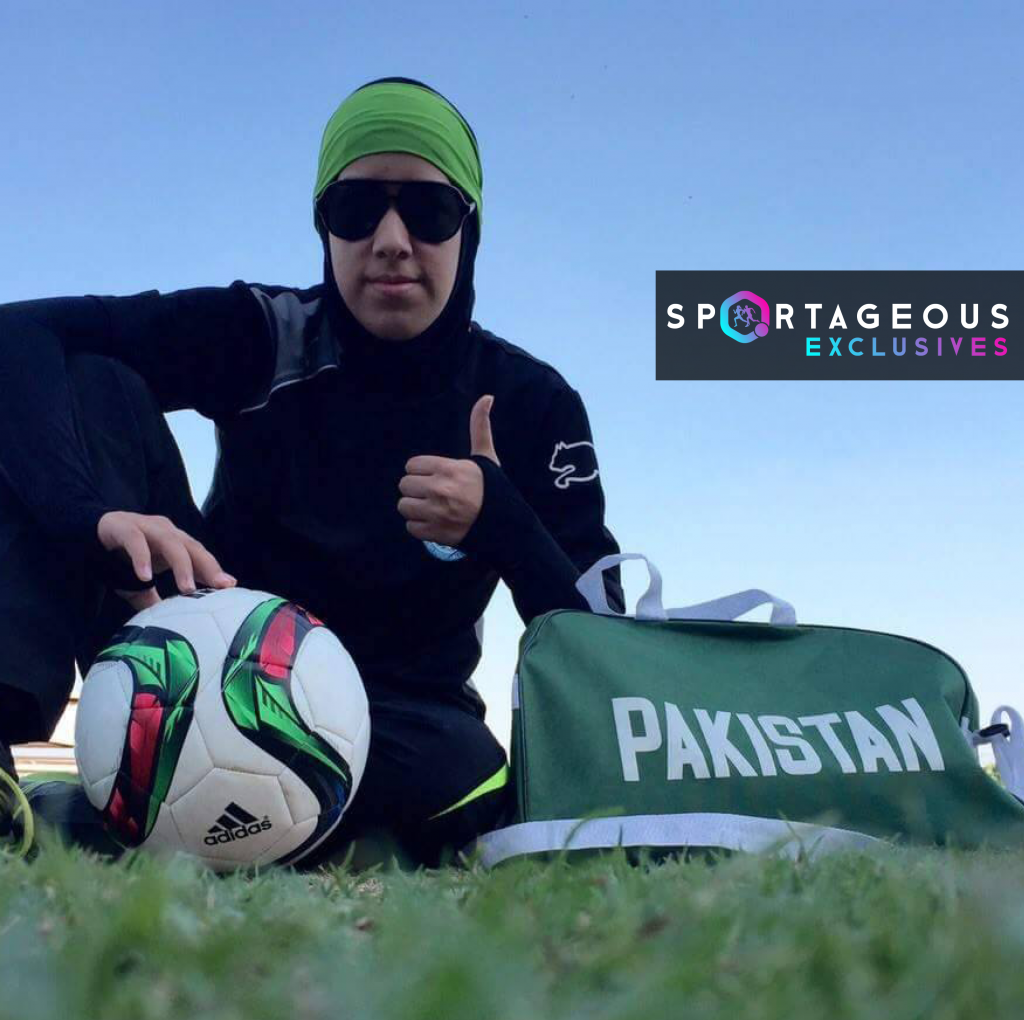 Furqan Ur Rehman: How did you get into sports?
Abiha Haider: I was a very sporty kid since my childhood. I used to play every sport at my school; be it, cricket, basketball, netball, athletics or cycling. I have played all of them and have won medals and trophies for my school.
My mother once heard of these trials for the Islamabad Women Football Team through her colleague. She spoke to my father about giving me a proper platform to train and a chance to maybe excel in sports. They took me to the trials. I was never interested but went just for the sake of their happiness.
I knew I had never played football and I would not pass the trials. But life had another plan. The coach came up to my parents and revealed that I was really good and they have selected me.
From there my journey in football began. A month later I was part of the Islamabad Club Team Squad and two months later I became part of the Islamabad Federal Team.
A year later I became part of the Pakistan Football Team. A game I never intended to play became the love of my life. A passion my life started following and from that day till today there has not been any turning back. It was 2009.
How did you get involved in the AFL?

So, Australian Football is another long story.
First of all, this sport is a mixture of regular football & rugby. Back in 2017, one of my friends asked me to join her for the trials of this new team going to Australia to play the International Cup. We went to the Sports Complex Islamabad and figured out that there were girls but no coach. There was some form of management but no plan.
A team was going to represent Pakistan abroad but had no clarity of anything. I spoke to the President of AFL Pakistan standing in that ground who knew me as an international footballer & requested that I take over the team.
I learned this new sport over YouTube and started organizing and conducting the training sessions myself. We made a team in 2 months. We fought, God knows how many odds, and flew to Australia.
The Pakistan Team competed like tigers and in a couple of days, everyone involved in the AFL International Cup in Australia was talking highly about our spirits, determination, resilience and what not.
We were all over newspapers and radio/tv shows. Also, Pakistan was the first Muslim nation to participate in the AFL International Cup. We came back and brought the AFL Federation into reality. AFL Pakistan has been a long fight for me and this experience holds a special place in my life.
You play the two footballs, Football (soccer) and AFL, how do you manage the time between the two and your education?
Probably that I don't sleep at nights & I have a pretty much 'I, Me & Myself' life.
I have been playing football professionally since the age of 12 now and managing life with it has never been easy. Throughout the 10 years of my teenage, I have had a life which included my school from 7:30 am – 2:30 pm my football training from 3:30 pm – 7:00 pm and the rest of the time at home, doing homework and stuff.
With the personal & professional experiences I was going through at an early age, I hit my maturity level quite early & haven't have had a typical teenage girl life. Due to my hectic days out at school & now at university and training, I stay awake the entire night to study and prepare for my exams.
I don't find the time to visit relatives or be there at every event. Life has been tough ever since but as they say, nothing comes easy. You have to sacrifice a lot of things in order to achieve something. Today, I have many national/international awards and accolades to my name and I'm successfully completing my Bachelors in Law (LLB Honors) from the University of London.
Have you ever faced conflicting schedules between the sports you play? If yes, how do you deal with that?
Fortunately, till now I have not had any conflicting schedules since both of the sports have their seasons scheduled at different months of the year. So, the most I have to do is switch the training of one with another and adjust them accordingly with my study routines.
You are a huge advocate of equality; how do you see the progress locally and globally in that area?
Equality and Equity. However, understanding the two and implementing them is all that matters. I will specifically talk about football here. I have always raised my voice for the inequality we face in Pakistan as women footballers. We are not given equal pay, opportunities, resources or training as the men; this is the saddest part.
Both of the genders represent Pakistan equally. Both of us give our sweat and blood to this country and win medals and accolades for the nation. Then, why should such discrimination exist?
Why can't both of the teams be treated equally and paid equally? However, this sexist approach does not only exist locally but Internationally as well. Recently, the US Women's Football Team raised this as an example. In my opinion, till the day world bodies like FIFA do not end such discrimination in their own backyard, then include it in their statute and rules and regulations for the other countries to follow, we will keep facing these issues.

Describe the state of women's football in Pakistan.
We are in an awful state since the conflict of 2015 when two groups fought each other to hold the office of the Pakistan Football Federation. We are on a decline ever since. We lost our national/ international participation. The FIFA ranking we built in 5 years got lost in the sea. The club/national/international players lost their futures. Now, whenever the PFF comes back into office properly, we will need to build everything from scratch.
As AFL is such a niche sport in Pakistan, what are the challenges you face on a daily basis especially on the women's side of the sport?
AFL is a fresh sport but it has gained a lot of popularity between women in a very short time. Challenges concerning women are the same in every sport. We live in a male-oriented society and our family structure does not allow women easily out for sports.
However, things now have rapidly changed and we are seeing a lot of girls being brought to training by their parents. It was very hard a decade back when my father used to take me to my daily training. I believe that it's a growing cycle as well as structure and day-by-day we are watching more talented young girls entering the grounds.
Is there any special reason you study law?
As I mentioned earlier, my maturity level hit me at a very early stage of life. I decided to opt for a career as a lawyer back in 2007 (in grade 6th) when the Chief Justice of Pakistan was sacked and the Lawyers movement for his restoration came into existence. Sir Ali Ahmed Kurd was my inspiration.
I had always been very vocal about injustice, human rights, child rights, harassment, target killings, sectarianism and have participated in many protests, vigils, marchpasts and sit-ins concerning these areas, since my childhood. I knew I was born to be a lawyer and I also wanted to use it as a way to give back to society.
So, tell us where are you usually deployed in both sports, and which positions do you prefer to play at?
In football, I play as an attacking midfielder (Center midfielder). In Australian Football, I again play as a midfielder, usually as a ruck-rover.

You are the youngest female to represent Pakistan football team, how did that happen and what made it possible?
As I told you, I started playing football professionally at a very young age. The 11th South Asian Games in Bangladesh in 2010 was my first ever International Football Tournament. I was 13 and a half in a senior National Football Team, in which the captain was 32 and the average age was 23/24. Since then, no one has participated as young as me in a senior national team and I still hold the record for being the youngest women to represent Pakistan internationally in Football.
You also hold two Guinness World Records, tell us all about them.

So, last year, July 2019 I participated in an Equal Play Initiative event in France which was organized to make two Guinness World Records in collaboration with FIFA. This was organized on the sideline of FIFA Women's world cup. Out of 809 players from around the world, 10 players were specially selected and sponsored by FIFA to participate in the said event. From Pakistan, I was the only one selected and sponsored by FIFA to officially represent Pakistan.
The first world record was the ''longest football match ever'' which took place for 70 hours straight. Second was the only 11 a-side football match played by ''the greatest number of nationalities – 55+'.
This was an amazing experience and one of the most beautiful ones in my life. Being a Guinness World Record Holder is one big deal, yeah? But, more than that, this experience contributes to the learnings of my life and this was also one such experience in which I learned a lot.
You are also a certified coach, is that the plan whenever you hang up the boots?
Yes, I am an AFC 'C' License certified coach. Coaching has always been my part-time, vacation thing. I made and coached my girls school team in my O-Levels (O-1) in which I played as well and we were the champions of Islamabad Private School's Football Tournament. I have some plans but let's see. It all depends if I get enough time.
I see you are very active in peace and development initiatives, where do you wish to see the world?
I want to see people being more accepting towards each other and surpass the level where we treat each other only on the basis of nationality, cast, color, faith.
I hope to see an inclusive, progressive world where people can learn 'agreeing to the disagreement'. Lastly, I hope that we all start taking human rights (in every form) much more seriously.
Any one you would want to give due credit to in your personal and professional success or is it only your sole success?
I do not believe that success comes to you solely because of your own efforts. Yes, you do play a major role mentally and physically but there are always some friends & family members holding you tight. I have gone through many ups and downs in life.
My downs took me through anxiety attacks and depressions. There have been days where I felt helpless and there have been days where I had lost all the hope within myself.
However, there are few people in my life along with my immediate family who have always held me very tight, have always stood on my back like rock-solid support, believed in me and made sure that I don't give up.
I won't take any names because they all know who they are. I just want you all to know that I am extremely blessed & very thankful to each one of you for existing in my life. You all are as important to me as water is for fish.
Any words of advice for present and aspiring female athletes and sportsperson?
Your belief, honest intentions, positive attitude, right actions, hard work, resilience, determination and confidence protects you and take you to heights. Believe and achieve.

---
You can follow Abiha Haider on Facebook and Instagram.
For more football, visit Sportageous.
Saqib Tanveer assisted in the curation of this article. You can follow him on LinkedIn.